When it comes to buying a pre-built desktop for the average consumer or gamer, about the only thing the big box manufacturers really have going for them is price. That hasn't stopped them from doing very well, but oftentimes the end user will be better off going to a boutique like iBuyPower for their desktop and enjoying the generally superior build and component quality along with better customer service.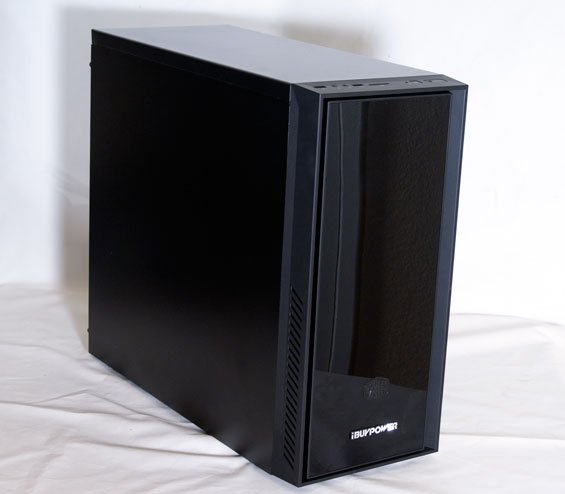 But for small business and enterprise, it can be a whole different ball game, where powerhouses like Dell and HP produce uniquely designed configurations meant for mass deployment...and have the resources to greatly improve support, to boot. We've seen business class machines from both vendors before, but today we have on hand iBuyPower's Professional Series desktop.
Any boutique would probably be remiss to not at least offer some kind of professional solution to end users, and in fact some (like AVADirect) can produce a healthy business going this route by leveraging their own agility in terms of component selection, producing custom builds that bigger OEMs simply aren't readily capable of. Yet the first warning sign comes from iBuyPower's own website, where their Professional Series towers aren't immediately presented; the front page is nothing but gaming machines. In fact you have to hit their "Featured Product" section under the "Desktop" button at the top of the page to even see this line; it doesn't show up under their "Intel Desktop" header. iBuyPower clearly knows who and where their bread and butter are, but a little more publicity for this line could probably go a long way.
For their custom workstation desktops, iBuyPower offers three base configurations, in X58, Xeon (LGA 1155), and Z68 flavors. They shipped us the Xeon version for review, and that's probably the best choice, but what's surprising is how closely this configuration mirrors the HP Z210 we reviewed recently, a desktop that's maybe a third the size of this tower.
iBuyPower Professional Xeon Specifications
Chassis
Cooler Master Silencio 550
Processor
Intel Xeon E3-1240
(4x3.3GHz + HTT, 32nm, 8MB L3, 80W, no IGP)
Motherboard
ASUS P8B WS (C206 chipset)
Memory
2x4GB Kingston DDR3-1333 ECC @ 1333MHz (expandable to 16GB)
Graphics
NVIDIA Quadro 600 1GB DDR3
(96 CUDA Cores, 640/1280/1600MHz core/shaders/RAM, 128-bit memory bus)
Hard Drive(s)
2x Hitachi Deskstar 7K1000.C 1TB 7200-RPM SATA 3Gbps in RAID 1
Optical Drive(s)
DVD+/-RW Combo Drive
Networking
Dual Intel 82579LM Gigabit Ethernet
Audio
Realtek ALC892 HD Audio
Speaker, mic/line-in, surround jacks for 7.1 sound
S/PDIF and Optical Out
Front Side
Optical drive
Hot-swappable 3.5" drive bay
Top
USB 3.0
Headphone and mic jacks
USB 2.0
SD Card reader
Back Side
PS/2
6x USB 2.0
6-pin FireWire
USB 3.0
2x Ethernet
DVI-D (not active)
Optical and S/PDIF
Speaker, mic/line-in, surround jacks
DVI-D and DisplayPort
eSATA
2x USB 2.0
Operating System
Windows 7 Professional 64-bit SP1
Dimensions
8.3" x 17.8" x 19.9" (WxDxH)
Extras
SD Card Reader
RAID 1
Corsair TX650 80 Plus Bronze PSU
USB 3.0 support
Asetek 550LC liquid CPU cooler
Warranty
3-year parts, 1-year labor (extendable by up to two years on each)
Pricing
Starts at $1,389
Review system configured at $1,439
The HP Z210 SFF we reviewed shares its core with iBuyPower's configuration: the only difference between the Xeon E3-1240 in our review system and the E3-1245 in HP's is support for Intel's IGP. Likewise, both offer 8GB of ECC DDR3-1333, though iBuyPower opts for two 4GB sticks instead of four 2GB sticks. The NVIDIA Quadro 600 (basically a workstation-class GeForce GT 430) also remains consistent.
Where iBuyPower benefits is by being able to employ a full ATX motherboard complete with all the modern trimmings: USB 3.0, FireWire, dual gigabit ethernet, and even surround sound. They also up the ante by equipping the iBuyPower Pro with a mirrored RAID and a liquid cooler for the processor; the former can be indispensible while the latter is of much more questionable value. What I can't understand is why they elected to eschew including an SSD with this configuration; in fact only their X58 model includes an SSD standard.
Our review unit also only deviates from the iBuyPower stock configuration by using the Cooler Master Silencio 550 enclosure; the stock configuration uses NZXT's Source 210. The Cooler Master case adds $50 to the configuration price but I'm honestly not sure it's worth it, and unfortunately none of the enclosure options iBuyPower offers seem suitable for a workstation.
Ultimately, though, this configuration winds up being a bit over three bills south of the HP system we tested for a bit more flexibility in the hardware, both in terms of configuring your build and actual I/O, and while HP's Z210 tops out at the Quadro 600, iBuyPower will let you upgrade all the way up to a Quadro 5000.