Today marks the first day of our coverage of Qualcomm's annual Uplinq conference in San Diego, California. It's our first time coming to Uplinq, a conference whose roots trace back to the heydays of the Brew MP platform. Since then it's become a mobile conference hosted by Qualcomm for developers, operators, and software developers alike.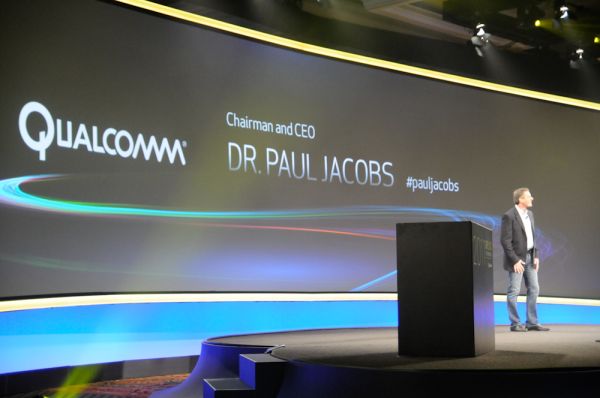 While Anand and Ian are over covering Computex 2011, I'm back stateside covering Uplinq, and it's going to be a busy but exciting next few days for everyone. The first conference at Uplinq was presented by Paul Jacobs, Qualcomm's CEO. Paul started out by talking about how in the past year, mobile has been at the heart of social revolution and societal change. The direct reference of course is to the recent social uphevals in the middle east and Africa, which were amplified by the widespread distribution of breaking news and videos all using smartphones. Videos, photos, and coordination powered by social platforms such as Twitter and Facebook on mobile handsets empowered people to become a new force for social change.
On a somewhat related point, Paul then went on to talk about the current state of cellular network deployment and likewise what operators are doing to meet growing mobile bandwidth demands, and also dropped a few stats. There are over 120 HSPA+ and over 180 EVDO networks operating right now, and over 200 mobile operators have plans to deploy LTE and better use their spectrum, with over 20 already operating LTE networks. By 2015 data consumption will grow dramatically, and better utilizing spectrum using more spectrally efficient cellular network releases such as LTE is part of the solution.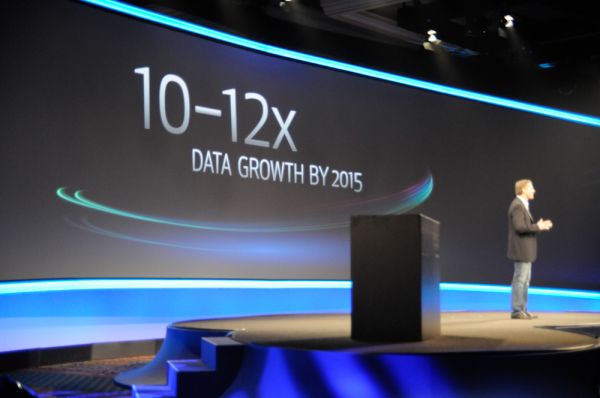 It's hard to argue that mobile computing attention hasn't eclipsed the attention given to traditional desktops, and Paul backed his claims with examples such as google maps use on mobile eclipsing desktop use. Qualcomm calls mobile the new first citizen ahead of the desktop, as a part of an entirely mobile-focused era.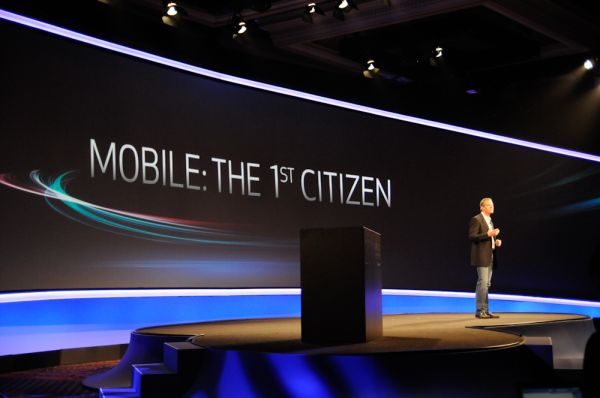 Paul claims this is a critical inflection point in computing for not just mobile but the entire industry, and thinks its leadership in software and hardware integration are going to continue to give it a competitive advantage. Qualcomm believes its mobile roots and partnerships are something which also give it a competitive advantage over other SoC vendors, a subtle jab perhaps at NVIDIA and even Intel.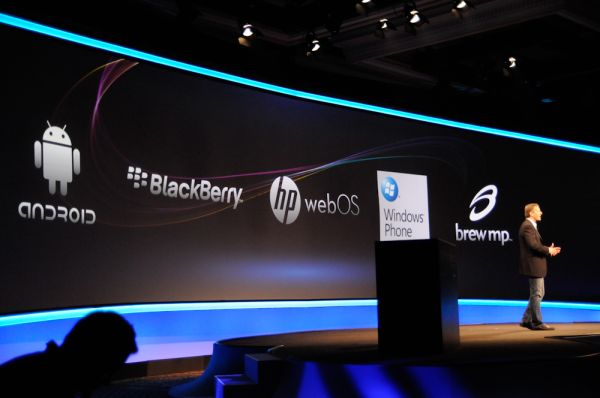 Qualcomm reminded everyone that its SoCs are compatible with virtually every platform - BlackBerry, Android, Windows Phone 7, Brew, and WebOS. Paul noted that Snapdragon is currently the only chipset used in Windows Phone 7 devices, though it seems the word currently was carefully chosen depending on Nokia's possible choice to includ ST-E SoCs in its WP7 devices.
Both HP/WebOS and Sony Ericsson were likewise given as examples of vendors that are exclusively using Qualcomm SoCs. The Veer (whose review I'm still working on and nearly finished with) uses MSM7230 at 800 MHz, the Pre 3 uses MSM8x55 at 1.4 GHz, and finally the Touch Pad uses the modem-less dual-core snapdragon variant APQ8060.
The next topic was Adreno graphics, specifically Adreno 220 inside Qualcomm's MSM8x60 SoC that we already previewed and benchmarked inside a mobile development platform (MDP). The demo included a number of games being played realtime on a MDP in 3D which required the audience to don the glasses.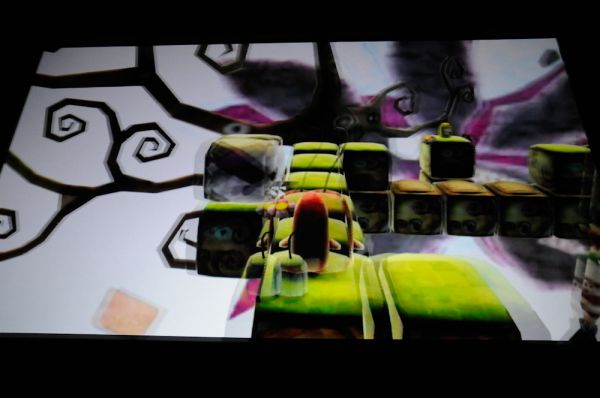 What was more intrguing after that were live samples of 3D video taken on a device with MSM8x60 at its core. It's too early to tell how good quality will be on 3D phones built around MSM8x60 such as the HTC EVO 3D, but the framerate looked lower than 30fps. We'll get a better perspective closer to launch.
The next major topic was web browsing performance, the importance of which we've talked about over and over again in device reviews. Paul noted that Qualcomm has aggressively pursued working with WebKit and other open source communities to both push code optimized for Snapdragon upstream, and also work together and implement HTML5 standards.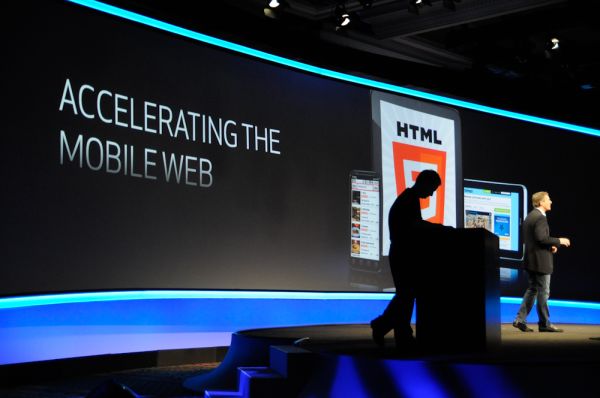 Qualcomm put up a slide with some numbers showing how MSM8x60 performs with these optimizations compared to a "competitors dual-core." There wasn't any word about what platform comparisons were being made on, either.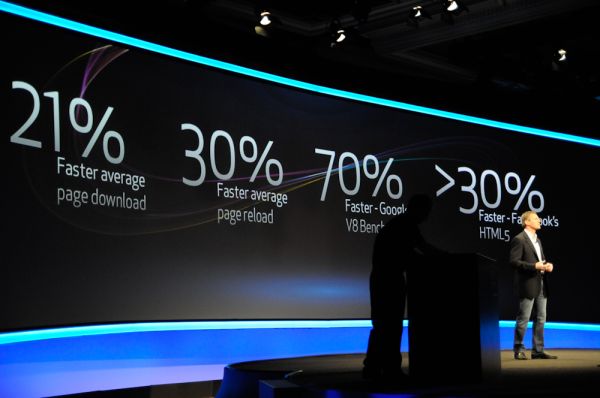 We're beefing up our web benchmark suite as well - clearly web browsing performance is going to be a hugely important bar for mobile devices in the future. Beyond just synthetic JavaScript tests, characterizing page load speed (HTML parsing), scrolling and composition, and HTML5 performance will be the key areas.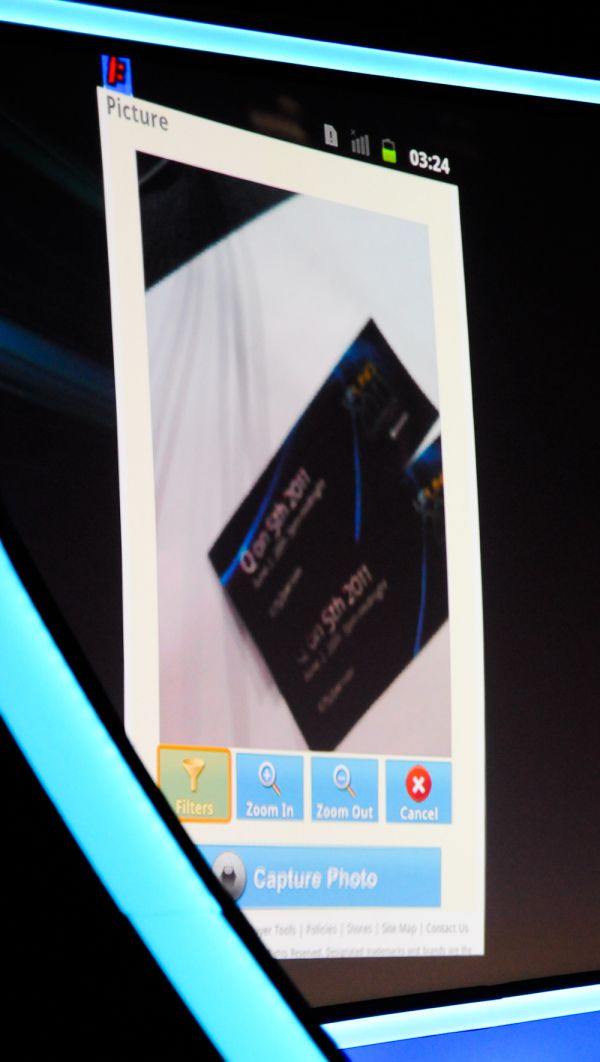 To demonstrate some of its HTML5 collaboration, Paul showed an impressive demo where the browser talked directly to the camera API for image acquisition. The demo included live image preview, capture, and filter application taking place from within the browser. The demo appeared to be running on a MDP running some version of Android 2.3.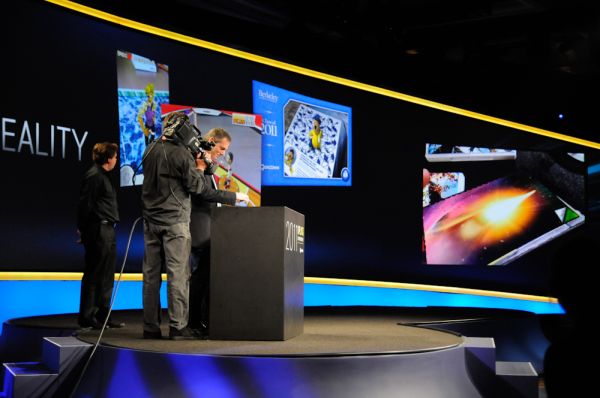 The next demo focused on augmented reality as applied to a DVD case. QR codes on the DVD front case coupled with image processing to back out the case orientation and size enable a software running on the MDP to overlay video from the DVD's trailer. Framerate and tracking were spot on and completely fluid, even with three trailers visible and playing back.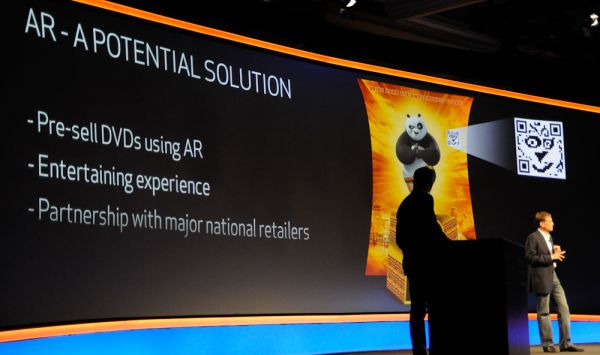 A Dreamworks representative was brought on stage to discuss how augmented reality can be used to re-invigorate sagging physical disk sales. Also, no, the panda-looking tag does not appear to be readable, though I'm aware of a number of different scripts and approaches put together which computationally derive readable QR codes with arbitrary shapes and designs that don't rely on data redundancy. Perhaps now there's a huge market for someone to package that up and ship.
That's it for right now, but stay tuned for more Uplinq coverage throughout today and tomorrow.