Re-introducing AVADirect's Clevo X7200
A little over seven months ago, we took at look at a Clevo X7200 courtesy of AVADirect that featured a desktop hex-core processor and a pair of NVIDIA's then-fastest mobile graphics cards, the GeForce GTX 480M. Since then NVIDIA has refreshed their mobile top end, and while we hope to review the GTX 485M in SLI soon, in the meantime we have another pair of mobile parts that have been making waves: the AMD Radeon HD 6970M.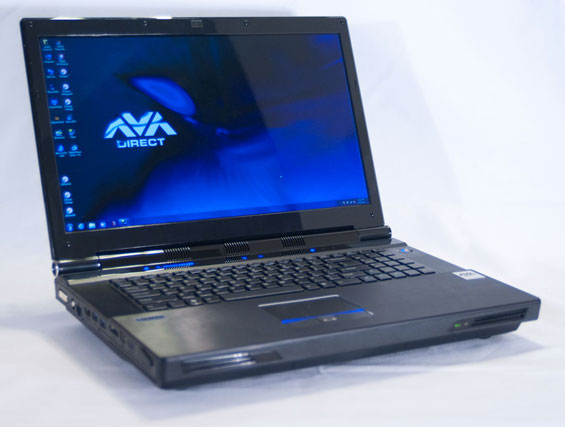 Since our previous review, nothing has changed about the Clevo X7200 whitebook that AVADirect sent us. At its core, it's still an X58-based monster of a notebook, and the review unit we received is essentially comparable to the last one with only minor differences between the two.
AVADirect Clevo X7200 Gaming Notebook
Processor
Intel Core i7-990X
(6x3.46GHz + HTT, 3.73GHz Turbo, 32nm, 12MB L3, 130W)
Chipset
Intel X58 + ICH10R
Memory
3x4GB Crucial DDR3-1333 (Max 3x4GB for now)
Graphics
2x AMD Radeon HD 6970M 2GB GDDR5 in CrossFire
(960 stream processors, 680MHz/3.6GHz core/memory clocks, 256-bit memory bus)
Display
17.3" CCFL Glossy 16:9 1080p (1920x1080)
LG Philips LP173WF1-TLC1
Hard Drive(s)
OS: Crucial RealSSD C300 256GB
Data: 500GB Seagate Momentus XT 7200RPM Hybrid
Optical Drive
6x Blu-ray/8x DVDR Combo (HL-DT-ST CT21N)
Networking
JMicron JMC250 Gigabit Ethernet
Killer Wireless-N 1102 802.11a/b/g/n
Bluetooth 2.1
Audio
Realtek ALC888 HD Audio
5.1 speakers
Four audio jacks
Battery
9-Cell, 14.8V, 5300mAh, 78.44Wh
Front Side
N/A (Speaker grilles)
Right Side
4 x audio jacks
3 x USB 2.0
Kensington lock
Left Side
9-in-1 Flash reader
(Optional HDMI In)
Optical drive
Mini 1394
eSATA/USB combo port
2 x USB 3.0
HDMI Out
Ethernet jack
CATV
Dual-link DVI
Back Side
AC jack
4 x Exhaust Ports
Operating System
Windows 7 Home Premium 64-bit
Dimensions
16.5" x 11.3" x 2.22-2.4" (WxDxH)
Weight
~13.0 lbs
Extras
3MP Webcam
98-key keyboard with 10-key
Flash reader (MMC, SD/Mini SD, MS/Duo/Pro/Pro Duo, xD)
Warranty
1-year standard warranty
2-year and 3-year extended warranties available
Pricing
Starting at $2118
Price as configured: $4463
Since our previous review, Intel updated their top end processor to the Core i7-990X; it's a minor 133MHz speedbump, but the 990X is still one of the fastest, if not the fastest, processors available today. This is a desktop processor in a "mobile enclosure," running at a nominal 3.46GHz on all six cores and able to turbo up to 3.73GHz. Our review unit this time around is also down a Crucial RealSSD C300, so we'll have to settle for "just one" instead of two in RAID 0.
It's worth noting our display panel in this review unit is actually different than the previous one; the last one had a HannStar panel but this one includes an LG and as you'll see in our screen tests, it's both better and worse.
And of course, there's the reason we're all here: two AMD Radeon HD 6970M GPUs in CrossFire. The 6970M is basically the mobile equivalent of AMD's desktop Radeon HD 6850, with 960 shaders in the old VLIW5 configuration and a 256-bit memory bus. Clocks are much lower, though: the 6970M runs at only 680MHz on the core and 900MHz on the GDDR5 (for an effective 3.6GHz). To compensate for the mobile market, AMD stacks it with 2GB of video memory instead of the 1GB found on desktop cards.
For this review we're going to eschew the usual look at the notebook and its build quality; this is the same shell we reviewed last year, so there's nothing new to say. You can read the previous overview if you have any additional questions.