The DMA (Digital Media Adapter) aka media streamer market has been dominated by Sigma Designs, Realtek and of late, the Intel CE 4xxx series. The low end market is catered to by the Boxchip and Amlogic based media streamers.
Having got the codec compatibility right (at least on paper), the choice for the media streamer manufacturers was to either go the 3D route or add extra non-core functionality in the next-gen products. 3D is yet to go mainstream despite the best efforts of the top tier manufacturers.
A number of Android-based DMAs (Digital Media Adapters / media streamers) are set to launch in 2011.
It appears that Android is very resource intensive for the current media streamer platforms. We are yet to see any products announced with the Realtek 1185. However, it has been demonstrated on the TViX Xroid A1 which uses the SMP8656 from Sigma Designs. Today, we will cover the launch of another Android based media player from Nixeus, the Nixeus Fusion XS.
Nixeus got off to a promising start with the Nixeus Fusion HD. However, the lack of CPU and graphics muscle in the SMP 8655 (and the fact that they jumped on the 8655 bandwagon a bit late compared to other vendors such as WD) meant that the Fusion HD could only differentiate itself to a limited extent.

Instead of going with Sigma Designs, Nixeus decided that a fresh approach was necessary for their next-gen product and opted to go with Marvell, an hitherto unproven vendor in this market space. Before going into the details of the SoC itself, let us take a brief look at the Nixeus Fusion XS specifications.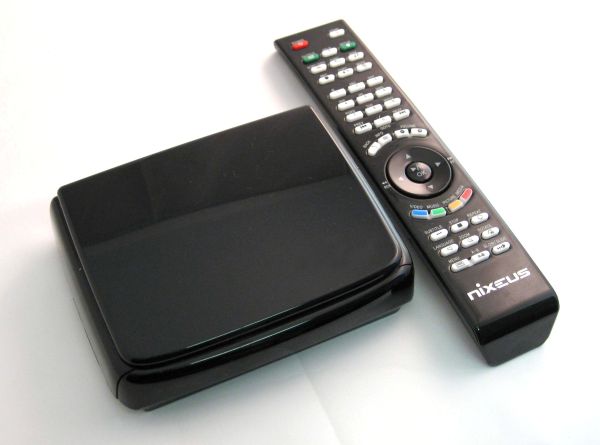 Engineering Sample of the Nixeus Fusion XS
General characteristics:
HDMI 1.3a DLNA 1.5 media player
10 / 100 Mbps Ethernet
Optical SPDIF
Composite output (with stereo audio)
2 x USB 2.0 host
IR remote controller
Hardware specifications:
Marvell 88DE3010
2 GB NAND Flash
512 MB DRAM ( 4 x 1Gb x16 DDR2)
Software specifications:
Android 2.2 based application system
Web browser with HTML5 support
Streaming protocols supported: HTTP/MMS/RTP/RTSP/UDP
Full DVD playback support (with menus)
Blu-Ray menu support (no BD-Java / BD-Live)
Codec support specified to be the same as that of the Fusion HD along with Real Media
Currently, there is no single media streamer capable of catering to all the requirements of all the consumers. Though the above set of specifications are nothing out of the ordinary, Nixeus may still have a winner in its hands if it manages to placate the demanding consumers. Thankfully, there is a much more powerful SoC at their disposal this time around.