Introducing the Clevo P170HM and NVIDIA's GeForce GTX 485M
When we reviewed the Clevo W880CU and, by extension, NVIDIA's GeForce GTX 480M, we were perplexed. Certainly NVIDIA had reclaimed the mobile graphics crown and no one could dispute that, but at what cost? The 480M was a cut-down mobile version of the already dire desktop GeForce GTX 465M. We even begged the question: "Wouldn't the prudent thing to do have been to let ATI have their cake for the time being and try and push GF104 into laptops?" Today we have a better answer. AVADirect has been kind enough to send us a Clevo P170HM notebook outfitted with NVIDIA's latest and greatest, the GF104-based GeForce GTX 485M.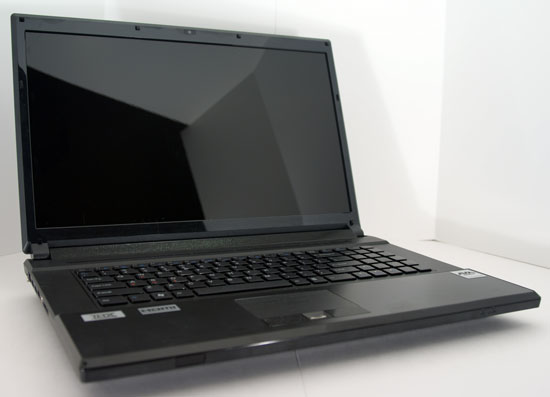 We're not going to lie; this is the mobile part we've been waiting for from NVIDIA ever since the GeForce GTX 460 was released. GF104 has been recently succeeded by the GF114 powering the GeForce GTX 560 Ti, but in a strange twist of fate, only notebooks will ever see a full-blown GF104. While the desktop version was trimmed down to 336 shaders, the mobile one powering the 485M features all 384.
AVADirect was gracious enough to provide us a Sandy Bridge notebook during a period when Sandy Bridge has been incredibly scarce from any angle, and the Clevo P170HM is the successor to the previously-reviewed W880CU. This is the configuration they shipped us:
Clevo P170HM Review Unit Specifications
Processor
Intel Core i7-2720QM
(4x2.2GHz, 32nm, 6MB L3, Turbo to 3.3GHz, 45W)
Chipset
Intel HM67
Memory
2x4GB DDR3-1066 (Max 4x4GB)
Graphics
NVIDIA GeForce GTX 485M 2GB GDDR5
(384 CUDA cores, 575MHz/1150MHz/3GHz Core/Shader/RAM Clocks)
Display
17.3" LED Glossy 16:9 1920x1080
(LG LP173WF1-TLC1 Panel)
Hard Drive(s)
Crucial RealSSD 300 128GB SATA 6Gbps SSD
Seagate Momentus XT 500GB 7200RPM SATA 3Gbps Hybrid HDD/SSD
Optical Drive
BD-ROM/DVD+-RW Combo Drive
Networking
JMicron PCIe Gigabit Ethernet
Realtek RTL8188CE 802.11b/g/n
Bluetooth 2.1+EDR
Audio
Realtek ALC892 HD Audio
Five speakers and subwoofer
5.1 audio jacks with S/PDIF
Battery
8-Cell, 10.8V, 77Wh battery
Front Side
Infrared port
Wireless switch
Indicator lights
Left Side
CATV jack
Ethernet jack
2x USB 3.0
USB 2.0
4-pin FireWire port
MMC/SD/MS reader
Right Side
Optical drive
Headphone jack
Microphone jack
Line-out/digital out jack
Line-in jack
USB 2.0
Back Side
Kensington lock
Exhaust vent
eSATA
HDMI
DVI
AC adaptor jack
Exhaust vent
Operating System
Windows 7 Home Premium 64-bit
Dimensions
16.22" x 10.87" x 1.65"-1.79" (WxDxH)
Weight
8.60 lbs
Extras
2MP Webcam
Flash reader (MMC, SD/Mini SD, MS/Duo/Pro/Pro Duo)
Blu-ray drive
USB 3.0
Bluetooth
5.1 integrated sound
103 key keyboard with 10-key
Warranty
1-year limited warranty
Pricing
Available starting at $1611
Price as configured: $2614
The two banner items in our review unit are going to be the Sandy Bridge-based Intel Core i7-2720QM and the shiny new NVIDIA GeForce GTX 485M. The Cougar Point chipset bug took a major bite out of the industry, so we appreciate AVADirect being willing to send us a review unit despite that. The Core i7-2720QM is one of those moronically fast new Sandy Bridge processors, built on a 32nm process and equipped with four Hyper-Threaded cores and 6MB of L3 cache. Turbo speeds are impressive to say the least: the i7-2720QM has a nominal stock clock of 2.2GHz, but is able to turbo up to 3GHz on all four cores, 3.2GHz on two cores, and 3.3GHz on just one core. A 3GHz mobile quad core, especially with the kind of performance Sandy Bridge yields, would've been unheard of not too long ago.
Of course, the really big news item here is NVIDIA's GeForce GTX 485M. Since the GF104 was released (and later refreshed by the GF114), I felt like that was the core that really should've gone mobile. The GF100-based GeForce GTX 480M was too horribly trimmed, essentially a lower-clocked version of the disappointment that was the desktop GeForce GTX 465, and as a result it wasn't the homerun AMD Mobility Radeon HD 5870 killer we wanted. That changes with the 485M.
NVIDIA has kept the stratospheric 100W TDP of its predecessor and used that thermal budget more efficiently. The 485M is a full-fledged GF104, something we never saw on the desktop. It sports 384 CUDA cores, with reasonable clocks of 575MHz on the core and 1150MHz on the shaders. The anemic 2.4GHz clock of the 480M's GDDR5 has been supplanted by a more reasonable 3GHz clock (though still a healthy distance from the 3.6GHz AMD is able to achieve on the Radeon HD 6970M), and that GDDR5 enjoys a healthy 256-bit memory bus. The net result is a chip that sports substantially higher clocks and a higher shader count than its predecessor. Note that the price to upgrade from an already expensive GTX 460M is $504 at AVADirect, so the GTX 485M does not come cheap!
Rounding out our review configuration of the Clevo P170HM is a Crucial RealSSD C300 128GB solid state drive, currently one of the only SSDs on the market supporting SATA 6Gbps, along with a Seagate Momentus XT 500GB hybrid drive pulling mass storage duties. The SATA 6Gbps functionality of the HM67 chipset is certainly in full effect, too, and looks to be supported in both drive bays. AVADirect also included a Blu-ray reader and the Clevo has a healthy amount of connectivity: USB 3.0, eSATA, FireWire, and gigabit and wireless networking are all accounted for. In fact the only curious omission is the lack of an ExpressCard slot, though given how everything else—even digital 7.1 audio—is accounted for, it's hard to imagine what you'd need to add.
The base price starts at $1611 from AVADirect, but once you start adding extras you'll get well above $2000 quite fast. With the GTX 485M, the bare minimum you'll pay is $2115. The i7-2720QM is actually a fairly cheap upgrade from the base i7-2630QM at only $45, though performance isn't all that different. The 128GB SSD tacks on another $175 compared to the typical Seagate 7200.4 500GB, and you'll want at least 2x2GB RAM ($18), but with a system this potent why not go for 2x4GB ($70). Outside of the hugely expensive GPU upgrade, all of the prices at AVADirect are very competitive with what you'd pay on Newegg.com, so we can't fault them here. Whether it's NVIDIA raking in the bucks on the 485M, or vendors taking a nice cut—or very likely some of each!—the fact is that you're getting a very capable gaming notebook. Whether you're willing to spend over two large on such a system is a different matter.