Last year Qualcomm told us about the MSM8960, its next-generation Snapdragon SoC based on a brand new microprocessor architecture. Today Qualcomm announced some more details on the architecture behind the MSM8960 as well as a couple of new SoCs based on that architecture.
The CPU architecture is codenamed Krait. I'll be meeting with Qualcomm later today to talk about architectural details in greater depth as today's release has little information other than some general performance numbers.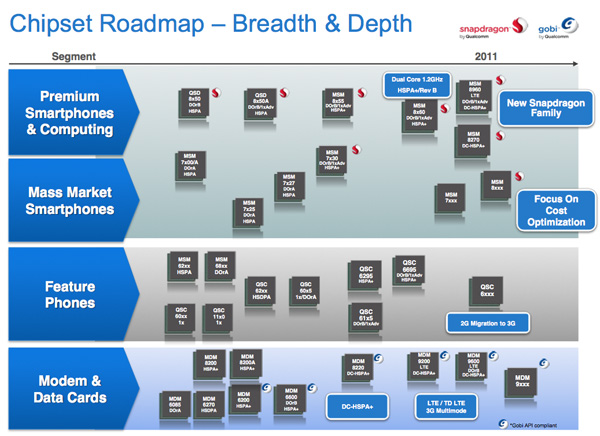 Krait, like Scorpion before it, is a ground-up CPU design by Qualcomm. The architecture will debut at 28nm and run at speeds of up to 2.5GHz. This is compared to the ~2GHz target frequency for high end Cortex A15 devices. Again we know nothing about the architecture or pipeline of Krait so it's impossible to draw any conclusions based on this information alone.
Qualcomm announced that Krait is up to 150% faster than "currently available ARM-based CPU cores". Again this could mean anything as ARM11, Cortex A8 and Cortex A9 cores are all "currently available".
The Krait cores will be integrated into SoCs in single, dual and quad-core configurations.
First let me explain Qualcomm's nomenclature. There are three prefixes you need to be familiar with: QSD, MSM and APQ. QSD was the original prefix applied to Qualcomm Snapdragon SoCs, it has since been retired and replaced with MSM. Going forward you won't see any more QSD products, they'll all be called MSM-something (e.g. MSM8960). The QSD prefix was a remnant of the original marketing strategy behind Snapdragon.
If you paid attention to
HP's webOS announcements
you'll know that the new TouchPad uses a new Qualcomm SoC - the APQ8660. The APQ prefix stands for Application Processor Qualcomm and it refers to an SoC that does not have an integrated modem. The MSM line all have integrated Qualcomm modems making them a single chip solution for those customers who want the added integration.
With that out of the way let's get to what's being announced today.
Krait will debut in three configurations: a single-core MSM8930, dual-core
MSM8960
and quad-core APQ8064.
The MSM8960 will be available first, sampling in Q2 2011 and likely in devices a year or so later. The sampling schedule seems a bit aggressive given that it's 28nm but that's what Qualcomm is saying.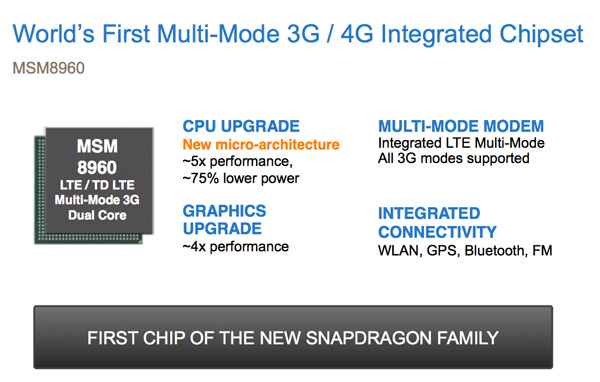 The MSM8960 integrates a multi-mode 3G/LTE modem, which should make this a very attractive SoC for future high end smartphones. The SoC adds a dual-channel LPDDR2 memory controller and uses an Adreno 225 GPU. Qualcomm states that the 225 is eight times the speed of the original Adreno 200. Given that the Adreno 205 was 2x the 200, that would make the Adreno 225 4x the performance of the fastest Adreno GPUs we have today.
Both the single-core MSM8930 and the quad-core APQ8064 will be sampling in early 2012. The MSM8930 also integrates a 3G/LTE modem but it adds an Adreno 305 GPU. The 305 is supposed to be six times the performance of the original 200. I expect the MSM8930 to be used in upper mainstream smartphones, while the MSM8960 will be more of a high end smartphone SoC.
As an APQ, the quad-core 8064 has no integrated modem but it does have four Krait cores (capable of running at asynchronous clock speeds so core 0 could run at a different frequency than core 3 depending on load). This sounds a lot like a tablet SoC.
The APQ8064 integrates an Adreno 320 GPU, which Qualcomm says offers performance similar to today's gaming consoles. The 320 features four GPU cores. The Adreno 320 is listed as being 15x the performance of the original Adreno 200.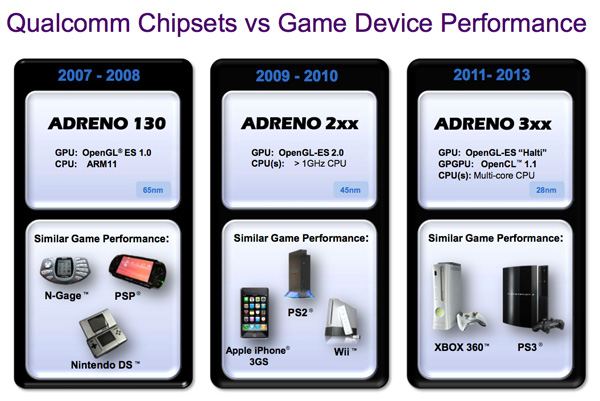 Feeding the CPU cores is LPDDR2 memory interface, although standard DDR3 can also be used. The 8064 also has a PCIe interface and support for up to a 20MP camera.
These Krait based SoCs will go up against ARM Cortex A15 based solutions (e.g.
TI's OMAP 5
). Intel's Medfield (32nm Atom) SoC will also be a competitor here.