Apple is in a position that's enviable by any consumer facing company. It drums up genuine excitement for nearly every product it launches. Apple has somehow found a way to make something as small as just another processor refresh exciting.
It's not all smoke and mirrors though. The previous generation unibody MacBook Pro posted some incredible battery life numbers. And two weeks ago Apple paired it with Intel's Core i5 and i7 mobile CPUs, delivering the sort of desktop-like performance we've been waiting for.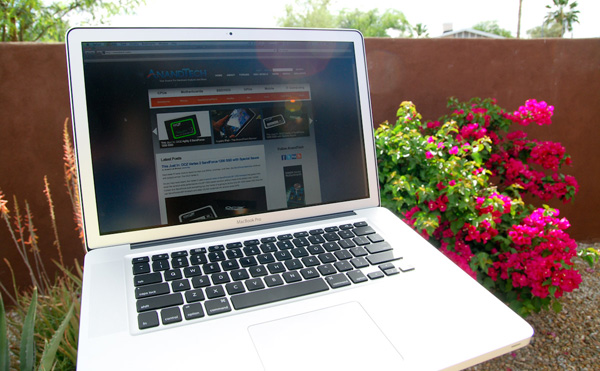 Since the release we've had the time to answer a few more questions about the new systems. We updated our launch article with Core i5 vs. Core i7 results. But today, in response to many of your requests, we've got more battery life results and a full evaluation of the 15-inch MacBook Pro's display quality. Apple is often the go-to manufacturer for creative professionals, we put our colorimeter on the MacBook Pro to find out if they're making the right choice.
Battery Life: Better and Worse in the Real World
Battery life on the new MacBook Pro is a lot more varied than it was on the old one. While our light web browsing test does a good job of showing you what very light usage can give you, I find that the new 15-inch MacBook Pro spends more time at states of higher power draw than the old one. This is difficult to show as a single benchmark result but it appears to be because of two things.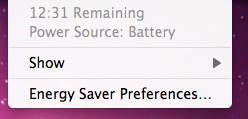 The obvious cause is that the Core i5/i7 CPUs let you do more with the machine. Tasks complete quicker, the system is more responsive and as a result you end up doing more with the machine.
The second part of the problem is Apple's automatic graphics switching technology. While it relies on applications that use specific frameworks (e.g. OpenGL, OpenCL, Quartz Composer, Core Animation and Core Graphics), many have pointed out strange behavior when doing something as harmless as browsing the web.
An attentive Mac Rumors reader pointed out that by looking at OS X's System Profiler you can find out what GPU is being used: the active GPU will list the specs of the display it's driving: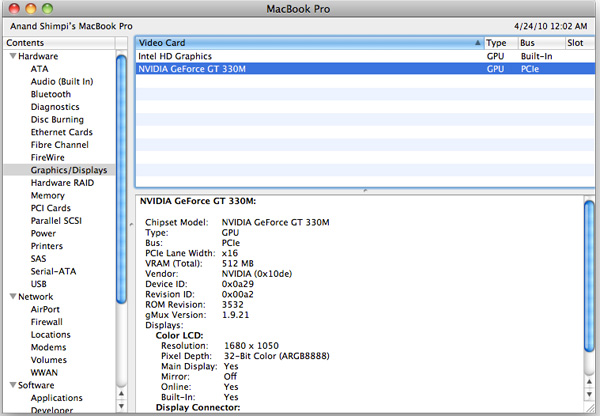 The inactive GPU will simply state that there's "No Display Connected". Start up Photoshop and you'll see the discrete GPU kick in, close it and you'll see Intel's HD Graphics take over.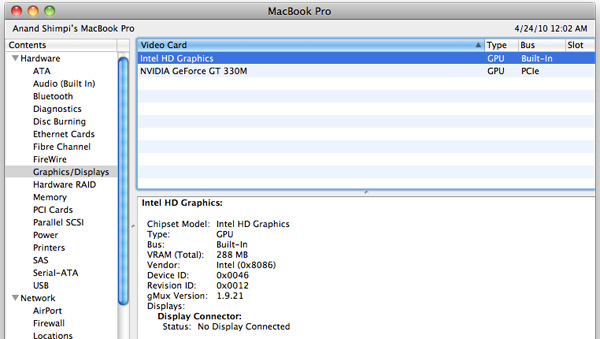 Readers of my first Month with a Mac article will know that one thing I quickly embraced about OS X was the idea of just leaving applications open. If you've got enough memory, OS X tends to do just fine with a ton of applications open. In fact, the UI is designed around it; closing all application windows rarely quits the app itself, Apple appears to want you to leave your frequently used apps open and idle. It makes switching between them that much faster. The fact that the new MacBook Pro's discrete GPU won't power down if you have an application like Photoshop open flies in the face of this leave-your-apps-open usage model.
So you've got to be mindful of what applications will trigger the discrete GPU to take over. That's not terribly hard, but there's just one problem: sometimes your web browser can wake up the dGPU. I've found numerous cases where Google Chrome will activate the discrete GPU, while our own Brian Klug found that Firefox did the same. I haven't extensively tested Safari to see if it has the same issue. I suspect this is a software bug, but it is one that lowers battery life in real world usage scenarios. The discrete GPU remains powered down in all of my OS X battery life tests, but I found that in my using the new MacBook Pro my battery ran down much quicker than I was expecting. Part of it is the potentially more power hungry Arrandale CPU, but part of it is the fact that the discrete GPU was active when it had no reason to be.
You'll still get better battery life compared to an older MacBook Pro, and you have the potential to get better battery life than last year's 2nd gen unibody MacBook Pro. But as I mentioned in our review, there's also the chance that you'll see lower battery life than the previous model. And as I've come to realize, that chance is higher than I originally thought because of the issues mentioned above. It's even higher if you opt for the Core i7 model...