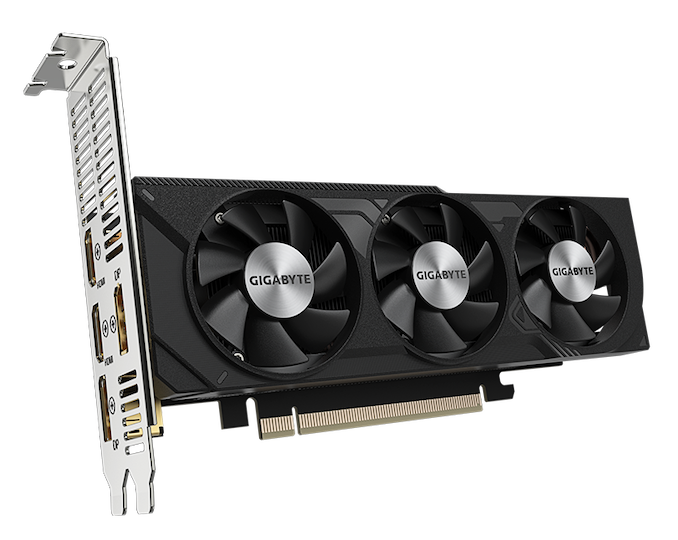 The relatively low power consumption of Nvidia's GeForce RTX 4060 graphics processor allows graphics card makers to experiment with the form factors of their products. We have already seen Mini-ITX GeForce RTX 4060 graphics cards, and late last week, Gigabyte introduced a low-profile GeForce RTX 4060 that can fit into miniature desktops and provide decent performance in games.
The Gigabyte GeForce RTX 4060 OC Low Profile 8G is based on NVIDIA's AD107 GPU with 3072 CUDA cores that are paired with 8 GB of 17 GT/s GDDR6 memory using a 128-but interface. To justify the OC (overclocked) moniker in the product name, Gigabyte even clocked the graphics processor at 2475 MHz, which is 15 MHz higher than Nvidia's recommendations for the RTX 4060 model.
Using a graphics board that requires an eight-pin auxiliary PCIe power connector, it is equipped with a dual-slot triple-fan cooling system featuring dozens of thin aluminum. We can only guess whether the cooler is quiet and whether it is good enough to enable further overclocking, but at least Gigabyte guarantees a GPU boost clock of up to 2475 MHz.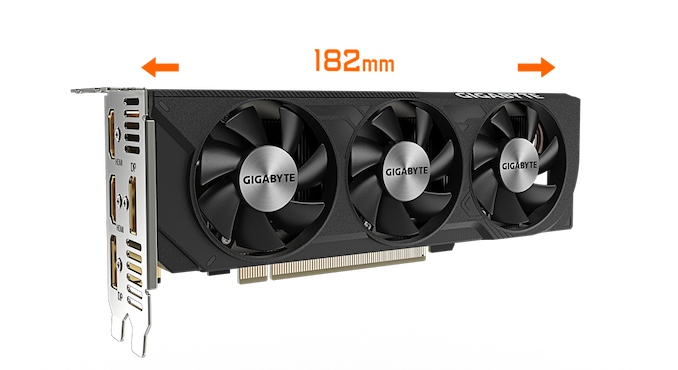 Touching more on the cooler, it is longer than the printed circuit board itself, making the graphics card 182 mm long, so owners of compact systems should measure their chassis to ensure compatibility. Most low-profile PC cases are pretty long, but there are also tiny chassis that may be too small for this card.
Despite being low profile, Gigabyte's GV-N4060OC-8GL has four display outputs: two DisplayPort 1.4a (up to 4Kp120 or up to 5Kp60) and two HDMI 2.1a (up to 5Kp60 or up to 8Kp60 with DSC), so it can be used for rather serious PCs with up to four monitors.
Gigabyte has not disclosed the recommended pricing of their GeForce RTX 4060 OC Low Profile 8G graphics card. Considering that prices of most GeForce RTX products are hovering around recommended $299 price point, it is unlikely that Gigabyte will attempt to charge a huge premium for the unique form factor of its low-profile GeForce RTX 4060. Still, the compact dimensions are undoubtedly a significant differentiator of this product, and GIGABYTE will likely try to earn something extra from it.
Source: Gigabyte