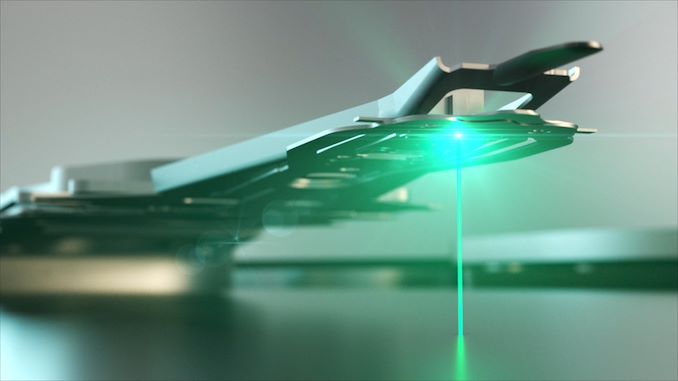 Seagate announced this week that it had begun the first commercial revenue shipments of its next-generation HAMR hard drives, which are being shipped out as part of Seagate's latest Corvault storage systems. This commercialization marks an important milestone in the HDDs market, as heat-assisted magnetic recording (HAMR) is expected to enable hard drives with capacities of 50 TB and beyond. Meanwhile, HDDs employing perpendicular magnetic recording (PMR) and shingled magnetic recording (SMR) technologies are expected to remain on the market for the foreseeable future.
"We shipped our first HAMR-based Corvault system for revenue as planned during the June quarter," said Gianluca Romano, chief financial officer of Seagate, at the company's earnings call. "We expect broader availability of these CORVAULT systems by the end of calendar 2023."
Seagate officially disclosed in early June that its first HAMR-based HDDs feature a 32 TB capacity and use a familiar 10-platter platform. Meanwhile, the company refrained from releasing specific capacity details of the HAMR hard drives used in these revenue Corvault systems.
Beyond Corvault systems, Seagate also shipped its HAMR-based hard drives to key customers among hyper scalers for testing and evaluation. Hyperscalers, due to their extensive storage requirements, are expected to benefit significantly from capacity points exceeding 30 TB. Though with the new technology at hand, as well as slightly higher power requirements for HAMR drives than standard PMR and SMR hard drives, the hyperscalers are also playing it safe and thoroughly validating the drives to ensure consistent performance.
Seagate's initial 32 TB HAMR hard drives will use the company's 10-platter platform, a system already proven and currently in use. Using an established platform, Seagate effectively mitigates numerous potential points of failure, potentially ensuring predictable production yield. This is smart, given the introduction of new media and write heads with its HAMR hard drives. The same 10-platter platform is expected to be used for 36 TB, 40 TB, and even larger-capacity hard drives in the future with as few alterations as possible.
"[We are] delivering on our 30+ TB HAMR product development and qualification milestones, with volume ramp on track to begin in early calendar 2024," said Dave Mosley, chief executive officer of Seagate."[…] Initial customer qualifications are progressing well. We are on track to begin volume ramp in early calendar 2024. We are also preparing qualifications with more customers, including testing for lower capacity drives targeting VIA and enterprise OEM workloads."
Even though high-volume production of HAMR hard drives is slated to begin in roughly half a year, Seagate also reaffirmed its plans for another generation of PMR and SMR hard drives during the call. These HDDs target customers not yet ready to switch to HAMR technology.
According to Seagate, they plan to introduce 24TB+ drives featuring PMR technology with two-dimensional magnetic recording (TDMR) read heads and SMR+TDMR in the near future.
"Development efforts on what may be our last PMR product are nearing completion and will extend drive capacities into the mid-to-upper 20TB range," Mosley said.
Source: Seagate