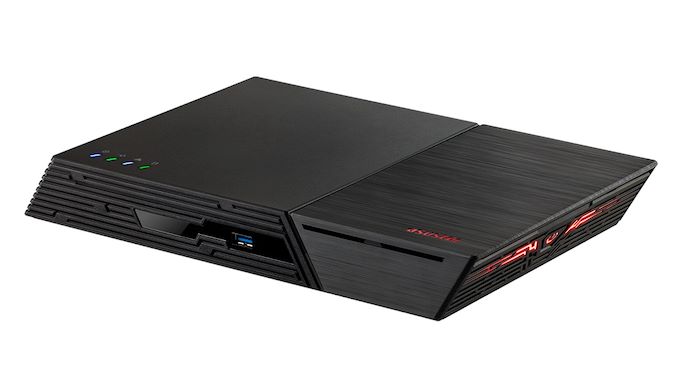 Asustor, one of the more popular NAS manufacturers, has announced the company's new Flashtor series. The Flashtor lineup, which currently consists of the Flashtor 6 (FS6706T) and Flashtor 12 Pro (FS6712X), caters to content creators and enthusiasts, offering a rich feature set that includes the capacity to house up to 12 PCIe 3.0 M.2 slots for NVMe SSDs, fast 10GbE connectivity and HDMI 2.0b port that supports 4K displays at 60 Hz. It's the first time the brand has launched a NAS featuring all-M.2 NVMe SSD storage.
The Flashtor series arrives with a black and very console-looking exterior. The aesthetics may be a refreshing departure from the typical NAS look for some. The Flashtor 6 and Flashtor 12 Pro have identical dimensions. Both measure 12.1 x 7.6 x 1.9 inches (308.26 x 193 x 48.3 mm). The weight varies slightly, though. The Flashtor 6 weighs 2.98 pounds (1.35 kilograms), while the Flashtor 12 Pro checks in at 3 pounds (1.37 kilograms).
The Flashtor 6 and Flashtor 12 Pro leverages Intel's Celeron N5105 (Jasper Lake) processor. The 10nm chip features four Tremont cores without Hyper-Threading that operate with a 2 GHz base clock and 2.9 GHz boost clock. The 10W processor doesn't have demanding cooling requirements, making it a common choice among NAS vendors. Asustor pairs the Celeron N5105 with a 4 GB SO-DIMM DDR4-2933 memory module. Regardless of the model, the Flashtor devices come with two SO-DIMM DDR4 memory slots and allow up to 16 GB (2 x 8 GB), the maximum capacity supported on the Celeron N5105. Asustor's NAS also has 8 GB of onboard eMMC storage.
Asustor Flashtor NAS Specifications
Component
Flashtor 6
Flashtor 12 Pro
CPU
Intel Celeron N5105
Intel Celeron N5105
RAM
4 GB DDR4-2933 SO-DIMM
4 GB DDR4-2933 SO-DIMM
Flash Memory
8 GB eMMC
8 GB eMMC
Storage
6 x PCIe 3.0 M.2 Slots
12 x PCIe 3.0 M.2 Slots
Networking
2 x 2.5 Gigabit Ethernet
1 x 10 Gigabit Ethernet
I/O
2 x USB 3.2 Gen 2x1
2 x USB 2.0
1 x HDMI 2.0b
1 x S/PDIF
2 x USB 3.2 Gen 2x1
2 x USB 2.0
1 x HDMI 2.0b
1 x S/PDIF
Power Adapter
65 W
90 W
Power Consumption
18.2 W
26 W
Noise Level
18.7 dB
18.7 dB
Dimensions (inches)
12.1 x 7.6 x 1.9
12.1 x 7.6 x 1.9
Weight
2.98 lbs (1.35 kg)
3.0 lbs (1.37 kg)
Starting Price (USD)
$449
$799
The Flashtor 6 and Flashtor 12 Pro differs in storage capacity and connectivity options. The former has six PCIe 3.0 M.2 slots for M.2 2280 drives, whereas the latter has 12. The NAS supports RAID 0, 1, 5, 6, and 10 arrays. In addition, Asustor designed specific air ducts and a small 80 mm cooling fan to keep the drives cool. The included M.2 heatsinks help with heat dissipation. While the Flashtor series are based on NVMe storage, consumers can still utilize hard drives when they need vast amounts of raw storage. However, consumers will need to employ the help of the AS6004U, a four-bay NAS storage capacity expander from Asustor that retails for $329. The AS6004U connects to the Flashtor devices through a standard USB 3 port.
Asustor equipped the Flashtor 6 with two 2.5 Gigabit Ethernet ports with read and write speeds up to 590 MB/s and 583 MB/s, respectively, in an SMB multichannel (RAID 5) environment. In contrast, the Flashtor 12 Pro only has a 10 Gigabit Ethernet port but flaunts read and write speeds up to 1,181 MB/s and 1,027 MB/s, respectively, in Windows with a RAID 5 array. It's important to highlight that Asustor achieved these performance numbers in the company's lab with avant-garde systems and optimized network settings. The consumer mileage will vary.
Only the Flashtor 6 supports Wake on LAN (WoL) and Wake on WAN (WoW) since the Flashtor 12 Pro only supports the former. In addition, the Flashtor series provides consumers with two USB 3.2 Gen 2x1 ports and two USB 2.0 ports for connecting external devices. As for multimedia, the NAS devices supply one HDMI 2.0b port for video and one S/PDIF output for lossless audio.
Asustor bundles a 65 W power adapter with the Flashtor 6 and a 90 W unit with the Flashtor 12 Pro. According to the brand, the Flashtor 6 pulls around 18.2 W during operation, and the Flashtor 12 Pro consumes around 26 W. The noise levels aren't outrageous, either. Asustor rates the Flashtor series with a noise level of 18.7 dB.
The Flashtor 6 and Flashtor 12 Pro retail for $449 and $799, respectively. Asustor backs the Flashtor series with a three-year warranty.
Source: Asustor