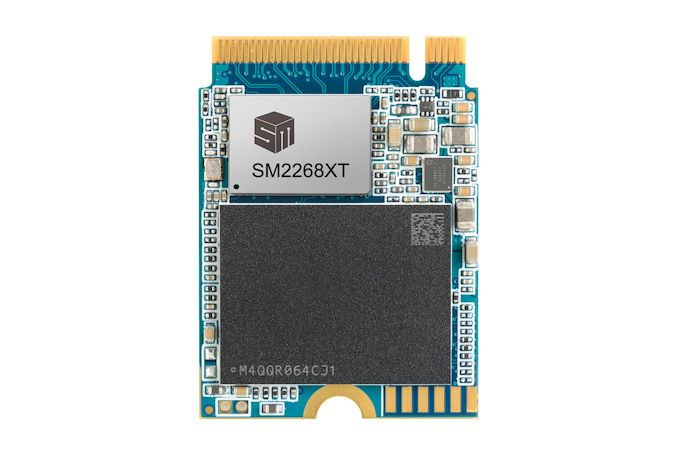 The excitement in the client SSD space recently has understandably been on the Gen 5 front. However, cooling requirements have made it difficult for vendors to bring effective M.2 NVMe Gen 5 SSDs to the market. In that context, it appears that Gen 4 M.2 SSDs will continue to have a much longer runway than was previously estimated. In order to better serve that market segment, Silicon Motion is introducing a new product in their PCIe 4.0-capable NVMe SSD controller lineup. The company's roadmap is not much of a secret, as we do expect their Gen 5 client controllers to land in Q4 2023 - in fact, an end product based on it from ADATA was already demonstrated by ADATA at the 2023 CES. However, today marks the official launch date for the SM2268XT - the third-generation DRAM-less Gen 4 SSD controller meant to play in the entry-level segment in terms of pricing, but move to the high end in terms of performance .
The key updates in the SM2268XT over the SM2267XT and SM2269XT are the increase in the per-channel data rate from 1600 MT/s to 3200 MT/s and support for the latest 2xx layer 3D TLC (as well as QLC) from different flash vendors. The new controller also brings in support for some NVMe 2.0 features (compared to NVMe 1.4 in the SM2267XT and SM2269XT). Like the SM2269XT, the LDPC engine codeword size in the SM2268XT is also 4KB (compared to 2KB in the SM2267XT). The move to a 12nm process also brings in better power efficiency.
THE SM2268XT will be competing against in-house controllers from Western Digital (such as the one used in the WD_BLACK SN770), and the upcoming Phison E21T as well as InnoGrit's RainierQX IG5220. The claimed performance numbers across all four corners for the SM2268XT are leading in its class.
Silicon Motion Client/Consumer Gen 4 NVMe SSD Controllers
SM2264
SM2267
SM2267XT
SM2269XT
SM2268XT
Market Segment
High-End Consumer
Mainstream Consumer
Manufacturing
Process
12nm
28nm
12nm
Arm CPU Cores
4x ARM Cortex R8
2x ARM Cortex R5
2x ARM Cortex R8
Error Correction
4KB LDPC
2KB LDPC
4KB LDPC
DRAM Support
DDR4, LPDDR4(X)
DDR3, DDR3L, LPDDR3, DDR4, LPDDR4
None / HMB
Host Interface
PCIe 4.0 x4
NAND Channels, Interface Speed
8ch
1600 MT/s
8ch
1200 MT/s
4ch
1200 MT/s
4ch
1600 MT/s
4ch
3200 MT/s
CEs per Channel
8
8
4
Sequential Read
7500 MB/s
3900 MB/s
3500 MB/s
5100 MB/s
7400 MB/s
Sequential Write
7000 MB/s
3500 MB/s
3000 MB/s
4800 MB/s
6500 MB/s
4KB Random Read IOPS
1.3M
500K
500K (HMB) / 200K (No HMB)
900K
1.2M
4KB Random Write IOPS
1.2M
500K
500K
900K
1.2M
The company indicates that the SM2268XT is currently sampling to its key customers and the launch of SSDs based on it should be imminent. We expect the usual suspects such as ADATA to announce SSDs based on the new controller soon.
Source: Silicon Motion