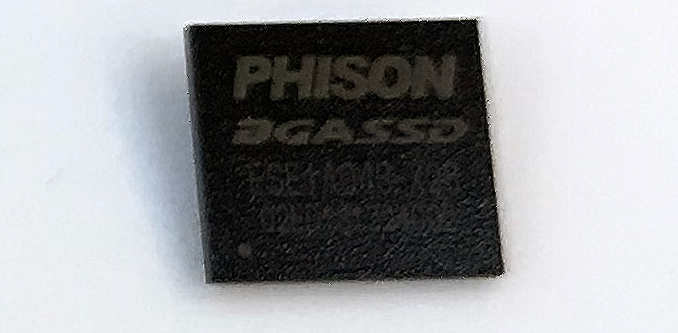 Phison said this week that it will demonstrate its next generation turnkey BGA SSD at the 2019 Flash Memory Summit next week. The tiny drive uses a 324-ball BGA packaging, and promises to be faster than its BGA predecessor while consuming around half the power.
The Phison PS5013-E13T 1113 BGA SSDs come in 128 GB and 256 GB configurations, use a PCIe 3.0 x2 interface, and iare rated for up to 1.7 GB/s sequential read speeds as well as up to 1.1 GB/s sequential write speeds (when pSLC caching is used). The drives do not use DRAM and rely on Host Memory Buffer (HMB) instead.
When compared to Phison's current-generation PS5008-E8T BGA SSD (rated for up to 1550/950 MB/s read/write speeds), the new PS5013-E13T is not radically faster. However, its key advantage of the new one over its predecessor and existing BGA SSDs is power consumption. The new drive consumes only about 1.5 W, down from 2.9 W – 3.4 W consumed by today's high-end BGA SSDs. Furthermore, the drive supports configurable power profiles to meet requirements of various applications.
Phison's PS5013-E13T 1113 BGA SSDs will be available sometimes in 2020 and hopefully the company will reveal more information about the new drives at FMS next week.
Related Reading:
Source: Phison