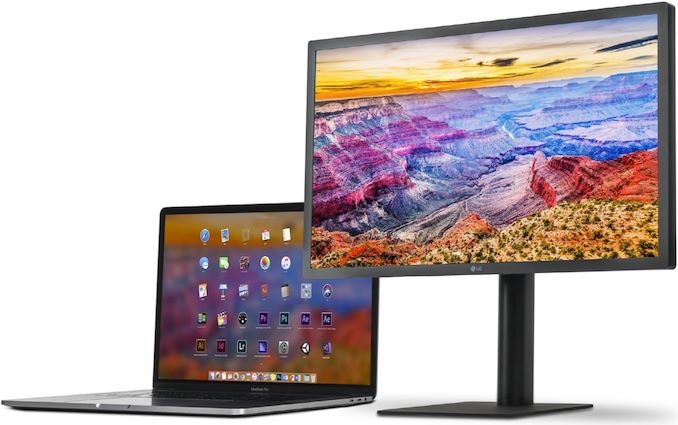 LG has updated its UltraFine lineup of displays, which are aimed especially at computers made by Apple. The entry-level UltraFine 4K has received a larger screen, whereas the more advanced UltraFine 5K has gained a USB Type-C port. Both monitors are now compatible with Macs as well as the latest iPad Pro tablets, enabling owners of the latter to use them as desktops.
The new entry-level LG UltraFine 4K monitor is now based on a 23.7-inch IPS panel featuring a 3840×2160 resolution, 500 nits brightness, a 60 Hz refresh rate, and the usual 178°/178° horizontal/vertical viewing angles. The display comes with integrated stereo speakers, and an built-in PSU. When compared to the original UltraFine 4K introduced in 2016, the new LCD is bigger, but its resolution is the same, and as a result the pixel density got lower.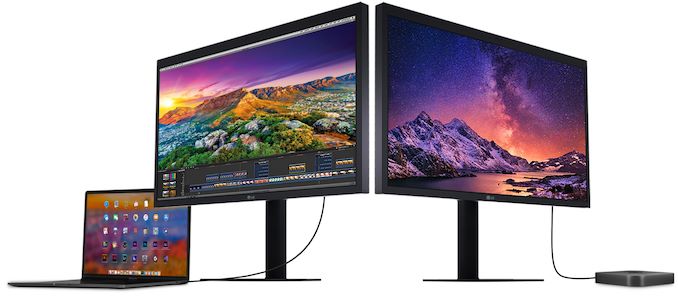 The larger LG UltraFine 5K display uses a 27-inch IPS panel featuring a 5120×2880, 500 nits brightness, a 60 Hz refresh rate, and 178°/178° horizontal/vertical viewing angles. The new LCD is equipped with a webcam, built-in stereo speakers and a microphone, as well as an integrated power supply. In an important change, this model now no longer requires a Thunderbolt 3 connection; the monitor can be used with a USB-C port as well (with DP alt mode), making it compatible with a wider range of devices, and likely indicating that LG has upgraded to Intel's Titan Ridge TB3 controller.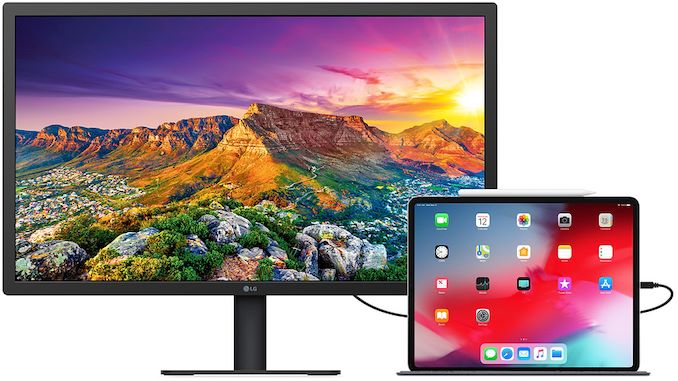 As these monitors are primarily meant to be used with Apple products, LG's UltraFine monitors only support the P3 color gamut – where Apple offers very robust OS-level support – and are compatible with Apple's latest Macs as well as 2019 iPad Pro tablets, making this the first time these displays have worked with an iPad. Both displays can connect to hosts using a Thunberbolt 3 or a USB 3.1 Gen 1 Type-C ports that can deliver up to 85 W or 94 W of power to a laptop or a tablet.
LG's 2019 UltraFine Displays
LG UltraFine 4K
LG UltraFine 5K
Panel
23.7" IPS
27" IPS
Native Resolution
3840 x 2160
5120 x 2880
Refresh Rate
60 Hz
Brightness
500 cd/m²
Color Gamut
Display P3
Color Depth
8 bit (?)
10 bit (?)
Viewing Angles
178°/178° horizontal/vertical
Inputs
Thunderbolt 3 or USB-C
USB Hub
3 x 5Gbps USB-C
Audio
Stereo speakers
Stereo speakers
Microphone
Webcam
-
Integrated
Stand
Adjustable stand
Power Delivery
85 W
94 W
Price
$699.95
$1,299.95
The new LCDs are currently available from Apple. The LG UltraFine 4K 23.7-inch display is priced at $699.95, whereas the UltraFine 5K 27-inch monitor is priced at $1,299.95.
Related Reading:
Source: LG