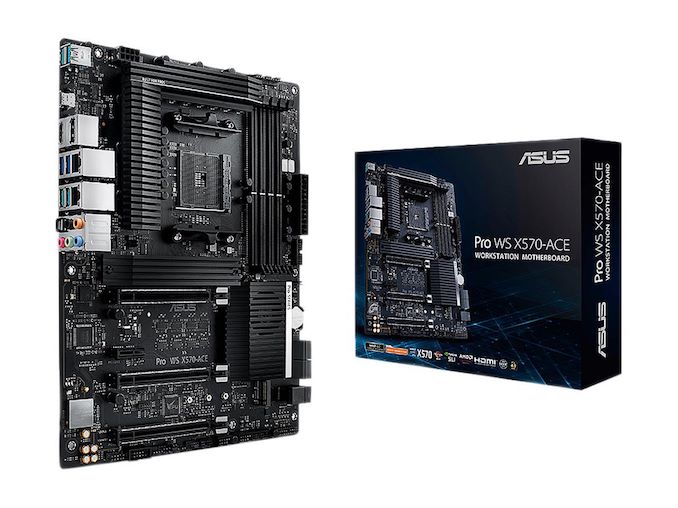 Not all motherboards are created equal, and some come with different distinguishing features which amplify them above the others. Whether that be gaming or professional use, the ASUS Pro WS X570-Ace as it stands is the only X570 model which is focused on the professional market with official support for ECC memory, three full-length PCIe 4.0 slots which operate at x16, x8/x8, and is the only current X570 model to operate at x8/x8/x8 across all of its slots, using a full x8 connection from the chipset.
ASUS Pro WS X570-Ace Overview
The ASUS Pro WS X570-Ace is the only X570 motherboard designed and focused around the professional market and as a result, drops all the gaming branding and gaming focused extras. There are no integrated RGB LEDs - instead the ASUS Pro WS X570-Ace focuses on a sleek look with an all-black design and horizontally finned black aluminium heatsinks. Underneath the heatsinks is a 12+2 phase power delivery spearheaded by an ASP1405I controller operating in a 6+2 configuration. ASUS has focused more on transient response and has appropriately opted to team the phases together instead of using doublers. The end result is still a 12-phase design, done in a way to align with the intended workflow of a professional system.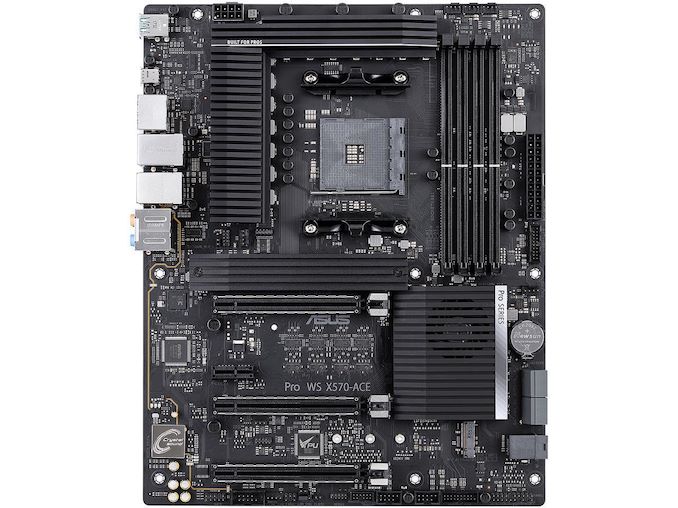 One of the key elements to this board design is the x8/x8/x8 PCIe 4.0 slot layout. This motherboard is the only one on the market that uses a full PCIe 4.0 x8 lane available from the AMD X570 chipset, enabling an array of different use cases that ASUS believes this market needs. Technically the upstream link to the CPU is still limited to PCIe 4.0 x4, however this does enable PCIe 3.0 x8 cards to have full bandwidth, which accounts for a lot of add in cards (RAID, high-end networking).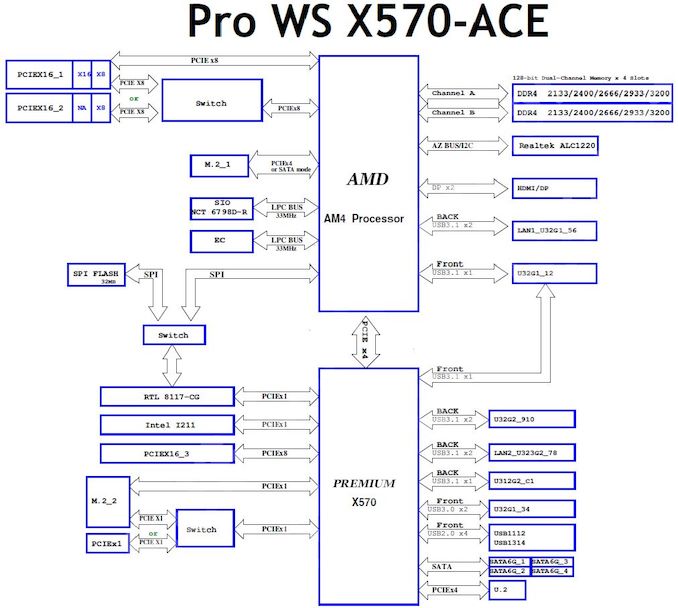 ASUS Pro WS X570-Ace Block Diagram
One of the major upheavals for AMD on the new 7 nm manufacturing process is in its memory performance. Back in 2017 when the first generation of AMD's AM4 X370 models launched, there was a lot of focus on its memory support and with launch day firmware, a lot of issues arose in the compatibility of memory kits rated above DDR4-3200. Now while X570 is still on the AM4 socket, major advancements have been made with the strength of the IPC onboard the Ryzen 3000 series of processors and as also memory support is much improved. The ASUS Pro WS X570-Ace has four memory slots with support for up to DDR4-4400 and up to 128 GB. A lot of speculation has been made with manufacturers mentioning support for ECC memory, but the ASUS Pro WS X570-Ace has full support for ECC and includes options for scrubbing within the firmware; this comes down to processor support, but the WS X570-Ace is certainly geared for it.
Looking at the feature set of the ASUS Pro WS X570-Ace, networking is handled by a pair of Gigabit NICs and the onboard audio is controlled by a Realtek ALC1200S with an integrated EMI shield which offers five 3.5 mm audio jacks and S/PDIF optical output on the rear panel, and the front panel audio connector located in the bottom left-hand corner of the board. Looking at the rest of the rear panel inputs, ASUS has gone with four USB 3.1 G2 Type-A, one USB 3.1 G2 Type-C, and two USB 3.1 G1 Type-A ports. Moving onto the storage options on offer and the ASUS Pro WS X570-Ace has plenty to shout about with two PCIe 4.0 M.2 slots (x4/x2), with four SATA ports that support RAID 0, 1, and 10 arrays.
The overall performance displayed by the ASUS Pro WS X570-Ace is positive in multiple areas of our system, CPU, and gaming test suites. In terms of power consumption, there wasn't too much difference between the long idle and idle power states. The workstation-focused WS X570-Ace did, however, display the lowest power draw at full load over both the MSI MEG X570 Godlike and MEG X570 Ace by around 7 Watts. Testing POST times also threw up some interesting results at default settings with a rather long POST time of 33 seconds; we managed to shrink this by nearly 13 seconds when we turned all the non-vital controllers off including onboard audio and networking; this is over a third of the POST time which shows the ASUS Pro WS X570-Ace to have a little bit of inefficiency when booting into Windows 10.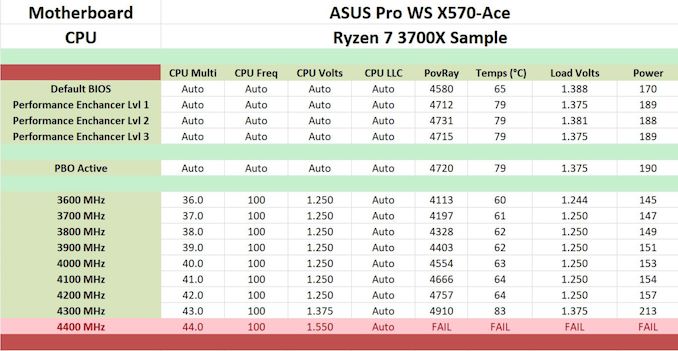 Moving onto the overclocking performance, and the ASUS Pro WS X570-Ace performed very well all things considered, and although this model isn't aimed at enthusiasts and gamers, it still packs a mighty punch with its 12+2 phase power delivery. The single 8-pin 12 V ATX CPU power input didn't hinder our testing in the slightest and we managed to hit the wall of our Ryzen 7 3700X processor which currently sits at 4.3 GHz at 1.375 V. CPU VCore voltage VDroop wasn't an issue and it was found to be stable at all of the frequencies and CPU VCore settings we set it to. At full load when the processor needed the grunt, the power delivery proved effective in boosting the CPU VCore when it was needed, which in turn not only reduces power consumption but temperatures too. AMD's Precision Boost Overdrive settings also proved fruitful on this model with a respectable gain in performance in our POV-Ray benchmark; the ASUS Pro WS X570-Ace is the first model we've tested so far to show an effective gain with PBO.
The ASUS Pro WS X570-Ace currently sits as the only workstation focused motherboard in the current product stack, and includes a good range of features for consumers and professional users. The X570 chipset isn't specifically designed for workstation situations, and includes features such as ASUS Node, which enables ASUS' partners to develop products with an OLED display (for example, InWin has a case that supports it).
With a current retail price of $380 at Newegg in the US, the ASUS Pro WS X570-Ace stands out from a very crowded gaming-orientated X570 product stack and while omitting features such as RGB LEDs, it is sure to prove popular with consumers who hate the thought of a wild rainbow discotheque startling their vision. The official support with compatible Ryzen 2000 and 3000 Pro for ECC memory also make this an interesting and appealing option to consider.