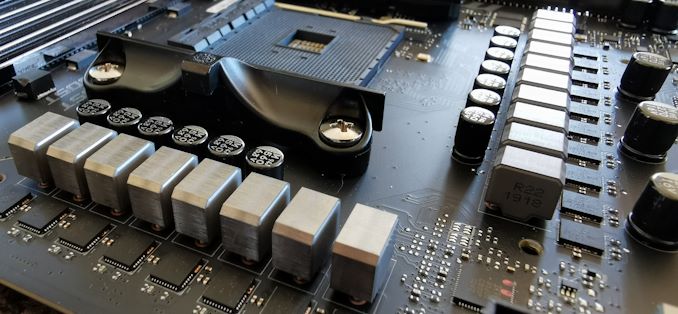 In our first X570 motherboard review we have the MSI MEG X570 Ace. This motherboard represents MSI's high-end range and sits in the top 3 of its product stack. The MEG X570 Ace has a black and gold theme which fits in with AMD's 50 year anniversary, and also includes an 'Infinity Mirror' on the rear panel cover. It's a beefy looking product, and the Ace has a trump card of a price tag of $369 as it offers enthusiast-level features such as a 2.5G Ethernet, a 12+2-phase power delivery, and three PCIe 4.0 x4 M.2 slots, all at a fairly reasonable price.
MSI MEG X570 Ace Overview
The MSI MEG X570 Ace is one of seven motherboards that MSI has for the launch of the X570 chipset, sitting below the $699 Godlike model. The key thing with the MSI MEG X570 Ace is that it is a deviation of the new RGB standard, with similar aesthetics but an an all-black PCB, with black and silver heatsinks and gold accented text. This fits in nicely with AMD's 50-year anniversary theme, and marks it as one of the more unique looking models from the X570 product stack.
A notable design feature is MSI's RGB Infinity Mirror 2, which is integrated into the rear panel cover. The rear panel IO comes attached with a black and red preinstalled IO shield. There is also an LED Debug, a front panel USB 3.1 G2 Type-C, an overclockers toolkit with power/reset buttons, and an MSI Boost dial which gives users the option to use the onboard CPU overclocking profiles without entering the BIOS.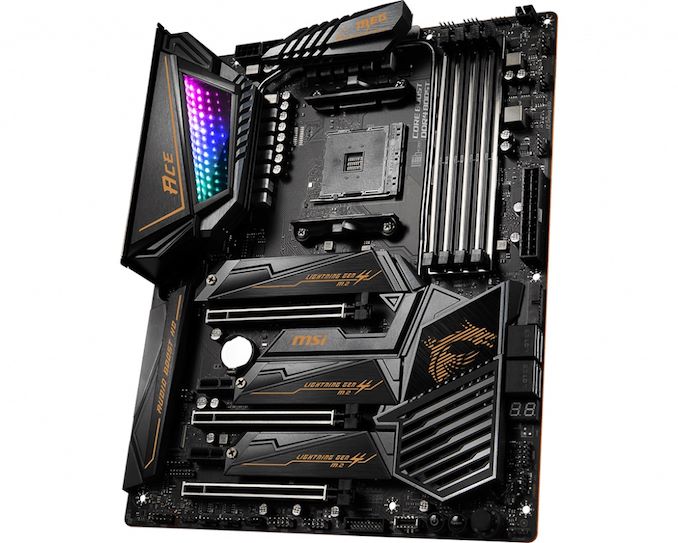 Important features on the MSI X570 Ace include an Intel AX200 802.11ax Wi-Fi 6 wireless interface, as well as a Realtek RTL8125 2.5 Gigabit NIC, and has support for up to three PCIe 4.0 x4 M.2 drives. Each M.2 slot comes supplied with its own individual heatsink and fits in with the design of the actively Zero Frozr cooled X570 chipset heatsink. MSI is advertising a 14-phase power delivery, but we know it's running an International Rectifier IR35201 PWM controller running in a 6+2 configuration with doublers. This means the CPU Vcore element is running a doubled phase design, and the VGT/SoC is running a 2-phase setup. This, in theory, should be more than capable of overclocking 16-core AMD Ryzen 3950X which is due later on this year. The design of the heatsinks means that both power delivery heatsinks are connected to the X570 chipset heatsink via a single heatpipe which runs around the memory slots and is designed to be more efficient at dissipating heat from the warm running chipset and VRMs. Other cooling options include seven 4-pin PWM fan headers which are dotted around the board's edge.
The advancements in AMD's Zen 2 architecture on the 7 nm manufacturing process stretches out to memory performance too as the MSI MEG X570 Ace supports DDR4-4633. Also supported in MSI's X570 product stack are the new 32 GB UDIMMsm which means the X570 Ace can run up to 128 GB of DDR4 memory. For graphics cards, the MSI MEG X570 Ace has two full-length PCIe 4.0 slots from the CPU, which operate in x16 and x8/x8 modes, and another full-length PCIe 4.0 x4 slot from the chipset. This also includes two PCIe 4.0 x1 slots which give users the option to add devices such as dedicated sound cards, and RAID controllers.

The storage capability of the X570 Ace is also impressive, with support for one PCIe 4.0 x4 M.2 drive from the CPU and two from the chipset. There is also four SATA ports with support for RAID 0, 1, and 10 arrays. Onboard audio is handled by a Realtek ALC1220 HD audio codec, while networking is provided by the Intel AX 802.11ax Wi-Fi 6 wireless CNVi interface and Realtek RT8125-AG 2.5 G / Intel I211-AT Gigabit NICs. MSI also includes three USB 3.1 G2 Type-A, a single USB 3.1 G2 Type-C, two USB 3.1 G1 Type-A, and two USB 2.0 ports on the rear panel. The MSI MEG X570 Ace also features a clear CMOS button, a BIOS Flashback button on the rear panel.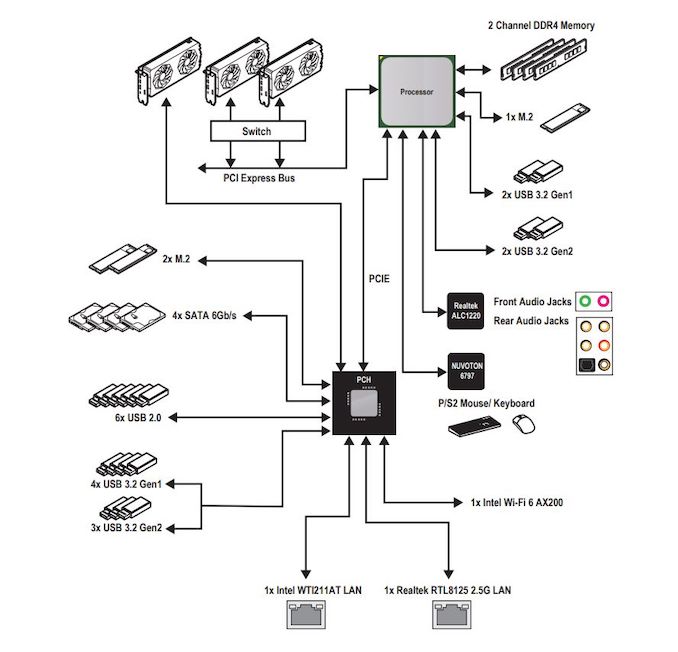 MSI MEG X570 Ace Block Diagram
Looking at the performance of the MSI MEG X570 Ace, power consumption is up overall when compared to previous B450 and X470 models we have tested. This is because the X570 chipset has a TDP of 11 W against the previous generations of chipset, which varies from 4 to 6 W. Performance in our updated testbed was favorable to the X570 Ace when paired with our Ryzen 7 3700X processor, and was marginally better when compared with B450 and X470 models we tested. The results will become more extensive as more X570 models make it onto our testbed, but the X570 does perform well, even if it's marginal. Performance in our game testing for the majority was to the benefit of the newer X570 model.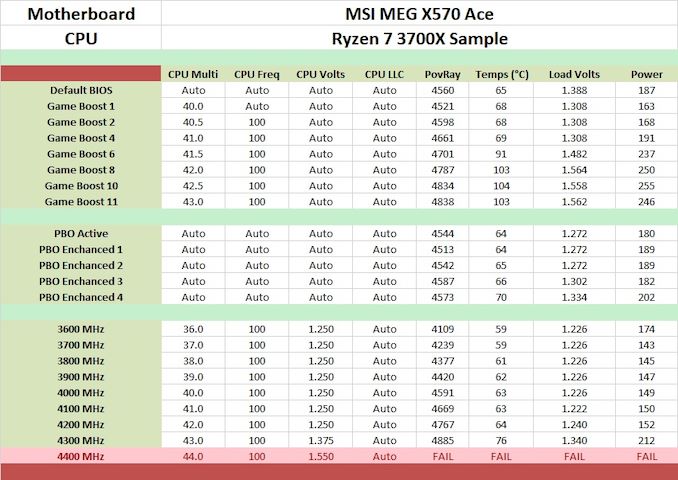 One of the most talked-about aspects of the new Ryzen 3000 processors has been its ability, or lack of ability, to push high overclocks due to a number of variables. These include limitations on the electrical design current (EDC) and the high idle temperatures. Infantile firmware is also currently something that should mature in a progressive manner over the next couple of months, and until AMD work out some of the kinks in Precision Boost Overdrive, users gain most from manually overclocking through the BIOS, or with AMD's Ryzen Master overclocking utility.
In our overclocking performance testing, we managed a solid 4.3 GHz all-core on our Ryzen 7 3700X testbed CPU with a maximum stable voltage of 1.375 V. This is considered good compared to some silicon, but upon trying to push to 4.4 GHz, we hit a brick wall in terms of progression. Performance increased gradually in our POV-Ray benchmark as we increased the CPU core frequency and when we enabled Precision Boost Overdrive, it didn't have a any impact on the performance, but raised the power consumption.
It's clear that the MSI MEG X570 Ace is intended for users looking to create a high-end gaming system with enthusiast-level features. It is designed to squeeze performance out of the new Ryzen 3000 series CPUs. Compared to a number of extreme models, it still has a high price tag of $369, which slots it into the high-end X570 motherboard segment. But it comes with a number of favorable features for those that want to load a system up with the latest hardware.
The MSI MEG X570 Ace is also in direct competition with GIGABYTE's X570 Aorus Master ($359), and the ASUS ROG Crosshair VIII Hero Wi-Fi ($399) which both on paper, are very similar in terms of specifications. These models certainly aren't the respective flagship models, but all three trump the premium models that were available for AMD's X370 and X470 chipset launches, and it shows manufacturers have pumped its support and faith in AMD's new 7 nm Ryzen 3000 series.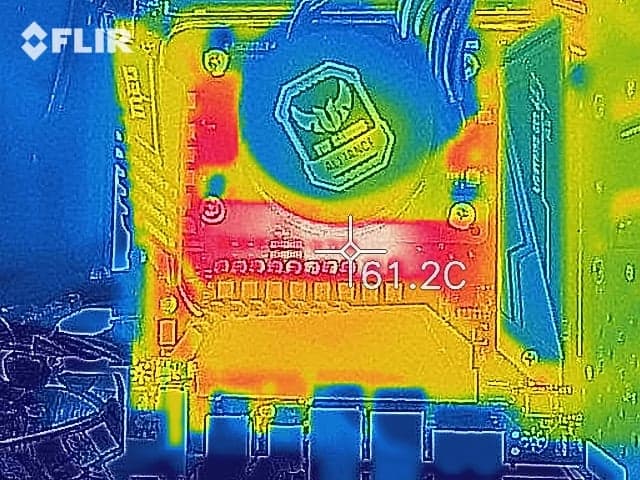 Our new motherboard thermal testing starts today!
Read on for our full review.