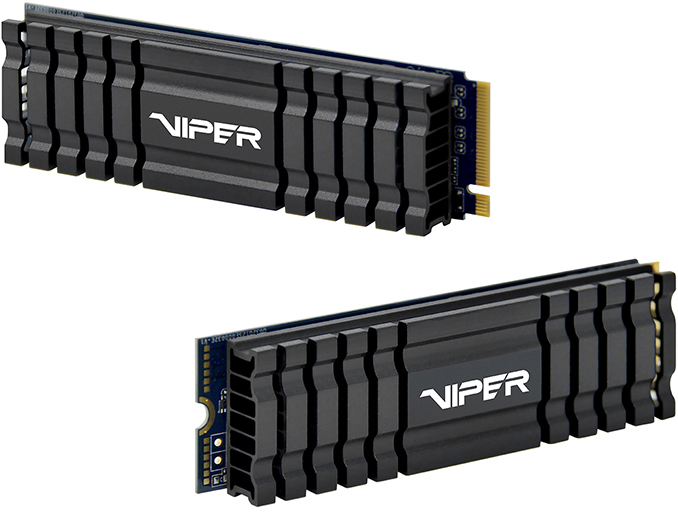 Patriot this week started sales of its top-of-the-range VPN100-series SSDs. Prototypes of these drives based on the Phison PS5012-E12 controller were demonstrated at CES 2018, but it took the company and its partner quite some time to finalize them. The undertaken efforts paid quite well: the Viper VPN100 promises to be one of the fastest SSDs on the market. To ensure that the drive performs consistently, Patriot equipped it with a large heatsink and an external thermal sensor.
Based on the Phison PS5012-E12 controller, the Patriot Viper VPN100 drives carry 256 GB, 512 GB, 1 TB, or 2 TB of usable 3D TLC NAND flash onboard along with DRAM cache. Being aimed at high-end PCs, the drives feature an M.2-2280 form-factor along with a PCIe 3.1 x4 interface. Given capabilities of the controller, the Viper VPN100 SSDs are NVMe 1.3 compatible, feature a robust LDPC-based ECC engine, SLC caching, and other features that customers come to expect from modern drives.

From performance point of view, the Viper VPN100-series products look quite impressive. The fastest 1 TB model offers sequential read speeds up to 3450 MB/s as well as sequential write speeds of up to 3000 MB/s. As for random read/write performance, we are dealing with an SSD capable of up to 600K read/write IOPS.
Patriot Viper VPN100 SSDs Specifications
Capacity
256 GB
VPN100-256GM28H
512 GB
VPN100-512GM28H
1 TB
VPN100-1TBM28H
2 TB
VPN100-2TBM28H
Controller
Phison PS5012-E12
NAND Flash
Toshiba 64-layer BiCS3 3D TLC (?)
Interface
PCIe 3.1 x4
Form-Factor
M.2-2280
Sequential Read
3 GB/s
3.1 GB/s
3.45 GB/s
3.1 GB/s
Sequential Write
1 GB/s
2.2 GB/s
3 GB/s
3 GB/s
Random Read IOPS
250,000
300,000
600,000
500,000
Random Write IOPS
100,000
100,000
600,000
500,000
Idle Power Consumption
< 900 mW (?)
PCIe L1.2 Idle
< 2 mW (?)
Pseudo-SLC Caching
Yes
DRAM Buffer
512 MB
TCG Opal Encryption
?
Warranty
3 years
MSRP at Launch
$79.99
$137.99
$244.99
$499.99
Retail Price at Launch
$59.99
$94.99
$199.99
?
To ensure consistent performance even under high loads that might get the SSD controller very hot, Patriot equipped its Viper VPN100 drives with a large aluminum heatsink featuring six rather thick fins. The radiator will naturally prevent these SSDs from being installed into high-performance laptops, but this is a tradeoff that the manufacturer decided to take. Furthermore, the SSDs feature an external power sensor (in addition to the one integrated into the controller) to better monitor temperatures of the device. It was unclear if the heatsink would block a GPU if placed in the M.2 slot above a PCIe slot.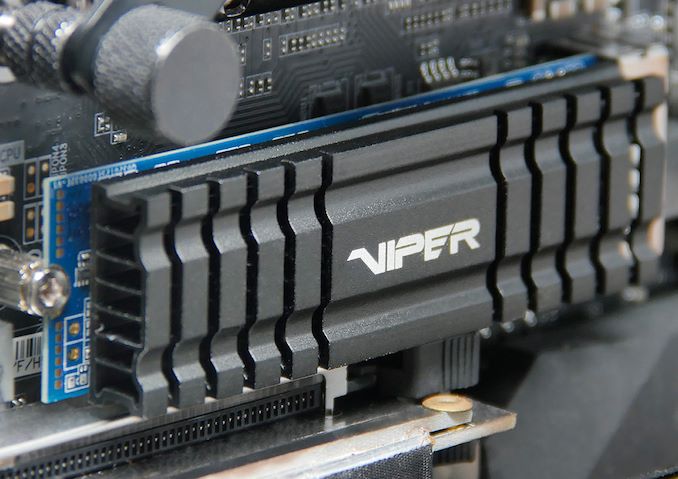 All Patriot Viper VPN100-series drives are backed by a three-year warranty. The Viper VPN100 256 GB carries an MSRP of $79.99, the 512 GB version features a recommended price of $137.99, the 1 TB model costs $244.99, whereas the top-of-the-range 2 TB SKU is priced at $499.99. Meanwhile, retailers like Amazon and Newegg already offer the new SSDs with tangible discounts.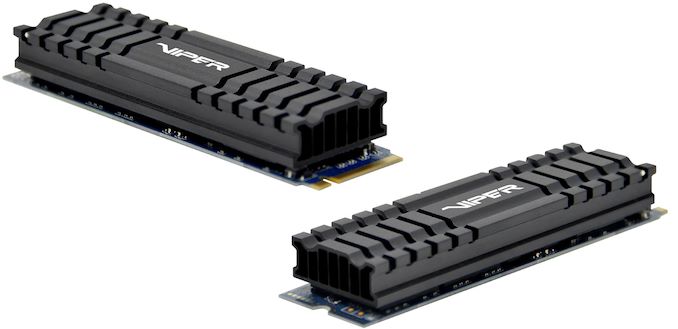 Related Reading:
Source: Patriot