Constructing a stage and a booth at a trade show takes a few days. It just so happens that the media end up arriving in the city for the trade show a few days early, in order to attend press events. It would appear that either someone from the media, or a worker who clearly doesn't care about any NDA, has photographed one of the Huawei billboards which showcases the company's as-yet unannounced device. The Huawei Mate X is presumably going to be center stage at the press event later this week.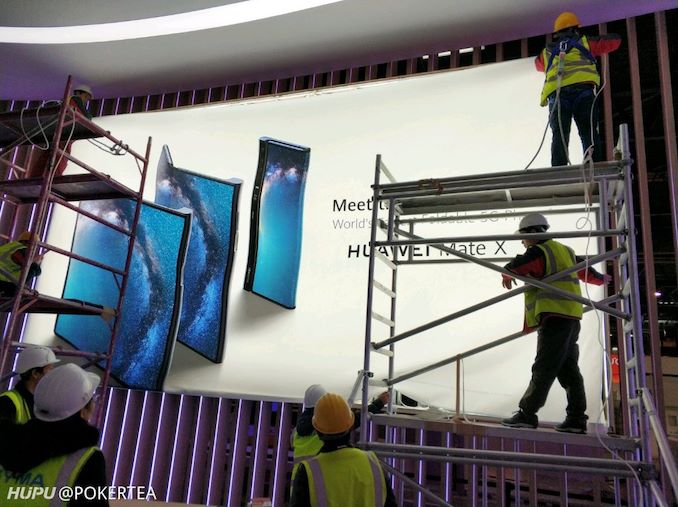 From the image, posted by Hupu @ Pokertea, we can see that Huawei's foldable device is called the Mate X, and it folds inwards with the display on the outside. One of the sides is slightly thicker, meaning that the fold for the display is not in the middle, and unlike the Samsung Galaxy Fold showcased a few days ago, it doesn't appear to have a third screen, because the foldable screen is on the outside of the device.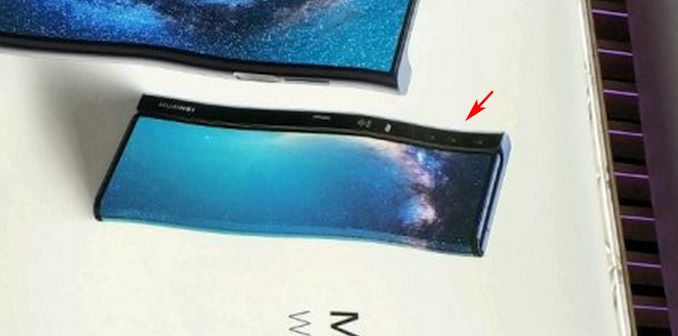 There looks to be a fingerprint sensor on the thicker side of the Mate X, along with what looks like several camera modules. With this setup, the z-height of the camera module is clearly less of a concern, which might enable Huawei to ship something with a nice lens setup. There appears to be three cameras on this section, which could be used both for selfies when closed and facing the user, normal photos when closed and facing away from the user, or normal photography when open, as the cameras will be on the outside.
It is also worth mentioning that the display shows the Mate X as a foldable 5G phone. The Samsung device will be offered in LTE and 5G variants (LTE first), and it will be interesting to see if Huawei will announce if there will be a 5G-less version of the Mate X. The 5G version would, we assume, use the HiSilicon Balong 5G01 modem, paired with a Kirin chipset.
More info on the 24th from Huawei's Press Conference.
Source: 9to5Google
Related Reading