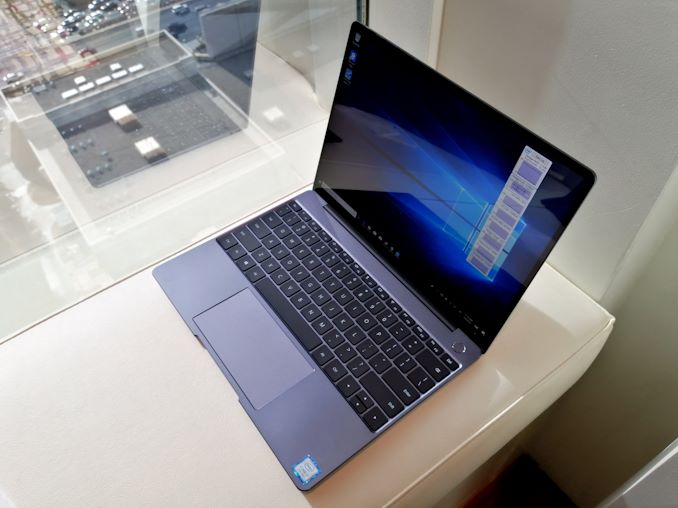 Today one of the best notebooks I've ever tested is getting an update: Huawei's new Matebook 13 is the generational update to the Matebook X. In it we get the latest generation of Whiskey-Lake U processors, the same 2160x1440 3:2 display, an optional MX150 variant, and a new cooling implementation based on a shark fin design.
Matebook: The Family
I've tested several Huawei notebooks since the company launched the brand with the original 2-in-1 back in 2016. That first Matebook showed the company was brilliant at doing nice design, however it had a few user experience issues - understandable given that this was the first device out of the company.
The next product was the Matebook X, a premium clamshell device aimed at the high end of the market. Following up was the Matebook X Pro, a slightly larger version with an MX150. We also had the Matebook D, aimed more at the commercial and education markets.
I've tried them all. I didn't care too much for the Matebook X Pro – the larger design with the discrete graphics was heavier, and I had some UX latency issues with the unit I had. But I liked the Matebook X the most – one of the best laptops I have ever used. It was small, light, designed well, and really easy to work with. The Matebook 13 is the natural successor to that design, almost to a fault, as if it's the same chassis.
The Matebook 13
Like the Matebook X, we're looking at a 13-inch premium clamshell design with a Chiclet keyboard and a combination fingerprint/power button in the corner that Huawei does really well. This time around the sensor has an upgraded security chip inside from Goodix, and promises to be just as fast.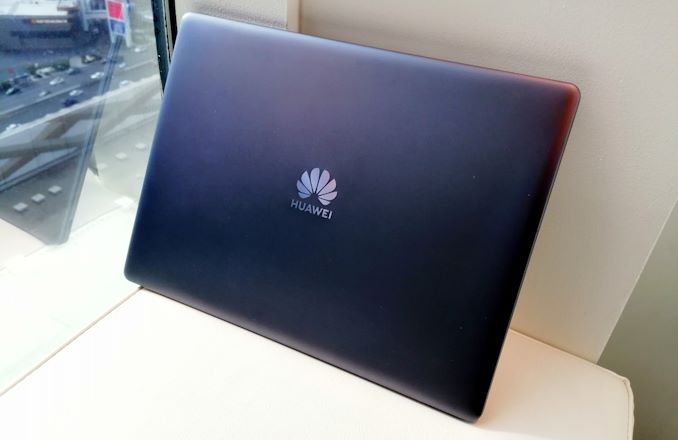 Over the original Matebook X, we get new processors with Whiskey Lake inside: a Core i7-8565U and Core i5-8265U, each paired with 8GB of LPDDR3-2133. The Core i7 version comes with 512GB of PCIe storage, and an NVIDIA MX150 (25W) integrated graphics, while the Core i5 has 256GB of PCIe storage and runs on the integrated graphics. Both processors have a 15W TDP, and in our hands-on we saw a PL2 value of 25W on the Core i7 model.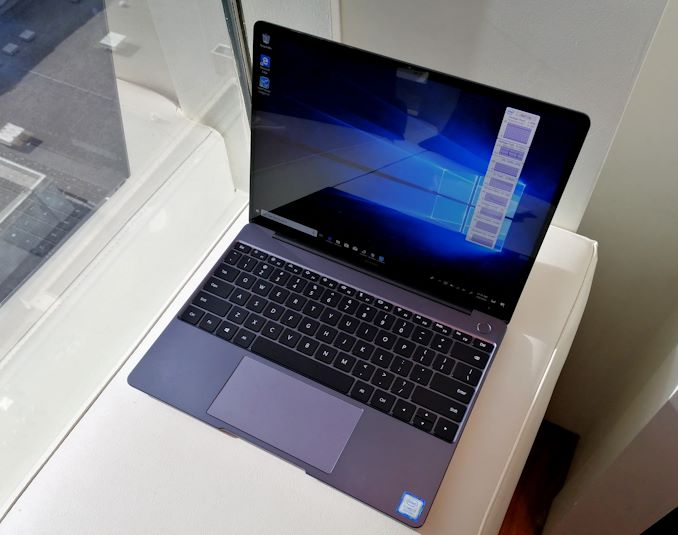 The panel is an IPS 2160x1440 3:2 display, with 100% sRGB, a contrast ratio of 1000:1 and a typical brightness of 300 nits. This is paired with 4.4mm bezels, which gives the display an 88% screen-to-body ratio. Huawei was keen to compare it to the latest MacBook Air, which only has an 82% ratio and uses a 7W Amber Lake CPU.
The chassis is an aluminium alloy, which houses a 42 Wh battery which Huawei says is good for 10 hours of video playback on the Core i5 model. Included with the laptop is a 65W fast charge power adapter, capable of 18W over Type-C. On the sides are two USB Type-C ports (one on each), with a 3.5mm jack. One of the Type-C does data and power, the other does data and DisplayPort over Type-C. For cooling, the chassis has a dual fan design that takes in air from the sides and exhausts it out of the back – Huawei calls it their Shark Fin 2.0 technology, which goes up to 8000 RPM and has 25% increased flow rate compared to previous models.

Along with the fast charger in the box, users also get the MateDock 2 which converts USB Type-C to Type-A and DVI. Also included is a year subscription to Office 365. The units will ship with Windows 10 Signature Edition.
Huawei lists the weight of the units as the same: 2.82 lbs. I used the device for a good 10 minutes, and the weight and size is really nice for a laptop for what I need. It feels like a nice upgrade over the Matebook X for performance, and it was easy to type on with a large responsive touchpad.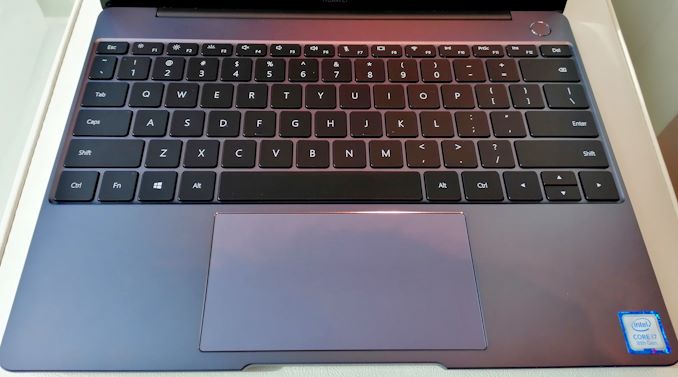 Pricing will start at $999 for the Mystic Silver Core i5-8265U variant using integrated graphics with 8GB DRAM and 256GB PCIe storage, and the Space Grey Core i7-8565U using NVIDIA MX150 with 8 GB DRAM and 512 GB PCIe storage will retail for $1299. Both of those prices are eminently more than reasonable for a device like this.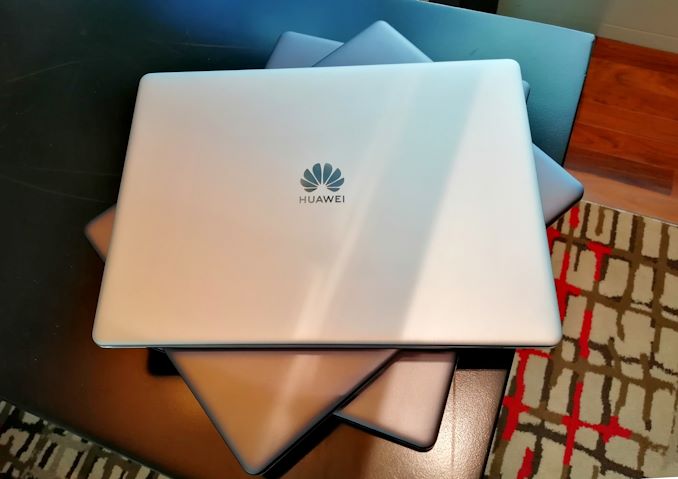 The Huawei Matebook 13, both versions, should be available from January 29th.
Huawei Matebook
Matebook X (2017)
Matebook 13 (2019)
Size
13-inch
13-inch
Display
2160 x 1440 IPS
178-degree viewing angles
100% sRGB
1000:1 Contrast Ratio
350 nits
2160 x 1440 IPS
178-degree viewing angles
100% sRGB
1000:1 Contrast Ratio
300 nits
CPUs
Intel Core i5-7200U
Intel Core i7-7500U
Core i5-8265U
Core i7-8565U
GPU
Intel HD Graphics 620
HD Graphics 620
NVIDIA MX150
DRAM
4 GB LPDDR3
8 GB LPDDR3
8 GB LPDDR3-2133
Storage
256 GB PCIe
512 GB PCIe
256 GB PCIe
512 GB PCIe
Dimensions
286 x 211 x 12.5 mm
1.05 kg (2.31 lbs)
286 x 211 x 15.0 mm
1.27 kg (2.82 lbs)
Connectivity
802.11ac with 2x2 MIMO
with BT4.1
802.11ac with 2x2 MIMO
BT 5.0
Battery
41.4 Wh (5449 mAh at 7.6 V)
41.7 Wh
Additional Features
Two USB 3.0 Type-C Ports
3.5mm audio jack
Dolby Atmos Sound System
MateDock 2 Included
1MP Front Camera
Two USB 3.0 Type-C Ports
3.5 mm audio jack
Dolby Atmos Sound System
MateDock 2 Included
1MP Front Camera
Colors
Space Gray
Prestige Gold
Rose Gold
Mystic Silver
Space Grey
Pricing
i5 + 8 GB / 256GB: 1399 Euro
i5 + 8 GB / 512GB: 1599 Euro
i7 + 8 GB / 512GB: 1699 Euro
$999
$1299
Huawei stated that similar models will be made available in Europe, however specifications may change based on regional preferences.