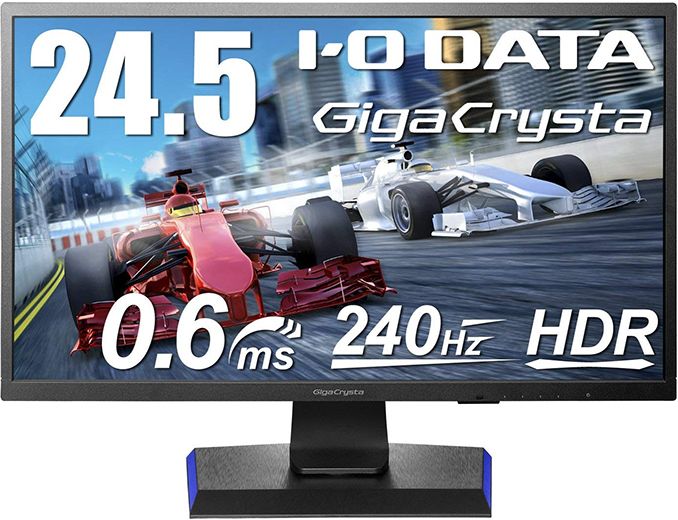 IO Data, a Japanese display vendor, has quietly started to sell gaming monitors featuring a sub-1 ms response time. The GigaCrysta family of displays are currently available only in Japan, but since the LCD panels used by IO Data are available to other monitors manufacturers as well, expect to see similar products arrive in other markets shortly.
The IO Data GigaCrysta-series monitors in question are based on 24/24.5-inch TN panels featuring a Full-HD resolution, 60/144/240 Hz refresh rates, and as their main selling point, a 0.6 ms – 0.8 ms GtG response time when the overdrive function is activated (see exact specs in the table below). Other characteristics of the display are just what you come to expect from fast TN panels, including 250, 300 or 400 nits maximum brightness, a 1000:1 contrast ratio, 170°/160° horizontal/vertical viewing angles, and so on.
The GigaCrysta monitors from IO Data are clearly aimed at gamers, so they support special modes that makes dark scenes look brighter, a mode that reduces response time by bypassing internal image processing as well as gamma settings for different genres. The LCDs also support HDR10 technology, though actual HDR experience on these devices can hardly be "full" considering their relatively low peak brightness. What is puzzling however is that neither of the displays supports a dynamic refresh rate technology, something that is expected from gaming LCDs by default these days.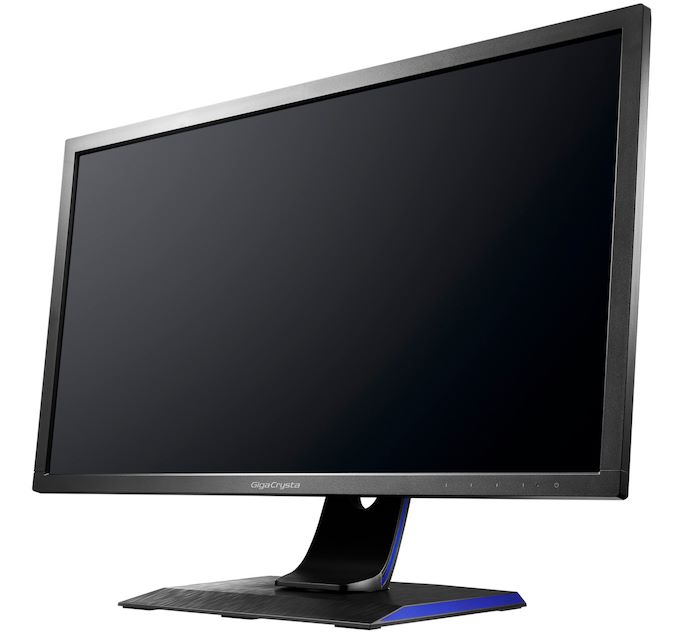 As far as connectivity is concerned, all of IO Data's GigaCrysta LCDs have a DisplayPort input to connect to a PC, at least two HDMI inputs to connect a couple of game consoles (PbP and PiP capabilities are also supported), and on two models, a D-Sub to maintain compatibility with legady systems. As an added bonus, the monitors come with bundled remotes that can be used to control TVs as well as multimedia playback via HDMI-CEC. When it comes to audio, the displays are outfitted with stereo speakers, audio line-in, as well as a line-out for headphones.
IO Data's GigaCrysta Gaming Displays
EX-LDGC251UTB
LDGC241HTB2
EX-LDGC251TB
Panel
24.5" TN
24" TN
24.5" TN
Native Resolution
1920 × 1080
Maximum Refresh Rate
240 Hz
144 Hz
60 Hz
Dynamic Refresh
Tech
-
Range
-
-
-
Brightness
400 cd/m²
350 cd/m²
250 cd/m²
Contrast
1000:1
Viewing Angles
170°/160° horizontal/vertical
Response Time
0.6 ms
0.7 ms
0.8 ms
Pixel Pitch
~0.28 mm²
~0.27 mm²
~0.28 mm²
Pixel Density
~90 PPI
Color Gamut Support
sRGB
Inputs
1×DP
2×HDMI
1×DP
1×D-Sub
3×HDMI
1×DP
1×D-Sub
2×HDMI
Audio
2×2W speakers
VESA Mounts
100 × 100 mm
Warranty
3 years
Additional Information
Link
Link
Link
Retail Price in Japan
¥42,800
($380)
¥29,799
($265)
¥15,980
($142)
IO Data is not the first company to introduce monitors with sub-1 ms response time. Acer recently launched a lineup of ultra-fast LCDs for gamers with similar specs too. What is important is that neither Acer nor IO Data produce display panels themselves and therefore such panels will be eventually used by other monitor vendors as well.
IO Data's GigaCrysta-series displays with a sub-1 ms response time are currently available at Amazon.co.jp for $142 - $380 with VAT.
Related Reading:
Source: PC Watch