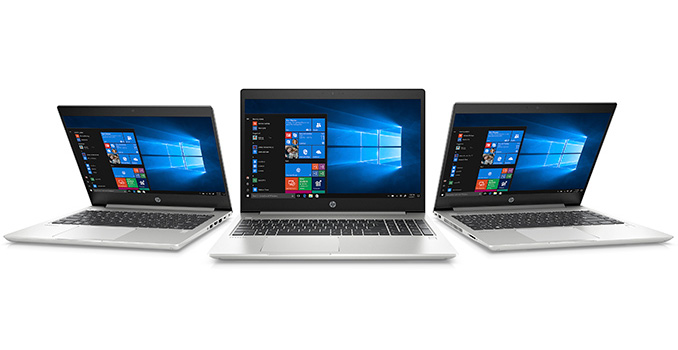 HP on Wednesday introduced its sixth-generation ProBook 400-series laptops, which are aimed at small and medium businesses. Just like their direct predecessors, the new HP ProBook 400-series G6 systems are powered by Intel's 8th Generation Core i3/i5/i7 "Whiskey Lake" processors. Meanwhile, the new notebooks come in sleeker and thinner aluminum chassis and generally look better than the laptops they're set to replace.
HP's ProBook 400-series G6 are typical workhorses that bring together stylish looks, regular weight and thickness, moderate specs, as well as robust security. The latter is enabled by a TPM 2.0 chip, HP's BIOSphere Gen4 firmware, a fingerprint reader, and an optional Windows Hello-compatible webcam with IR sensors. Though it should be noted that since the ProBook 400-series are not enterprise-grade machines, HP does not offer things like SEDs (self-encrypting drives), remote management, etc. At the same time, select models will be outfitted with Intel's XMM 4G/LTE Cat 6 or Cat 9 modems to please road warriors. As an added bonus, all the ProBook 400 G6 notebooks also use a spill-resistant keyboard.

The new ProBook 400-series G6 machines come in aluminum chassis with 13.3, 14, and 15.6-inch displays that appear to be a bit thinner and lighter when compared to ProBook 400-series G5 machines. Speaking of monitors, they feature a 1920×1080 or 1366×768 resolution and may be covered with an antiglare coating. As for weight and thickness, they vary from 1.5 to 2 kilograms as well as from 1.8 to 1.9 cm (see the table below for exact details).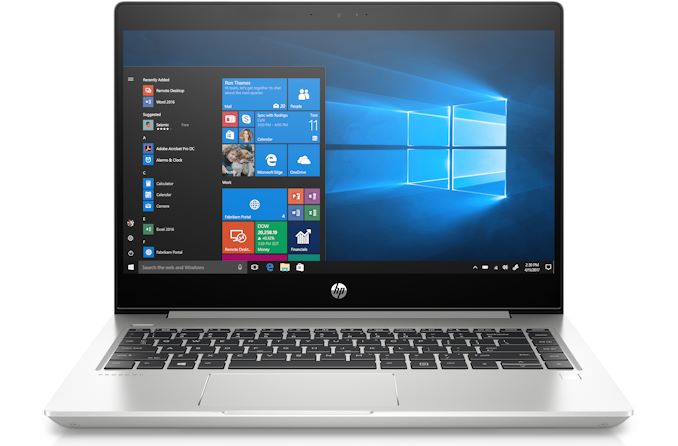 When it comes to internal hardware, HP's ProBook 400-series G6 notebooks are based on Intel's dual-core and quad-core 8th Generation Core i3/i5/i7 processors featuring the Whiskey Lake microarchitecture that are paired with up to 32 GB of DDR4-2400 memory. Storage options are either a full SSD or a hard drive paired with Intel's 16 GB Optane Memory storage cache. HP also says that select SKUs will be offered with a discrete NVIDIA GeForce GPU, but does not provide any exact details on the matter.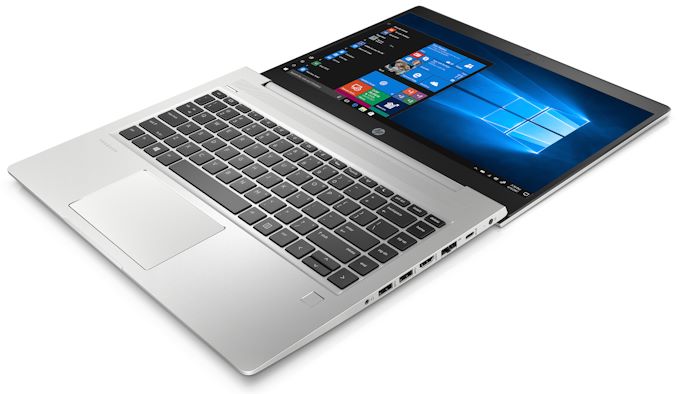 On the connectivity side of things, HP's new ProBook 400-series G6 laptops offer a rather typical set of technologies, including 802.11ac Wi-Fi, a GbE port, an HDMI 1.4b output, an SD card slot, USB 3.0 Type-A and Type-C ports, a TRRS audio jack, and so on.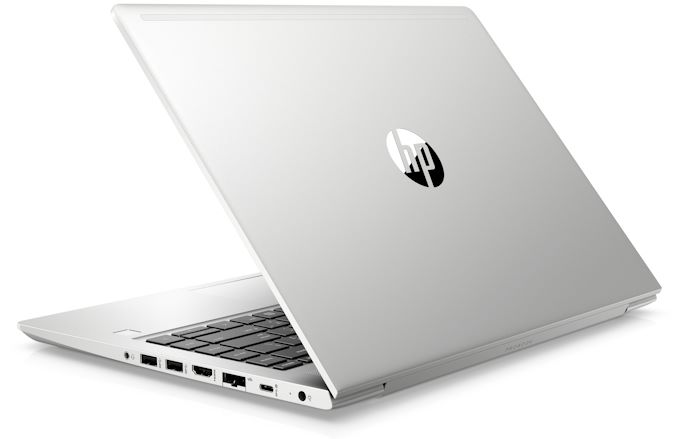 Being regular workhorses, HP's ProBook 430 G6, ProBook 440 G6, and ProBook 450 G6 notebooks are not intended to offer any specific technological breakthroughs, but rather a combination of capabilities tailored for small and medium businesses that comes at a right price. Speaking of the latter, HP's ProBook 400-series G6 laptops will be available this month starting at $589.
General Specifications of HP's ProBook 400 G6 Laptops
ProBook 430
G6
ProBook 440
G6
ProBook 450
G6
Display
Diagonal
13.3"
14"
15.6"
Resolution, Type
1920×1080 IPS
1920×1080 IPS AG*
1366×768 SVA
1366×768 SVA AG*

1920×1080 IPS AG*
1366×768 SVA
1366×768 SVA AG*
Brightness
220 cd/m²
Color Gamut
67% sRGB
CPU**
Intel Core i7+ 8565U: 4C/8T, 1.8 - 4.6 GHz, 8 MB | 16 GB Intel Optane
Intel Core i5+ 8265U: 4C/8T, 1.6 - 3.9 GHz, 6 MB | 16 GB Intel Optane
Intel Core i7-8565U: 4C/8T, 1.8 - 4.6 GHz, 8 MB
Intel Core i5-8265U: 4C/8T, 1.6 - 3.9 GHz, 6 MB
Intel Core i3-8145U: 2C/4T, 2.1 - 3.9 GHz, 4 MB
GPU
Intel UHD Graphics 620: 24 EUs (192 shading units), 300 - 1000/1150 MHz
Optional NVIDIA GeForce dGPU***
RAM
Up to 32 GB DDR4-2400
Storage
1 TB 5400 rpm SATA
500 GB 7200 rpm SATA
128 GB up to 256 GB M.2 SATA SSD
256 GB up to 512 GB PCIe NVMe M.2 SSD
Wireless
Realtek RTL8821CE 802.11ac (1x1) Wi-Fi + Bluetooth 4.2
Realtek RTL8822BE 802.11ac (2x2) Wi-Fi + Bluetooth 4.2
Intel Wireless-AC 9560 802.11ac (2x2) Wi-Fi + Bluetooth 5 non-vPro
Intel XMM 7360 LTE-Advanced Cat 9
Intel XMM 7262 LTE-Advanced Cat 6
USB
Type-A
2×USB 3.0 Type-A
3×USB 3.0 Type-A
Type-C
1 × USB 3.1 Gen 1 Type-C (power, data, DP 1.2)
Display Output
HDMI 1.4b
Ethernet
GbE
Webcam
720p webcam
720p webcam with IR sensors
Other I/O
TRRS connector for audio, speakers, microphone, SD card reader, power connector
Keyboard
HP Premium spill-resistant keyboard
Figerprint Reader
Yes
Security
discrete TPM 2.0 chip
Battery (capacity | life)
45 Wh | 14 hours
45 Wh | 13.25 hours
45 Wh | 12.5 hours
Dimensions
Width
30.85 cm | 12.15 inch
32.42 cm | 12.76 inch
36.49 cm | 14.37 inch
Length
23.1 cm| 9.09 inch
23.77 cm | 9.36 inch
25.69 cm | 10.11 inch
Thickness
1.8 cm | 0.71 inch
1.8 cm | 0.71 inch
1.9 cm | 0.75 inch
Weight
1.49 Kg | 3.28 Lbs
1.6 Kg | 3.53 Lbs
2 Kg | 4.41 Lbs
Operating System
Windows 10 Pro 64
Windows 10 Pro (National Academic only)
Windows 10 Home 64
Windows 10 Home Single Language 64
FreeDOS 3.0
Price
?
?
?
Notes
*AG = antiglare
**HP's specifications published on its website list too high base frequencies for Intel's CPUs. We
***HP does not disclose which NVIDIA GeForce GPUs it plans to offer
Related Reading:
Source: HP