Earlier this year Intel announced that it would be introducing two new families to its low power notebook range: Whiskey Lake for new 15W (U-Series) processors, and Amber Lake for new sub-5W (Y-Series) processors. These new parts are at the core the same as the current 8th generation Kaby Lake Refresh parts, but they have been equipped with newer chipsets. With this announcement, we are expecting to see a large number of OEMs with new devices on display at the IFA trade show this week in Berlin.
Making a Name
These new processors will fall under Intel's 8th Generation branding, which already contains its Kaby Lake Refresh 15W processors, both with and without extra embedded DRAM for its graphics. The reasoning for retaining the branding, to paraphrase Intel, is that they consider the new parts to be on a similar field as those out in the market, but with minor updates.
The updates in this case really are relatively minor from the feature set: the new parts will offer native USB 3.1 support without the need for an extra controller, and also include an integrated 802.11ac 160 MHz WiFi MAC, meaning that OEMs only need to include a Companion RF (CRF) module in order to activate it. If this sounds similar to the changes in the latest desktop chipsets, moving from Z270/Z370 to B360 and the like, it is because it is basically the same. Intel also states that these new parts also have support for Thunderbolt, even to the extent of including it in the chipset block diagram, despite not actually being part of the chipset (you still need a TB controller).
The flipside of the new parts is in the Amber Lake offerings – this will be the first set of Y-series processors on the 8th Generation naming. Both Amber Lake and Whiskey Lake are Kaby Lake underneath, there are no microarchitecture or manufacturing changes here.
Intel Whiskey Lake-U and Amber Lake-Y
AnandTech
Cores

Base MHz
Turbo
MHz
L3
Cache
TDP
PL1
TDP
PL2
IGP
UHD
IGP
MHz
DDR4
LPDDR3
Cost
Whiskey Lake
i7-8565U
4C/8T
1800
4600
8 MB
15W
?
620
1150
2400
2133
$409
i5-8265U
4C/8T
1600
3900
6 MB
15W
?
620
1100
2400
2133
$297
i3-8145U
2C/4T
2100
3900
4 MB
15W
?
620
1000
2400
2133
$281
Amber Lake
i7-8500Y
2C/4T
1500
4200
4 MB
5W
?
615
1050
-
1866
$393
i5-8200Y
2C/4T
1300
3900
4 MB
5W
?
615
950
-
1866
$291
m3-8100Y
2C/4T
1100
3400
4 MB
5W
?
615
900
-
1866
$281
From the two families, there are three SKUs apiece. Some of these may look familiar – the Core i5-8265U for example is a mirror to the Core i5-8269U which already exists under the Kaby Lake Refresh brand, albeit with eDRAM and better graphics, but not as many features native to the integrated chipset. Intel told us that for these parts, Gen 9 graphics is being used.
Each set of three is divided into i7/i5/i3 (or m3 for the Y series), however the way the chips change is different. In the U-series, the i3-8145U is a dual core and has the highest base clock, while the i7-8565U is a quad-core and has the highest turbo frequency. Moving from i7 to i5 to i3 also reduces the L3 cache size, and we get into this interesting middle ground where the i3-8145U has more L3 cache per core than the i5-8265U. All three chips support DDR4-2400 and LPDDR3-2133, though no LPDDR4.
For the Y series, the base frequency decreases from 1.5 GHz on the i7-8500Y down to 1.1 GHz on the m3-8100Y, and turbo frequencies also decrease. All three parts are dual core processors, although Intel does not state if these are native dual core parts or quad-cores with two cores disabled. The TDP / PL1 of these chips is 5W, which is actually a slight rise from the previous generation Y series processors that were at 4.5W. These CPUs also only support LPDDR3-1866 memory natively. It is also worth noting that the naming scheme for the Y-series has changed yet again: in the last generation, the m3 was given the name 7Y10c - but now the naming has come in line with the other processors.
Update 8/28
Intel Whiskey Lake-U and Amber Lake-Y
AnandTech
Cores

Base MHz
Turbo
MHz
L3
Cache
TDP
PL1
cTDP
Up
cTDP
Down
Cost
Whiskey Lake
i7-8565U
4C/8T
1800
4600
8 MB
15W
25W @
2.0GHz
10W @ 800MHz
$409
i5-8265U
4C/8T
1600
3900
6 MB
15W
25W @
1.8GHz
10W @
800MHz
$297
i3-8145U
2C/4T
2100
3900
4 MB
15W
25W @
2.3GHz
10W @
800MHz
$281
Amber Lake
i7-8500Y
2C/4T
1500
4200
4 MB
5W
7W @
1.6GHz
3.5W @
600MHz
$393
i5-8200Y
2C/4T
1300
3900
4 MB
5W
7W @
1.6GHz
3.5W @
600MHz
$291
m3-8100Y
2C/4T
1100
3400
4 MB
5W
8W @
1.6GHz
4.5W @
600MHz
$281
If all of this wasn't confusing enough, OEMs can run the chips in cTDP Up and cTDP down modes. Will you be able to tell if your chip is in one of these modes? Not from looking at the box. At the end of the day, each one of the Whiskey Lake parts could be in cTDP down mode, or the Amber Lake parts be in cTDP Up mode. The only way is through testing the products on hand with performance measuring toold.
*cTDP values, UHD naming, IGP frequency, and Pricing added from ARK. Update 8/28
Chipset Talking Points
In their 15W and lower Core processors, Intel integrates the chipset into the same package as the CPU. This allows OEMs to save board space, but also increases the overall value of the processor and makes thermal management easier. With the new parts, Intel is connecting the CPU die to the chipset die using an OPI link, which is essentially similar to a DMI link in a desktop or 45W+ system, running at the equivalent of PCIe 3.0 x4 speeds. Here Intel told us that the OPI speed is running at 4 GT/s.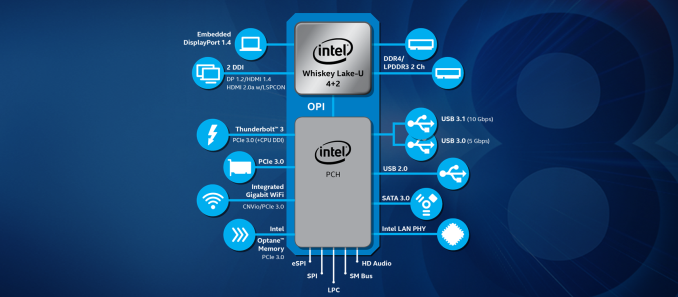 On the chipset side, the new generation brings up to two USB 3.1 ports natively to the chipset, which saves OEMs a little bit of money as they will not have to buy extra controllers. Similarly too, Intel also integrates a Wi-Fi MAC on the chipset, which means that OEMs only need to buy the CRF modules (which are cheaper) to enable wireless communications. Only Intel manufactures those CRF modules for now, tying the OEM into an Intel Wi-Fi CRF solution.
Intel also puts Thunderbolt 3 on this diagram, but it isn't native. Intel only stated that you still need the chip after they were explicitly asked about this – we're waiting on Intel to integrate TB3 onto the chipset for a few generations now, and to put it in the diagram just because it can be connected is a little disingenuous.
Also on the chipset list is an embedded gigabit Ethernet PHY, although Intel doesn't state which MAC/PHY combination they are using from its portfolio in this case (we were told that yes it is embedded, same as previous generation, but not which model). There is also an integrated quad-core audio DSP, although little details are given.
Details about the Amber Lake PCH were not given.
Comparison Points
During Intel's briefing, a lot of noise was made about some of the features: 2x overall performance, 12x better WiFi, 10.5x transcoding. These seem like impressive numbers, until you realise that Intel is comparing the new parts to five year old machines (e.g. Haswell-U), and none of these performance figures factor in the Spectre and Meltdown updates (the new chips are not protected in hardware, for those wondering). Does anyone remember two years ago when Intel was comparing its latest platform against three year old machines?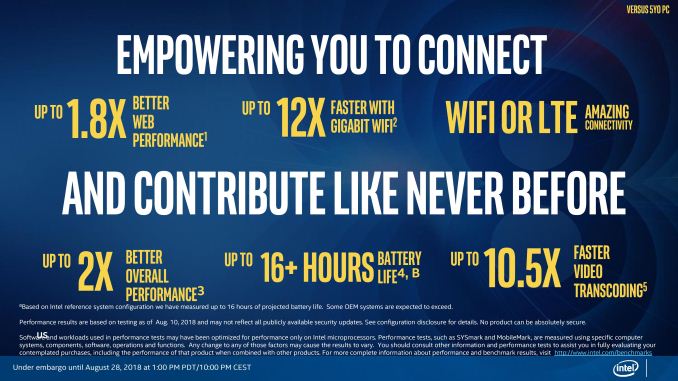 Up to 1.8x Better Web Performance (WebXPRT 3, i5 vs i5)
Up to 12x Faster with gigabit WiFi (Peak 2x2 160 MHz 802.11ac vs 1x1 802.11n)
Wifi or LTE
Up to 2x Better overall Performance (SYSmark 2014 SE, i5 vs i5)
Up to 16+ Hours Battery Life (1080p local video playback, screen 1W, Core i7)
Up to 10.5x Faster Video Transcoding (Handbrake, i5 vs i5)
* Versus 5 Year Old PC (Core i5-4200U)
Back then the reasoning behind the comparison was that most users they were targeting for updates were running 3 year old machines, and that was a large market to tap in to. If we follow on that same logic, then Intel is clearly still going after this market of people who have not updated yet. Which means that the marketing idea didn't necessarily work before, otherwise the market Intel would be going after is still 3+, rather than 5+. Then again, comparing to older systems does make for larger comparison numbers.
OEMs with New Notebooks
Notably on the OEM front, the fact that Intel hasn't updated their Y-series CPUs since the original Kaby Lake launch in 2016 means that the major sub-15W notebook families are all overdue for updates. And even on the 15W U-series front, we're looking at the first new processors since last summer. So we're expecting to see a round of refreshes over the coming months for sub-28W laptops.
Both Apple's MacBook and MacBook Air lines are overdue for updates, so these are the kinds of processors we'd expect to find in any new iterations. Meanwhile this week is the IFA trade show in Berlin, where all the major laptop manufacturers (who aren't Apple) are expected to show off their newest thin and light (or even fanless) notebooks, and I am at the show ready to take a look.
We have meetings with Acer and Lenovo scheduled, while Huawei is also having a presentation that might produce something notebook related. If you see some news about a new laptop, ping me at @IanCutress on Twitter and I'll try and find it at the show.
Related Reading: