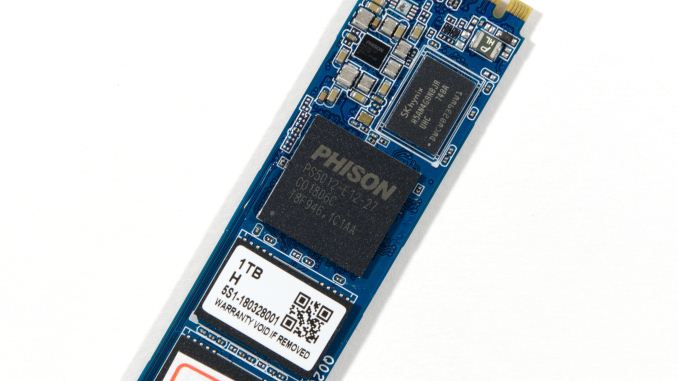 Phison is one of the most successful SSD controller designers that sells controllers on the open market. Phison's controllers range from tiny low-power chips for USB flash drives and memory cards up to high-end NVMe SSD controllers, ending up in drives such as the Kingston A1000, and the Patriot Hellfire. The Phison E12 is its latest flagship NVMe controller intended for high-end consumer SSDs and enterprise SSDs. We have an engineering sample of Phison's reference design for a consumer M.2 NVMe SSD with the E12 controller and 1TB of Toshiba 3D TLC NAND flash memory. Phison — and the many brands that base their SSDs on Phison designs — are hoping that this new combination will be able to compete against top SSDs from the vertically-integrated giants like Samsung and Western Digital.

Phison has a close relationship with Toshiba, and most Phison-based consumer SSDs from the past several years have used Toshiba NAND flash. This was a bit of a hindrance for brands using Phison controllers during the year where Samsung and IMFT were shipping 3D NAND but Toshiba was still primarily producing 15nm planar NAND. Phison's first NVMe controller (E7) was used almost exclusively with Toshiba's 15nm MLC NAND and consequently those drives tended to have more limited capacities and higher per-GB prices than their competition.
The situation this year is quite different. Toshiba's 64L 3D TLC is very competitive, and when paired with the right controller it can deliver great performance (as seen in the WD Black with SanDisk NAND) and great power efficiency (as seen in the Toshiba XG5).
Phison NVMe SSD Controller Comparison
Controller
E12
E12C
E8
E8T
E7
Model Number
PS5012-E12
PS5012-E12C
PS5008-E8
PS5008-E8T
PS5007-E7
Host Interface
PCIe 3.0 x4
PCIe 3.0 x4
PCIe 3.0 x2
PCIe 3.0 x2
PCIe 3.0 x4
Protocol
NVMe 1.3
NVMe 1.2
NVMe 1.1b
NAND Channels
8
4
4
4
8
NAND Chip Enable lines
32
16
32
32
64
Typical NAND
3D TLC, 3D QLC
64L 3D TLC
15nm MLC
Max Capacity
8 TB
2 TB
2 TB
1 TB
2 TB
DRAM Support
DDR4, DDR3L
DDR3(L)
None (HMB)
DDR3(L)
Error Correction
LDPC, StrongECC
StrongECC
BCH
Manufacturing Process
TSMC 28nm
UMC 40nm
TSMC 28nm
Sequential Read
3200 MB/s
1700 MB/s
1600 MB/s
1600 MB/s
2600 MB/s
Sequential Write
3000 MB/s
1700 MB/s
1300 MB/s
1300 MB/s
1300 MB/s
4KB Random Read
600k IOPS
340k IOPS
240k IOPS
120k IOPS
300k IOPS
4KB Random Write
600k IOPS
400k IOPS
220k IOPS
130k IOPS
200k IOPS
Retail SSD Availability
Soon
?
Q4 2017
?
Q1 2016
Late last year, Phison's E8 controller arrived in the retail market with the MyDigitalSSD SBX. This second-generation NVMe controller is aimed at the low-end NVMe SSD market: it features fewer PCIe lanes and NAND channels than a typical high-end SSD and is fabbed on a cheaper 40nm process rather than the 28nm process used by most cutting-edge SSD controllers. The Phison E12 is the high-end member of this second generation, and it brings all the features we expect from a controller for this market segment: support for features from the latest NVMe 1.3 standard, LDPC error correction robust enough to support 3D TLC and QLC NAND, enough channels and chip enable pins to support up to 8TB of flash, and support for DDR4 DRAM. Manufacturing on TSMC's 28nm process provides the transistor budget to enable all of those features while keeping power consumption reasonable.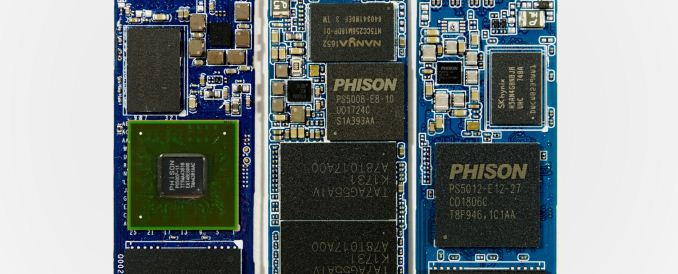 Phison E7, E8 and E12 Controllers
Earlier Phison NVMe controllers have relied on BCH error correction and Phison's proprietary StrongECC error correction, but the Phison E12 finally brings full LDPC support. This comes at a relatively high transistor cost compared to simpler ECC schemes, but is allows for high throughput and low power encoding and decoding. The ECC engine can easily be one of the most performance-critical parts of a NVMe SSD controller, and the Phison E12's error correction should be much faster than any of their previous controllers. It should also provide a longer usable write endurance, which is why Phison also markets the E12 as their first controller suitable for use with QLC NAND.
Phison's performance estimates for their controllers are based on the contemporary NAND that they are expected to be paired with. In the case of the E12, this is Toshiba's current 64-layer 3D TLC NAND, though we may also see drives using their 96L NAND during the E12's lifetime. Using 3D TLC, the E12 promises to deliver much higher performance than the previous-generation E7 could even when using MLC NAND.
Phison E12 Engineering Sample Specifications
Capacity
960 GB
Controller

Phison PS5012-E12

Firmware Version
ECFM11.0
NAND Flash

Toshiba 256Gb 64-layer BiCS3 3D TLC

Form-Factor
double-sided M.2-2280
Interface
PCIe 3.1 x4, NVMe 1.3
DRAM
1 GB SK Hynix DDR4-2400 CL17
Our Phison E12 engineering sample features 1TB of Toshiba 64L 3D TLC NAND flash memory and 1GB of DDR4 DRAM, on a double-sided M.2 2280 card. The usable capacity is configured as 960 GB, so this drive has plenty of spare area to work with (by consumer SSD standards). Many brands that use the Phison E12 will also offer 2TB models, but performance shouldn't be much higher than this 1TB sample.
For this review, we are comparing the E12 sample against a variety of SSDs that have already hit the market. Retail drives based on the E12 should arrive very soon, probably starting with the MyDigitalSSD BPX Pro, successor to the BPX that was the most affordable E7-based SSD. MyDigitalSSD hasn't shared specific timing or pricing, but the BPX Pro should be on sale by the end of this summer. We expect pricing will be below the current top TLC-based SSDs, so the results from MLC-based drives and the Intel Optane SSD 900P represent a much higher price bracket than Phison E12 drives will occupy.
We are also expecting a wave of new SSD announcements over the next month leading in to Flash Memory Summit, August 7-9. We hope to hear plans for products using Silicon Motion's SM2262EN, an upgraded version of their SM2262 controller that is currently shipping in drives like the HP EX920 and ADATA SX8200. We will have a review of a SM2262EN engineering sample ready soon to see which new controller is likely to come out on top this fall. Unless Samsung, Western Digital or Toshiba brings out a more affordable high-end drive that delivers at least as much performance as their current flagships, the best value NVMe SSD going into the holiday season will probably be based on either the Phison E12 or the SM2262EN.
AnandTech 2018 Consumer SSD Testbed
CPU
Intel Xeon E3 1240 v5
Motherboard
ASRock Fatal1ty E3V5 Performance Gaming/OC
Chipset
Intel C232
Memory
4x 8GB G.SKILL Ripjaws DDR4-2400 CL15
Graphics
AMD Radeon HD 5450, 1920x1200@60Hz
Software
Windows 10 x64, version 1709
Linux kernel version 4.14, fio version 3.6
Spectre/Meltdown microcode and OS patches current as of May 2018