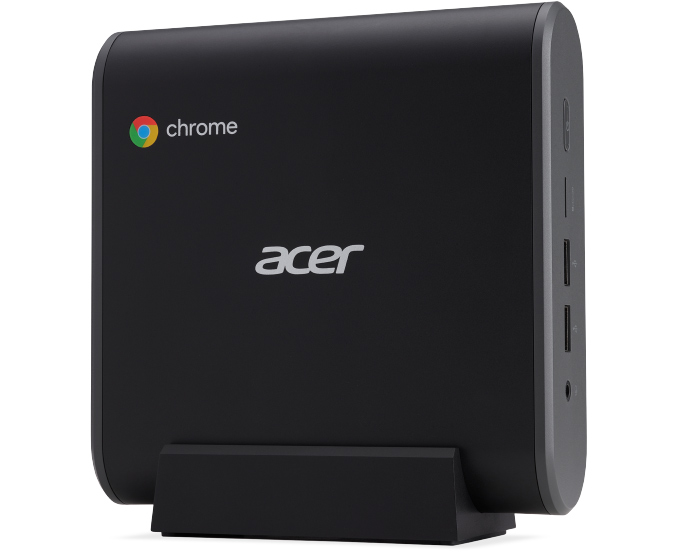 Acer has quietly started to sell its Chromebox CXI3 UCFF desktop, which it formally introduced earlier this year. The minuscule 0.9-liter system runs Google's Chrome OS and the manufacturer originally positioned it for education market, but the actual configurations of these PCs and their prices indicate that they may be aimed at other kinds of markets too.
Announced earlier this year, the Chromebox CXI3 systems run Intel's Kaby Lake processors (most of which belong to the 8th Gen Core family) with two or four cores, thus offering a decent level of performance for UCFF desktops. The key selling point of the Chromebox CXI3 besides its compact dimensions is connectivity. The system is outfitted with a USB 3.1 Gen 1 Type-C port along with five USB 2.0/3.0 Type-A ports (depending on the model), a GbE connector, an HDMI output, and a microSD card reader. On the wireless side of things, it has a 2×2 802.11ac Wi-Fi controller that also supports Bluetooth 4.2 LE.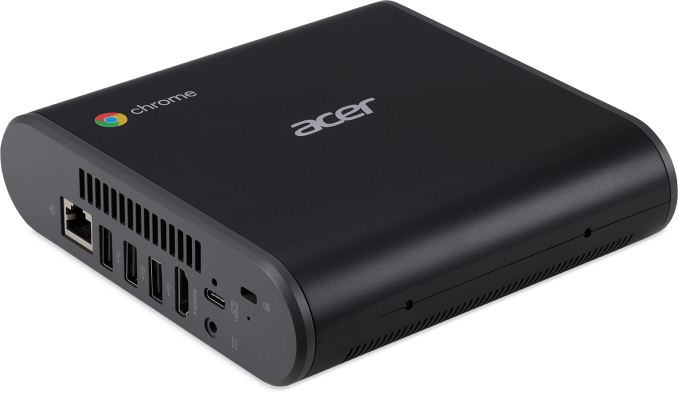 Acer's Chromebox CXI3 recently started to sell at NextWarehouse and TigerDirect in four configurations running quad-core Core i5-8250U or Core i7-8550U CPUs as well as dual-core Core i3-7130U or Celeron 3865U processors. The low-end Celeron-based version is equipped with 4 GB of DDR4 memory and 32 GB of solid-state storage, whereas higher-end variants are outfitted with 8 – 16 GB of RAM and 64 GB of storage. Prices of the systems range from a rather democratic $308 to a rather tangible $777. While schools and libraries can afford sub-$500 systems, it is extremely unlikely that they will invest nearly $800 in a Chromebox.
General Specifications of Acer's Chromebox CXI3
DT.Z0NAA.001
DT.Z0RAA.001
DT.Z0SAA.001
DT.Z0TAA.001
CPU
Intel Celeron 3865U
2C/2T
1.8 GHz
2 MB
15 W
Intel Core i3-7130U
2C/4T
2.7 GHz
3 MB
15 W
Intel Core i5-8250U
4C/8T
1.6 - 3.4 GHz
6 MB LLC
15 W
Intel Core i7-8550U
4C/8T
1.8 - 4 GHz
8 MB LLC
15 W
iGPU
HD Graphics 610
12 EUs
300 MHz - 900 MHz
HD Graphics 620
24 EUs
300 MHz - 1 GHz
UHD Graphics 620
24 EUs
300 MHz - 1.15 GHz
Memory
4 GB DDR4-2133
8 GB DDR4-2133
16 GB DDR4
Storage
SSS
32 GB
64 GB
Other
microSD
Wireless
2×2 802.11ac Wi-Fi + Bluetooth 4.2
Ethernet
1 × Gigabit Ethernet with RJ45 connector
Display Outputs
HDMI
Audio
1 × TRRS connector
USB
1 × USB 3.1 Type-C
5 × USB 2.0/3.0 Type-A
Dimensions
Width: 5.8 inches | 15 cm
Depth: 5.9 inches | 15 cm
Thickness: 1.6 inches | 4 cm
Extra
100 × 100 mm VESA mount
PSU
External
OS
Google Chrome OS
Price
(NextWarehouse)
$308
$478
$535
$777
Google and its partners are pushing the Chrome OS to various unconventional mobile PCs (such as tablets, convertibles, and 2-in-1s), possibly to tap into markets where the operating system (and Android) was not present before (or has been unsuccessful). Meanwhile, Acer appears to see Chrome's potential on the desktop, a market segment that Dell, HP, and Samsung considered irrelevant for the OS. Bearing in mind configurations and prices of the new Chromebox CXI3, it is evident that the systems are positioned not only for schools and libraries, but rather for more demanding customers. Furthermore, the fact that they have popped up in retail indicates that Acer is looking at consumers.
A big question is whether they latter are going to bite at Chromebox that costs nearly $800. For around $700 it is possible to get a Core i7-8250U- and Windows 10-based laptop. On the desktop side of things, there is a wide choice of SFF desktops priced at around $800 (1, 2).
Related Reading:
Source: TechReport