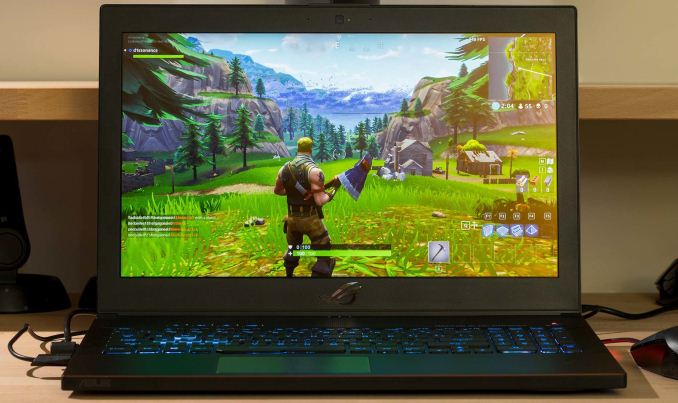 ASUS this week introduced its a second laptop under its flagship ROG Zephyrus gaming notebook brand. Dubbed the Zephyrus M (GM501) the new laptop is a slightly more straight-laced counterpart to the original Zephyrus, eschewing the latter's gaming-optimized keyboard and trackpad layout in favor of a traditional keyboard-over-trackpad design. Otherwise the new notebook is very similar to the original in most respects, aiming for the high-performance market by packing in Intel's newly announced six-core Core i7-8750H along with NVIDIA's GeForce GTX 1070 graphics chip into a 0.78-inch (19.9 mm) thick chassis. The new notebook is only slightly thicker than the original ROG Zephyrus, but unlike its predecessor, it has a GPU that runs at its original frequency and claims to deliver performance similar to its desktop counterparts.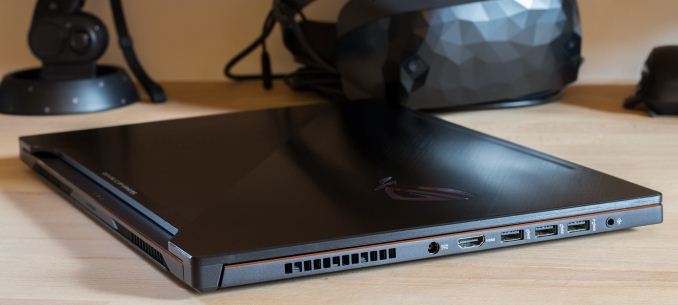 The ASUS ROG Zephyrus M GM501 is based on Intel's six-core Core i7-8750H CPU (2.2 GHz base, up to 4.2 GHz turbo) and is accompanied by 16 GB of DDR4-2666 RAM (upgradeable to 32 GB). Meanwhile along with the keyboard change, the other big difference between the two Zephyrus laptops is on the dGPU front: the Zephyrus M starts with an NVIDIA GeForce GTX 1060 and a fittingly lower base price, whereas the original Zephyrus only ships in a flagship GTX 1080 configuration. Or for a more powerful graphics system the GTX 1070 is offered as an upgrade option. And unlike the original laptop, which took some liberties with GPU clockspeeds to keep the powerful GTX 1080 Max-Q in check (e.g. tuning that involves frequency drops and some other ways to trim TDP), the Zephyrus M runs its dGPU at NVIDIA"s standard clockspeeds.
In order to integrate full-fat GPUs, ASUS had to use a new chassis that is a couple of millimeters thicker when compared to the original ROG Zephyrus — the new laptop is 19.9 mm thick, which is still thinner than the vast majority of gaming notebooks. Besides getting slightly thicker, the system is also 250 grams heavier and now weighs 2.45 kilograms (5.5 lbs).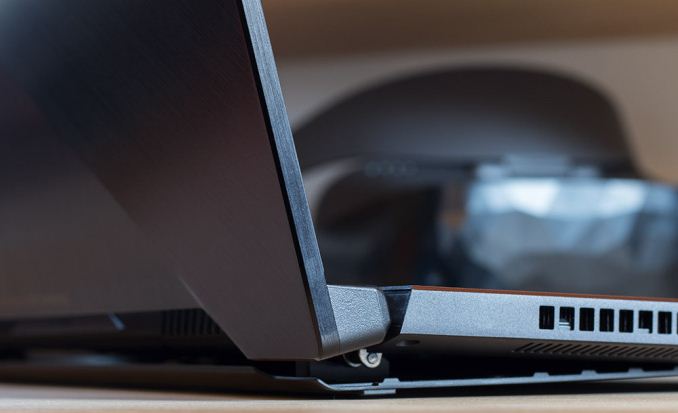 To ensure sufficient cooling of rather hot components (the aggregated TDP of the CPU and the GPU is rated at 160 W) and maintain consistent performance under high loads, the new ROG Zephyrus M uses a cooling system that resembles that of the original ROG Zephyrus: it has two blowers and five thick heat pipes. When the laptop is opened, additional venting opens up to improve air flow.
The thicker and heavier enclosure enabled the manufacturer to equip its ROG Zephyrus M with a rather sophisticated storage sub-system: the new GM501 comes with a 256 GB PCIe 3.0 x4 SSD as well as Seagate's 1 TB FireCuda SSHD. Another important improvement of the ROG Zephyrus M compared to the original one is its display panel with a 144 Hz refresh rate and a 3 ms response time. The display supports NVIDIA's G-Sync dynamic refresh rate technology.
Meanwhile, as previously mentioned, the new model incorporates a more traditional keyboard setup. This means forgoing the original model's gaming optimized trackpad-next-to-keyboard setup in favor of the more traditional keyboard-over-trackpad setup. While Asus continues to offer the less traditional layout on the standard Zephyrus, the Zephyrus M is meant to be a bit more approachable and a bit more versitile for tasks that aren't gaming. As a result, the Zephyrus M gets a proper physical number pad in place of where the original put its trackpad. Plus the slightly larger chassis has allowed Asus to extend the key travel distance of the keyboard by a bit, again to be a little more traditional, bringing the travel distance up from 1.4mm to 1.7mm.
Furthermore, the Zephyrus M comes with Intel's latest Wireless-AC 9560 CRF that uses the onboard chipset Wi-Fi, supporting 802.11ac Wave 2 at up to 1.73 Gbps throughput. Bluetooth also included. As for physical connectivity, the new Zephyrus M resembles its ancestor: it has one Thunderbolt 3 port, four USB 3.1 Gen 2 connectors, one HDMI 2.0 output, an HD webcam, a microphone array, speakers, and a TRRS mini-jack.
ASUS ROG Zephyrus M GM501
Zephyrus M GM501GS-XS74
Zephyrus M GM501GM-WS74
Display
Diagonal
15.6"
Resolution

1920×1080

Refresh

144 Hz, NVIDIA G-Sync

CPU
Core i7-8750H
6C/12T
2.2 - 4.2 GHz
45 W TDP
Graphics

NVIDIA GeForce GTX 1070 8 GB

NVIDIA GeForce GTX 1060 6 GB

RAM
16 GB DDR4-2666 (upgradeable to 32 GB)
Storage
SSD
256 GB SSD with PCIe 3.0 x4 interface, up to 3.1 GB/s
HDD

Seagate FireCuda 1 TB SSHD

Wi-Fi
Intel Wireless-AC 9560 CRF
802.11ac Wi-Fi Wave 2
Bluetooth
Bluetooth 4.2
Ethernet
1 GbE controller
USB
4

× USB 3.0 Type-A


1

× USB 3.1 Type-C (via TB3 connector)

Thunderbolt
1

× USB Type-C Thunderbolt 3 connector

Display Outputs
1

× DisplayPort 1.2 (via TB3 port)


1

× HDMI 2.0

Keyboard
Chicklet RGB-backlit keyboard
Other I/O
Microphone, stereo speakers, audio jacks, webcam
Battery
50 Wh
Dimensions
Width
384 mm | 15.1 inches
Depth
262 mm | 10.3 inches
Thickness
19.9 mm | 0.78 inches
Weight
2.45 kilograms
Price
$2199
$1899
The ASUS ROG Zephyrus M gaming notebooks will be available from leading retailers in the coming weeks. The model with the GeForce GTX 1060 will be priced at $1,899, whereas the SKU with the GeForce GTX 1070 will cost $2,199.
ROG Zephyrus (GX501GI) Refreshed As Well
Meanwhile not to be left out, the original ROG Zephyrus has also received a minor update to keep it in line with its straight-laced sibling and to incorporate Intel's newest processors. The new ROG Zephyrus (GX501GI) uses Intel's Core i7-8750H – bumping that laptop up from a quad-core to a hex-core – while continuing to pair it with NVIDIA's GeForce GTX 1080 Max-Q on the GPU side of matters. The laptop has also received a minor display upgrade, incorporating the same 144Hz panel as the Zephyrus M and replacing the original 120Hz panel.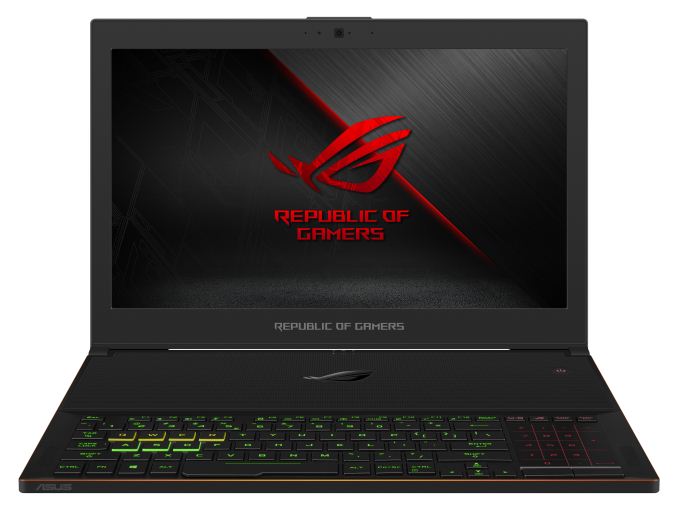 Otherwise, the new laptop is a straightforward specificaition bump. Asus has retained the same chassis design and build parameters, including the advanced cooling system and the laptop's unorthodox gaming-focused keyboard. Asus will begin taking pre-orders for it today, with prices starting at $2899.
ASUS ROG Zephyrus (GX501GI)
Zephyrus GX501GI (2018)
Zephyrus GX501VI (2017)
Display
Diagonal
15.6"
Resolution
1920×1080
Refresh
144 Hz, NVIDIA G-Sync
120 Hz, NVIDIA G-Sync
CPU
Core i7-8750H
6C/12T
2.2 - 4.2 GHz
45 W TDP
Core i7-7700HQ
4C/8T
2.8 - 3.8 GHz
45 W TDP
Graphics
NVIDIA GeForce GTX 1080 Max-Q 8 GB
RAM
16 GB DDR4-2666 (upgradeable to 24 GB)
Storage
512 GB SSD, NVMe PCIe x4
Wi-Fi
802.11ac Wi-Fi
Bluetooth
Bluetooth 4.2
Ethernet
1 GbE controller
USB
4 × USB 3.0 Type-A
1 × USB 3.1 Type-C (via TB3 connector)
Thunderbolt
1 × USB Type-C Thunderbolt 3 connector
Display Outputs
1 × DisplayPort 1.2 (via TB3 port)
1 × HDMI 2.0
Keyboard
Chicklet RGB-backlit keyboard
Other I/O
Microphone, stereo speakers, audio jacks, webcam
Battery
50 Wh
Dimensions
Width
379 mm
Depth
262 mm
Thickness
16.9-17.9 mm
Weight
2.2 kilograms
Price
$2899
$2699
Related Reading
Source: ASUS