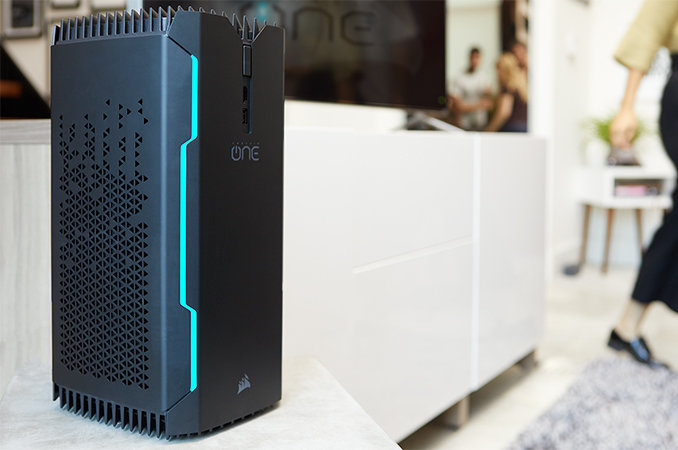 This week Corsair introduced two new versions of its small form-factor desktop, called the 'ONE'. The new versions upgrade the processor to the latest generation Intel six-core Coffee Lake processors. The end result is more performance, with a corresponding increase in price. The new versions, called the ONE Pro Plus and the ONE Elite, represent the best performance versions of the Corsair One, while the model at the bottom of the stack is discontinued.
Corsair's new ONE Pro Plus and ONE Elite systems are based on Intel's Core i7-8700K processor, and subsequently get an upgrade to a Z370 based motherboard. The new Corsair ONE PCs come in the familiar 12L aluminum chassis with a custom liquid cooling system, featuring dual liquid cooling loops that are used to cool down the CPU and the GPU separately. For the new units, the GPU is also upgraded, to NVIDIA's GeForce GTX 1080 Ti graphics card. Despite packing rather significant compute horsepower then, the use of the liquid cooling loops allows Corsair to promote the ONE Pro Plus and ONE Elite as quiet.
As for other components, the new high-end Corsair ONE models are outfitted with 16 GB of Vengeance LPX DDR4-2400 (ONE Plus) or 32 GB of Vengeance LPX DDR4-2666 (Elite) memory, a 480 GB M.2 NVMe SSD, and a 2 TB 2.5" 5400-RPM HDD. Since the systems use industry-standard components, they are upgradeable. Technically the CPU and GPU can also be overclocked, as long as cooling performance and 500W PSU are sufficient.
Specifications of Early-2018 Corsair ONE Gaming PCs
Model
ONE Pro
CS-9000011
ONE Pro
CS-9000015
ONE Pro Plus
CS-9000013
ONE Elite
CS-9000014
CPU
Core i7 7700K with liquid cooling
Core i7 8700K with liquid cooling
GPU
GeForce GTX 1080 w/LCS
GeForce GTX 1080 Ti /w LCS
DRAM
16 GB DDR4-2400
32 GB DDR4-2400
16 GB DDR4-2400
32 GB DDR4-2666
Motherboard
mini-ITX, Z270 chipset
mini-ITX, Z370 chipset
Storage
SSD
480 GB NVMe
HDD

2 TB HDD

, 5400 RPM
PSU
400 W SFX
500 W SFX
Warranty
2 years
MSRP
$2300
$2500
$2800
$3000
The new ONE Pro Plus and ONE Elite gaming machines exist alongside Corsair's existing ONE Pro systems, featuring Intel's Core i7-7700K as well as NVIDIA's GeForce GTX 1080. At the same time, Corsair has EOLed its original ONE computer based on the Core i7-7700 and the GeForce GTX 1070. Corsair says that customer interest for the $1800 system was low, so it decided to discontinue the SKU. As a result, the range now starts at $2300, while the most expensive Corsair ONE Elite model retails for $3000.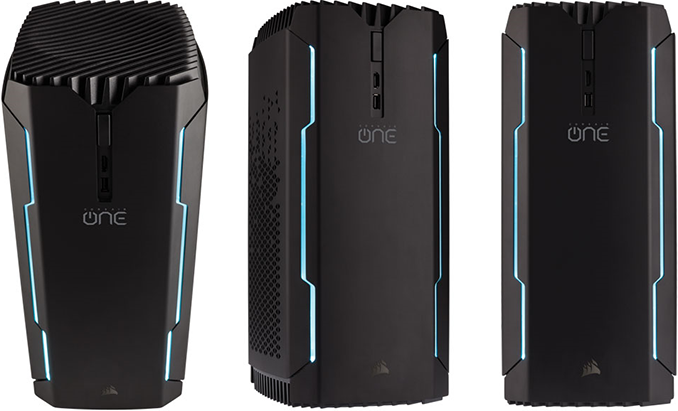 The new Corsair ONE Pro Plus and Corsair ONE Elite will be available worldwide directly from Corsair as well as its resellers.
Related Reading
Source: Corsair