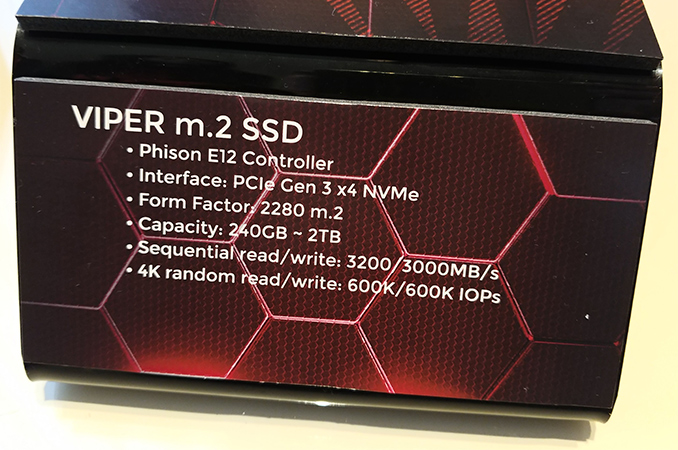 In January, Patriot demonstrated its upcoming Viper M.2-branded high-end SSDs. The new drives are powered by Toshiba's 64-layer BICS 3D NAND flash memory and Phison's latest PS5012-E12 controller. The drives will hit the market in the upcoming months and will replace Patriot's Hellfire SSDs.
Phison yet has to disclose all the details regarding its new PS5012-E12 controller, but at present we do know that the chip is NVMe 1.3 compliant, it supports 8 NAND channels, it has a PCIe 3.0 x4 interface, and is certified to work with the latest types of 3D NAND memory, including Toshiba's current-gen 64-layer 3D NAND as well as upcoming flash memory from the company. One of the most prominent features of the PS5012-E12 is its support for stronger ECC algorithms based on LDPC method to handle existing and future NAND with even higher bit densities.
The Patriot Viper M.2 uses Toshiba's 64-layer BICS3 3D TLC/MLC memory and will be available in various configurations ranging from 240 GB all the way to 2 TB. Patriot demonstrated a 512 GB model of the Viper M.2 at CES, which does not fit into a regular lineup that would include 240, 480, 960 GB and 1920 GB models (if this was the case, the "~2 TB"). We contacted Patriot for a clarification after CES, but we have not received any additional information so far. Perhaps Patriot installs 3D NAND ICs of different capacities to build various Viper M.2 drives, but without any additional information it does not make a lot of sense to make guesses.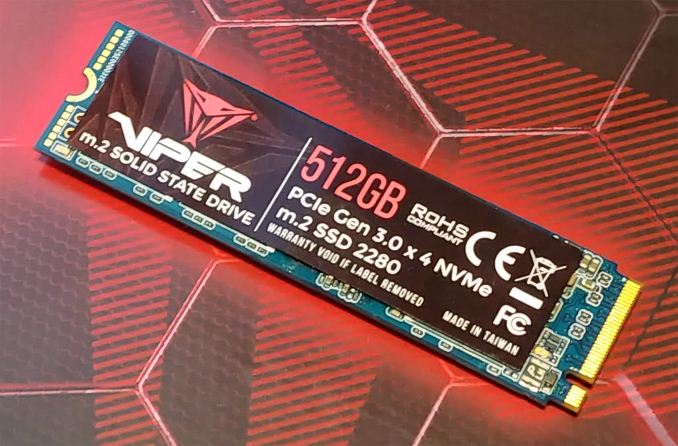 When it comes to performance, Patriot republishes Phison's estimates: up to 3200 MB/s sequential read speed, up to 3000 MB/s sequential write transfers as well as up to 600K 4K random read/write IOPS.
Patriot demonstrated its Viper M.2 drives with the retail sticker on, so we expect the SSDs to become available rather sooner than later (Q1-Q2). With an imminent launch, it might suggest that Patriot is up against the clock regarding tuning the Viper M.2's firmware to differentiate its drives over the other offerings based on the PS5012-E12. This could be a reason why the company publishes performance numbers released by Phison itself. However, the quicker time to market means more intense competition among high-end SSDs from different manufacturers and this will have an effect on prices that is good for consumers.
Related Reading
Source: Patriot Memory