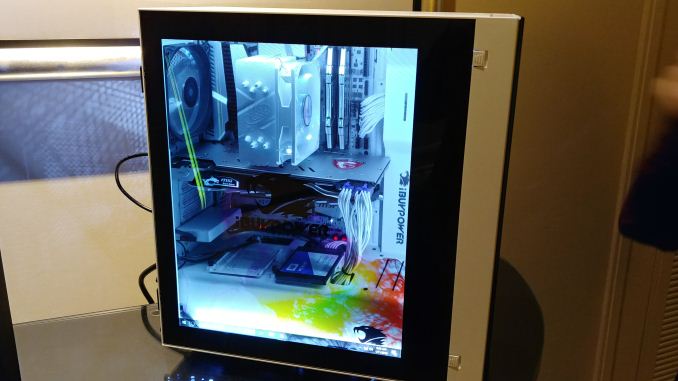 One of the most esoteric elements to CES this year was in the iBuyPower booth. iBuyPower is a system integrator rather than a components manufacturer, so it comes across as surprising when they have an ultimate hardware exclusive, and their Project Snowblind is it. Last year at CES iBP demonstrated the Snowblind concept: using a transparent LCD panel on the side of a PC case as a window into seeing the components, but also with the ability to run a set of moving images and video while the machine is on. It is the ultimate RGB add-on. For 2018, the latest version was on display.
The latest version comes in at a resolution of 1024x1280, which is similar to last year but with better clarity and response. Through speaking with iBP, they do have the ability to fashion it into any 'regular' sized panel environment. It turns out that this technology was co-developed with Intel on board, so it's unlikely to be an option on an AMD system.
iBP only provides this feature on its Snowblind systems, rather than as an individual add-on. The reason is that the Snowblind system is so-called because it focuses on white components, and adds in the high-power white LEDs around the edge of the transparent display in order to actually see the LCD screen. Without this in place, it would almost be unreadable, hence the limitation of its availability. When discussing with iBP, the full overall cost of the feature does add around $150-$200 to the system.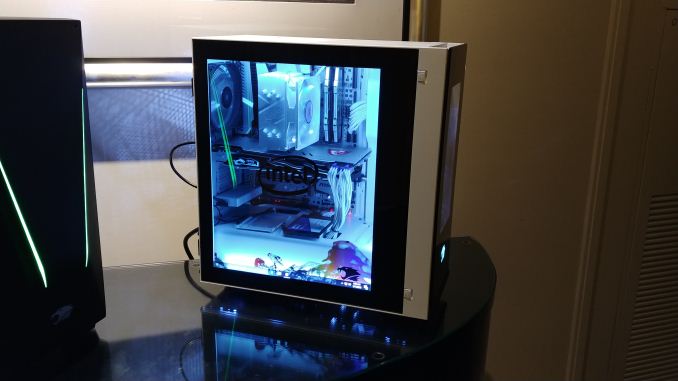 One of the key points that got me here was around how the chassis industry has evolved over the last 10-20 years. We have had features such as dual-chamber designs, tool-less design, mini-ITX through massive tower systems, tempered glass, and the glut of recent RGB that can be perceived as a vomit disco. How many truly innovative elements to the chassis industry has there been in that time? In Win is usually a good call for cases that open themselves, but these tend to be limited in scope. So it amazes me when it falls to a system integrator to come up with something so entirely different. It's also fun to look at.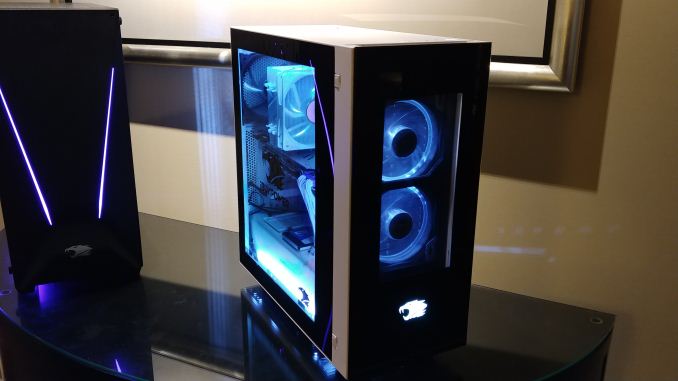 Of course, the scope of such a system means that showing it off at a LAN event is what it is really for, or for businesses to help reinforce a company logo on PCs on the desks of their employees. While it is plugged into the graphics card, the system can be used to play games, but doesn't work that well as a monitor because of how much can be seen through. It is designed more to show off both moving images and the components inside, and it certainly does that.
iBuyPower currently offers Snowblind under its Signature PC series, with Snowblind, Snowblind Pro and Snowblind Extreme versions. All systems use Intel Coffee Lake 8th Gen K-series processors, and NVIDIA graphics cards. For any GPU that doesn't already have an appropriate backplate, iBP creates one to help with the lighting.
Related Reading