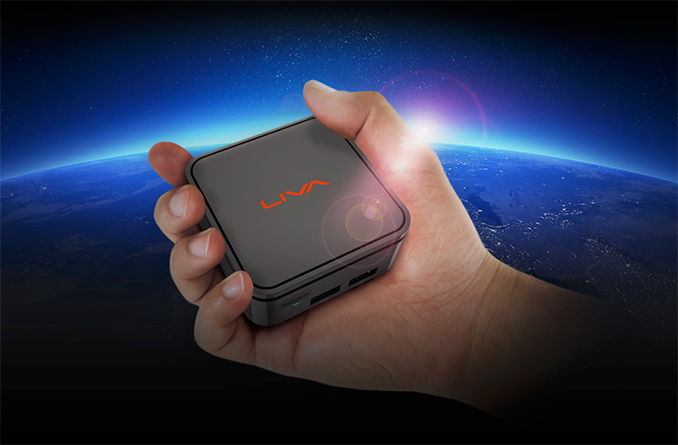 UPDATE 1/12, 2:15 PM ET: Adding MSPRs for the Z2 and Q2 entry-level configs.
LAS VEGAS, NV — ECS demonstrated a few of its upcoming ultra-compact form-factor (UCFF) PCs based on the Gemini Lake platform at CES 2018. The new LIVA Z2 and LIVA Q2 systems enhance the performance and feature-set of the currently available LIVA Z and LIVA Q. The Liva One SoC is a new addition to the lineup. It comes with improved storage and I/O capabilities.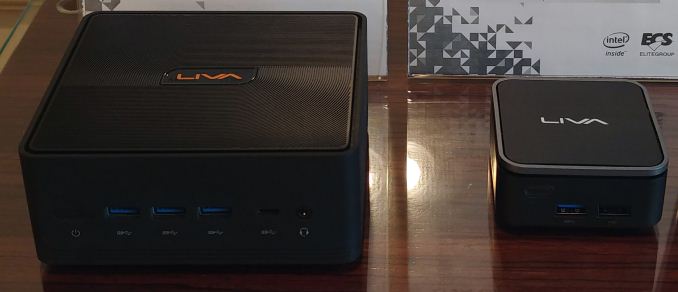 The key innovations in the new LIVA PCs are enabled by Intel's Gemini Lake SoCs with Intel's UHD 600-series iGPU. In particular, the new processors offer higher general-purpose performance compared to their predecessors because of the Goldmont Plus CPU microarchitecture. The SoCs also feature an improved media processing engine with support for 10-bit HEVC and 10-bit VP9 video. The Gen10 display engine now supports a native HDMI 2.0 / HDCP 2.2 display output. The LIVA Z2 and the LIVA One SoC systems now rely on DDR4-2400 memory rather than on DDR3L-1866. We can expect complete systems featuring the barebones to be slightly faster and a bit more affordable compared to the currently available Apollo Lake-based systems in the LIVA lineup.
The original LIVA Q 0.15-liter nettop measuring 70mm × 70mm × 31 mm was added to the lineup relatively late last year. By contrast, its successor, the LIVA Q2, will be ready this March. The new system will gain a couple of millimeters z-height and will inherit all connectivity capabilities of its predecessors (e.g., will lack a 3.5-mm audio connector), while offering higher performance and improved multimedia capabilities.
The ECS LIVA Z2 has lost its predecessor's M.2 slot for SSDs and now relies solely on embedded eMMC storage. Meanwhile, the PC has gained a 2.5-inch bay, which means that it is now considerably thicker than its predecessor and resembles the LIVA ZE from last year. The move is a bit strange because many modern SSD modules are cheaper than drive form-factor drives, but perhaps ECS expects its customers to install higher-capacity 2.5" HDDs to augment local storage. Along with the M.2 slot, the second GbE port (probably requested by B2B customers of ECS who do not need a new system every year) also makes a departure. It is unknown whether ECS plans to introduce an ultra-thin LIVA Z Gemini Lake-powered nettop with an M.2 slot, but knowing how ECS likes to expand its mini PC family, everything is possible. The new LIVA Z2 will be available only in May, allowing those who want to obtain a slim LIVA Z plenty of time to do it.
The LIVA One SoC is an entry-level brother of the LIVA One based on Intel's high-performance CPUs. It essentially fills a gap in the ECS lineup. The LIVA One SoC has only one SO-DIMM slot and cannot take advantage of Gemini Lake's dual-channel memory sub-system. On the other hand, the LIVA One SoC has an M.2 slot for SSDs and can accommodate two 2.5" drives, potentially offering plenty of storage space for an SFF system. In addition, it has two display outputs as well as two 3.5-mm audio connectors, which will give it a lot of flexibility when it comes to compatibility with modern and legacy PCs (it supports a D-Sub). It also comes with six USB type-A ports for peripherals. ECS says that the LIVA One SoC will be ready in April, but, at this point it seems to be work in progress. The company is yet to make a final decision on the front panel ports and a few other aspects.
2018 ECS LIVA UCFF PCs
LIVA Q2
LIVA Z2

LIVA One SoC

CPU
Intel Celeron- or Pentium-Branded Gemini Lake SoC with 10 W TDP
Graphics
Intel UHD Graphics 600 (12 EUs) or Intel UHD Graphics 605 (18 EUs) (Gen9)
Memory
2 GB or 4 GB LPDDR4
2×DDR4 SO-DIMM slots
1×DDR4 SO-DIMM slot
Storage
eMMC
32 GB or 64 GB
-
M.2
-
-
M.2-2242/2280
DFF
-
1 × 2.5" SSD/HDD
2 × 2.5" SSD/HDD
SD
up to 128 GB microSD
-
Wi-Fi
Intel 802.11ac + BT 4.1
Intel 802.11ac + BT 4.2
Ethernet
1 × Gigabit Ethernet with RJ45 connector
Display Outputs
HDMI 2.0
HDMI 1.4, HDMI 2.0
HDMI 2.0, D-Sub
Audio
HDMI audio
3.5-mm TRRS
2 × 3.5 mm TRRS
USB
1×USB 2.0 Type-A
1×USB 3.0 Type-C
3 × USB 3.0 Type-A
1 × USB 3.0 Type-C
2 × USB 3.0
4 × USB 2.0
Other I/O
-
-
S/PDIF, COM
Dimensions
70 × 70 × 33.4 mm

117 × 128 × 51 mm (?)

199.4 × 188.3 × 45 mm
PSU
External
OS
Microsoft Windows 10 or Linux-based OS
MSRP
4 GB RAM, 32 GB storage
w/o OS: ~$164
w/ Windows 10: ~$180
4 GB RAM, 32 GB storage
w/o OS: ~$225
w/ Windows 10: ~$240
unknown
The ECS LIVA Q2 will cost starting from $180 with Windows 10, whereas thr LIVA Z2 will start from $240 with Windows 10. The LIVA One SoC is yet to reach a stage where we could discuss its pricing with ECS.
Related Reading:
Source: ECS