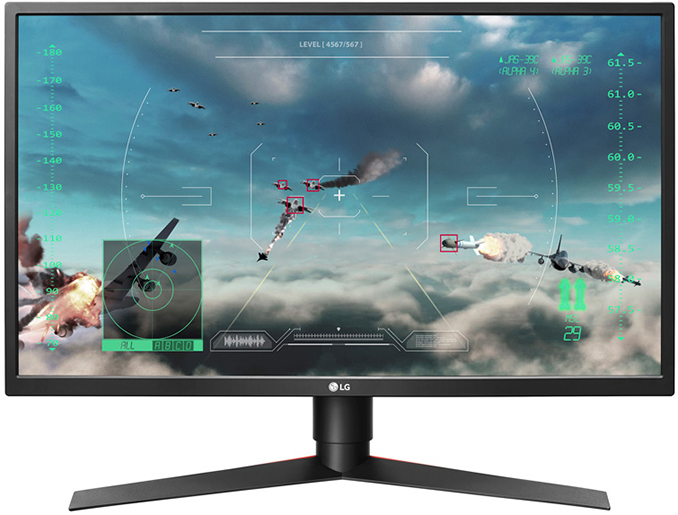 LG has greatly expanded its lineup of monitors for gamers over the past few years. The company targets mainstream and premium segments of the market, but this month it decided to offer something for "eSports" gamers who demand maximum refresh rates and the lowest possible response time to hit their enemies first. In addition to the rather extreme peak refresh rate, the monitor also supports LG's Motion Blur Reduction technology to make fast-paced actions look sharper.
The LG 27GK750F-B is outfitted with a 27" TN panel with an FHD (1920×1080) resolution that has a refresh rate of up to 240 Hz as well as a 3H antiglare coating. The panel can display 16.7 million (8-bit) colors, has a 400 cd/m2 typical brightness (a bit higher compared to average monitors), and features 170°/160° viewing angles (which is typical of TN technology). LG claims that the native GtG response time of the panel is 2 ms, but it "shrinks" to 1 ms once backlight strobing is activated. LG calls this feature Motion Blur Reduction (MBR) and it looks like it works the same way as NVIDIA's ULMB — by inserting a black frame after each normal one. LG's MBR does not work with AMD's FreeSync and naturally lowers luminance, but when you need to make things look sharper to shoot your enemies more accurately, this looks like a fair trade-off.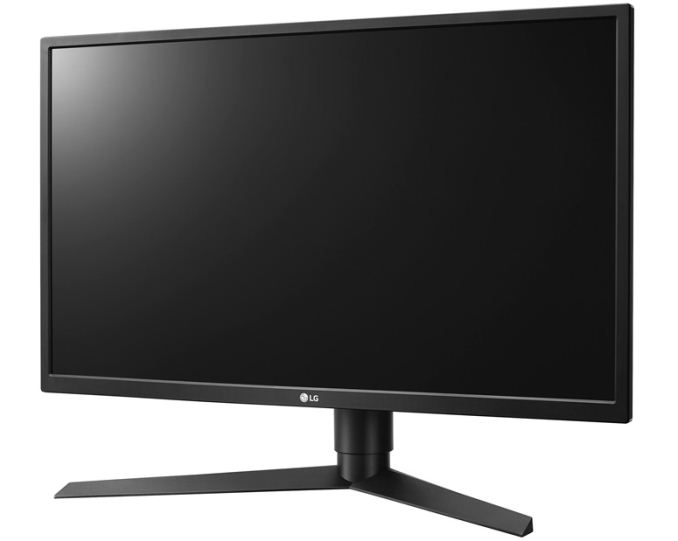 Since the monitor was designed for gamers, it is natural that it comes with various enhancements just for this audience. LG highlights such features as the Black Stabilizer to make dark areas lighter, the Crosshair that always displays target point in the center of the screen, and various modes tailored for FPS and RTS genres.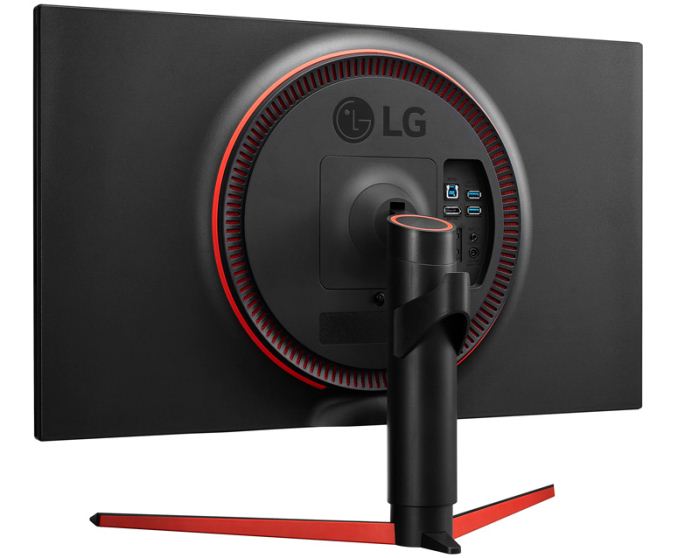 Moving on to connectivity and ergonomics. The LG 27GK750F-B has one DisplayPort 1.2a as well as two HDMI 2.0 inputs (so, one for a high-end PC, two for game consoles). There is also a dual-port USB 3.0 integrated hub and a 3.5-mm audio jack for headphones. To make the device more comfortable to use, LG equips it with a stand that can adjust height, tilt, swivel and even lets the user have the monitor in portrait mode. The display lacks VESA mounting, although this might not be a problem for eSports players. Furthermore, since many of the latter do not really need additional bling, bells and whistles, LG decided not to equip its 27GK750F-B with customizable RGB LEDs and limited decorations to a minimum — a couple of red inlays here and there.
LG's 27" Class Full HD Gaming Monitor with FreeSync
27GK750F-B
Panel
27" TN
Native Resolution
1920 × 1080
Refresh Rate
240 Hz
Dynamic Refresh Rate
AMD FreeSync*
*Not available when LG MBR enabled
Response Time
2 ms (gray-to-gray)
1 ms with Motion Blur Reduction
Brightness
400 cd/m²
Contrast
'mega'
Viewing Angles
170°/160° horizontal/vertical
Color Gamut
NTSC: 72%
Inputs
2 × HDMI 2.0
1 × DisplayPort 1.2a
USB Hub
Dual-port USB 3.0 hub with Quick Charging
Proprietary Enhancements
Motion Blur Reduction
Black Stabilizer
Dynamic Action Sync
Crosshair
Flicker Safe
Built-in presets for FPS, RTS games, browsing/reading
Power Consumption

Idle
~0.5 - 0.5 W
Active
30 W
Stand Adjustments
Tilt
-5º to 15º
Swivel
-20º to +20º
Height
110 mm
Pivot
0º to 90º
Detailed Information
Link
Check Availability
Amazon
The LG 27GK750F-B display is listed on the manufacturer's website and is priced at $549.99. The monitor is currently unavailable from major retailers like Amazon or Newegg, but expect it to hit the shelves in the coming weeks.
Related Reading
Source: LG