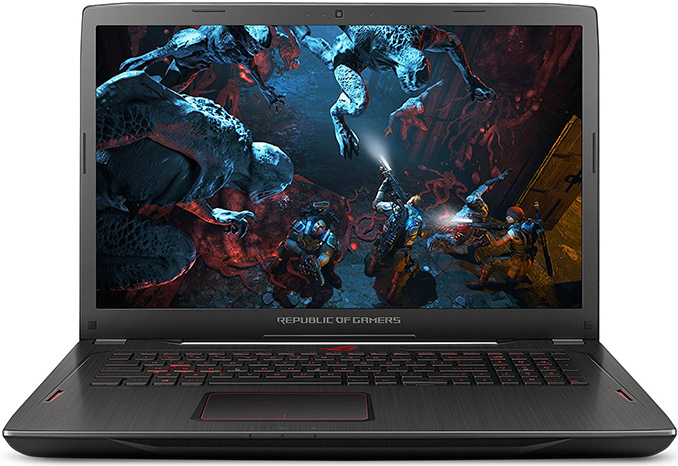 ASUS this week introduced the industry's first gaming laptop powered by AMD's eight-core Ryzen 7 1700 processor. The ASUS ROG Strix GL702ZC-WB74 is a 17.3" desktop replacement machine that uses the desktop-class CPU and a powerful GPU to offer peak gaming performance to its users. Since the system relies on numerous desktop-class components and an inexpensive FHD display panel, the final pricetag not too high for a gaming notebook, with the laptop launching for $1499. Meanwhile, ASUS will also offer an even more affordable version powered by AMD's six-core Ryzen 5 1600, as well as a more advanced model with a 120 Hz display panel.
To a large degree, the ASUS ROG Strix GL702ZC can be considered to be AMD's flagship mobile gaming platform, as it supports all of the company's latest technologies and can scale in terms of performance and pricing to satisfy different requirements and customers. In fact, the ROG Strix GL702ZC is the first all-AMD gaming laptop in years as makers of mobile PCs avoided AMD's FX-series CPUs due to power consumption and did not use AMD's APUs due for gaming computers because of performance concerns. The notebook relies on a a couple different AMD 65W desktop processors — the six-core Ryzen 5 1600 or the eight-core Ryzen 7 1700 — as well as AMD's Radeon RX 580 GPU with 4 GB of memory (the manufacturer does not disclose specs of the part, but we are investigating). The graphics processor supports AMD's FreeSync dynamic refresh rate technology for both internal and external displays. Speaking of displays, ASUS will offer GL702ZC with either 60 Hz or 120 Hz FHD IPS panels, so FreeSync support will be especially handy in the second case. To cool down the two key chips of the notebooks, ASUS uses its Hyper Cool Duo-Copper cooling system featuring heat pipes and two fans that are said to cool down the CPU and GPU independently.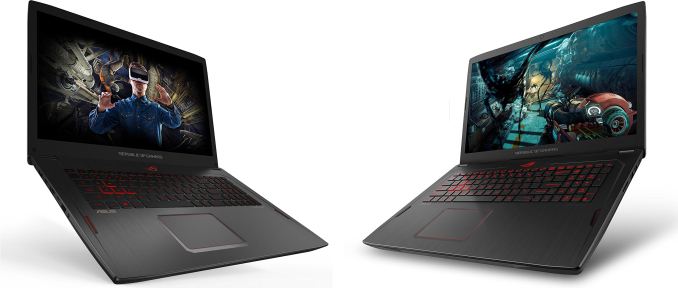 Moving on to other internal parts of the ROG Strix GL702ZC. The GL702ZC-WB74 model that ASUS is formally introducing today comes with 16 GB of DDR4 memory, a 256 GB SATA SSD, and a 1 TB hard drive. Meanwhile, more advanced configurations may expand DRAM to 32 GB, upgrade the SSD to 512 GB, and install a 1 TB SSHD or a fast 7200 RPM HDD. By contrast, entry-level configs are going to feature 128 GB SATA SSDs.
As for I/O capabilities, the ROG Strix GL702ZC looks like a fairly standard model here. The notebook comes with a GbE port, an 802.11ac Wi-Fi + Bluetooth 4.2 module, three USB 3.0 Type-A connectors, a USB 3.1 Gen 2 Type-C header, an SD card reader, an mDP 1.4 port, an HDMI output, an HD webcam, a TRRS jack and so on. The machine features a Chiclet keyboard with marked WASD keys, 30-key rollover support as well as an isolated numeric pad.
With two display outputs, the ROG Strix GL702ZC can handle a couple of external monitors (with FreeSync support), which is okay for a relatively inexpensive gaming machine. In addition, the HDMI port and three USB-A connectors allow users to plug VR headsets to the laptop to play virtual reality games.
The machine is not as bulky as flagship offerings featuring more advanced GPUs and storage sub-systems But since the ROG Strix GL702ZC is still a desktop replacement laptop, it is rather thick (34 mm) and heavy (3 – 3.2 kilograms). ASUS does not disclose specific battery runtime figures, but a 76 Wh battery should provide enough time do an urgent work while on the go.
ASUS ROG Strix GL702ZC
ROG Strix GL702ZC-WB74
Display
Diagonal
17.3"
Resolution

1920×1080

Type
IPS
Refresh

60 Hz with AMD FreeSync

Response Time
unknown
Color Gamut
72% NTSC
CPU
AMD Ryzen 7 1700
(8C/16T, 8 MB, 3/3.7 GHz, 4 MB L2, 16 MB L3, 65 W)
PCH
AMD B350
Graphics
AMD Radeon RX580 with 4 GB of GDDR5
RAM
16 GB DDR4 (expandable to 32 GB)
Storage
SSD

256

GB SSD SATA
HDD

1 TB HDD with 5400 RPM spindle speed

Wi-Fi
2

×2

802.11ac Wi-Fi
Bluetooth
Bluetooth 4.2
Ethernet
1 GbE controller
USB
3

× USB 3.0 Type-A


1

× USB 3.1 Gen 2 Type-C

Display Outputs
1

× Mini DisplayPort with FreeSync


1

× HDMI

with FreeSync
Audio
2

× speakers


Microphones
3.5-mm audio in/out TRRS connector
Keyboard
Chicklet RGB-backlit keyboard, 1,6-mm travel, 30-key rollover
Specially-marked WASD keys
Other I/O
HD webcam, SD/MMC card reader
Battery
76 Wh, 4 cells
Dimensions
Width
41.5 cm | 16.3"
Depth
28 cm | 11"
Thickness
3.4 cm | 1.33"
Weight
3 - 3.2 kg | 6.6 - 7 lbs
Price
$1499
The ASUS ROG Strix GL702ZC-WB74 is already available in the U.S. from the ASUS Store, Amazon, and other retailers at an MSRP of $1499. Keeping in mind that we are talking about a notebook based on an eight-core processor (a rather unique feature) and a fairly high-end GPU (for a portable PC), this laptop does not seem to be overpriced. In the meantime, it will be very interesting to see how much ASUS will charge for the lower-end SKU with the Ryzen 5 1600 as well as the higher-end model with a 120 Hz display and a 512 GB SSD.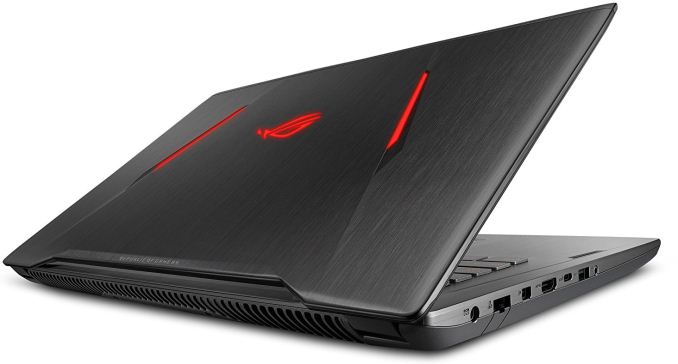 Related Reading:
Source: ASUS