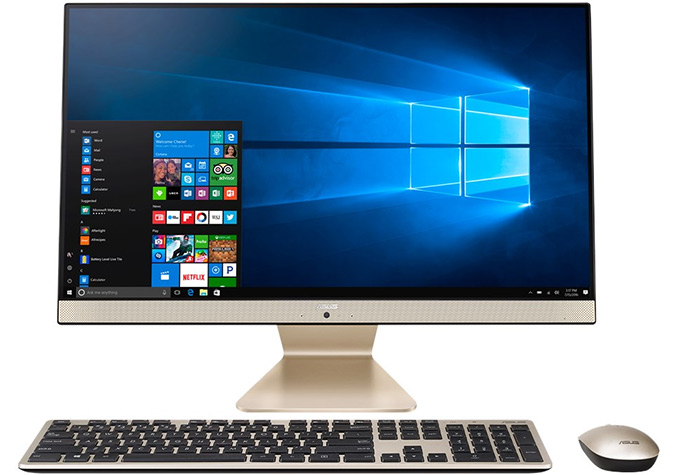 ASUS this week has introduced a new series of cheaper all-in-one desktop PCs aimed at SOHO markets. The Vivo AIO V241IC systems are based on various dual-core and quad-core Intel processors of different generations, but the main selling points are the design, a 23.8" anti-glare display with ultra-thin bezels, and an optional NVIDIA GeForce 930MX discrete GPU.
ASUS continues to expand its lineup of AIO desktops each year. The new Vivo AIO V241IC family is broad and includes six models aimed at different market segments with some models being geo-targeted. The cheapest SKU is based on Intel's dual-core Pentium 4405U (a 15W Skylake-U) released two years ago, whereas Intel's recently launched quad-core Core i5-8250U and NVIDIA's GeForce 930 MX power the most advanced model.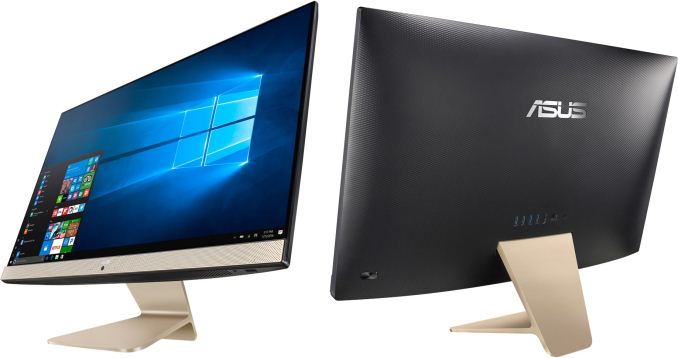 Depending on the processor, the ASUS Vivo AiO V241IC can be equipped with 4 or 8 GB of DDR4-2133 memory, an optional 256 GB SSD, a 2.5" HDD, or even a hybrid storage sub-system featuring a 128 GB SSD and a 1 TB HDD. As for connectivity, the Vivo AiO V241IC has a single gigabit Ethernet port, integrated 802.11n or 802.11ac Wi-Fi, additional HDMI display output, multiple USB 3.0 Type-A ports and so on.
While technical specs of the more advanced Vivo AiO V241IC look rather good for an entry-level/mid-range all-in-one, the key features of the Vivo AiO 241IC are in its design and display. The machines come in silver metallic or gold metallic chassis with carbon fiber-like backs. To improve the look of the Vivo AiO V241IC further, ASUS uses 1920x1080 display panels with 2-mm ultra-thin bezels. In order to ensure that the bezels are ultra-thin on three sides of the monitor, the manufacturer has moved the webcam below the screen, which is not the most optimal place (you tend to end up with lots of chins).
ASUS 23.8" Vivo AiO PC Specifications
Vivo AiO V241IC
Display
23.8" 1920x1080 NanoEdge IPS LCD
23.8" 1920x1080 NanoEdge IPS LCD w/ 10-point multi-touch
CPU
Pentium 4405U: Skylake-U, 2C/4T, 2.1 GHz, 2 MB L3, HD 510, 15 W
Pentium 4415U: Kaby Lake-U, 2C/4T, 2.3 GHz. 2 MB L3, HD 610, 15 W
Core i3-6006U: Skylake-U, 2C/4T, 2.0 GHz, 3 MB L3, HD 520, 15 W
Core i3-7100U: Kaby Lake-U, 2C/4T, 2.4 GHz, 3 MB L3, HD 620, 15 W
Core i5-7200U: Kaby Lake-U, 2C/4T, 2.5 - 3.1 GHz, 3 MB, HD 620, 15 W
Core i5-8250U: Kaby Lake-R, 4C/8T, 1.6 - 3.4 GHz, 6 MB, HD 620, 15 W
PCH
integrated
Graphics
Optional NVIDIA GeForce GTX 930MX 2GB (384 SPs?)
Intel HD Graphics with 12 - 24 EUs
Memory
4 or 8 GB of DDR4-2133
Storage
256 GB SATA SSD
Up to 1 TB HDD
1 TB HDD + 128 GB M.2 SSD
Wi-Fi
IEEE 802.11n Wi-Fi + BT 4.0 or
IEEE 802.11ac Wi-Fi + BT 4.1
Ethernet
GbE
Display Outputs
1 × HDMI
Audio
2 × 3 W speakers (ASUS Sonic Master)
1 × TRRS audio connector
USB
4 × USB 3.0 Type-A (5 Gbps)
1 × USB 2.0 Type-A
Other I/O
1 MP webcam, microphone array
Color
Silver metallic
Gold metallic
Dimensions
540 mm × 409 mm × 48-165 mm
PSU
65 W
90 W
OS
Windows 10 Home
Endless OS
The ASUS V241IC-series AIO desktops will hit the market in the coming weeks. The manufacturer traditionally does not announce prices or precise configurations for B2B sales, but PC Watch reports that a model based on the Core i3-7100U (equipped with 4 GB of DRAM, a 500 GB HDD and so on) will cost ¥74,800 excluding taxes in Japan ($656). Considering that prices in the country of the rising sun are typically higher than in the US, we expect the mid-range models of the ASUS V241IC to cost around $600. For one of the more advanced models, the one featuring Intel's Core i5-7200U, with 8 GB of DDR4, a 1 TB HDD, and the touchscreen display, it is available for pre-order for a little over $1000 from a partner of Amazon.
Related Reading
Source: ASUS