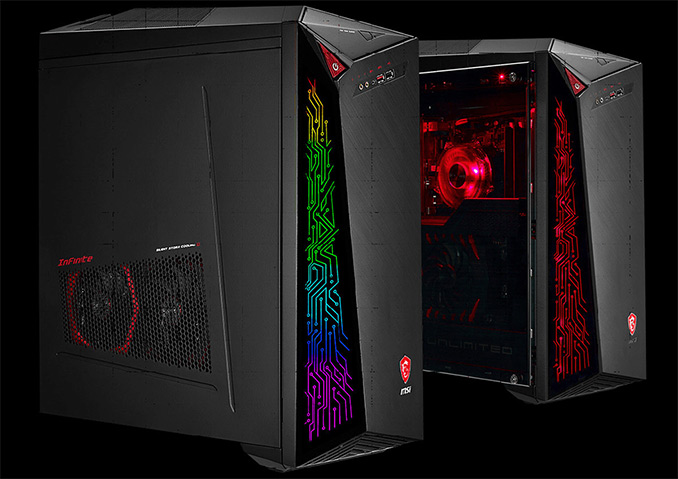 MSI has announced a new lineup of gaming desktops under the 'Infinite X' banner. The new machines will resemble the existing Infinite A systems that use a multi-chamber design for cooling, but will be based on Intel's newest unlocked Coffee Lake processors and will be user overclockable.
MSI's Infinite X systems will be based on a custom Intel Z370 motherboard (in Micro-ATX form-factor) as well as Intel's Core i7-8700K CPU, which is a significant upgrade from the Core i7-7700 and B250 motherboard used for the Infinite A. The new processor has more cores as well as an unlocked multiplier, enabling overclocking. MSI does not disclose whether it intends to offer serious overclocking capabilities with voltage tweaking and other options, but the fact that the company plans to offer overclocking use people who do not build their gaming machines is already significant (and puts the Infinite X into a higher price category than the Infinite A). The motherboard has four DDR4 DIMM slots supporting up to 64 GB of memory, one PCIe x16 slot for graphics cards (MSI will offer up to GeForce GTX 1080 Ti options) and two M.2 slots for SSDs. As for connectivity, the Infinite X will support a single gigabit ethernet port, potential for 802.11ac Wi-Fi, USB Type-A and Type-C ports, various display outputs and so on.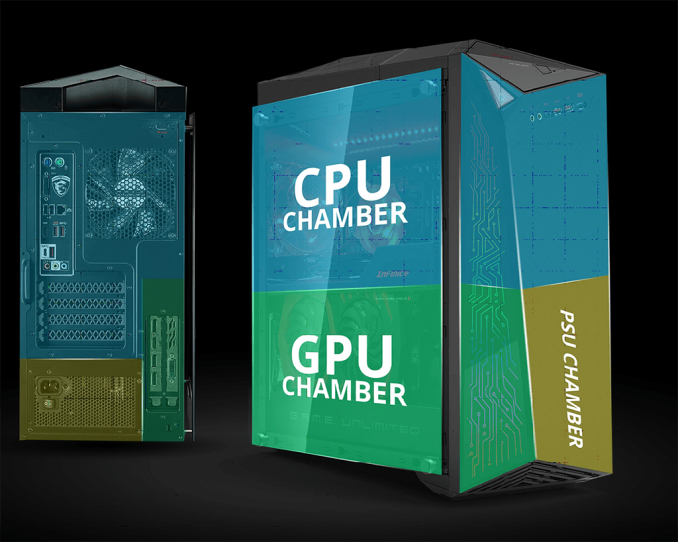 In the light of rising interest for PC gaming, MSI (just like many other makers of computer components) has greatly expanded its lineup of gaming laptops and desktops. The company started years ago with SFF PCs and barebones, competing against game consoles, and has recently moved upwards to rival boutique PC makers. As the name implies, the 'Infinite' ranges are MSI's most advanced machines. To ensure that all the components get sufficient cooling, the Infinite chassis use a triple-chamber design with separate chambers for the CPU, the GPU, and the PSU. The processor and the graphics card are cooled down using MSI's Silent Storm Cooling 3 coolers that suck cool air from the outside of the case and then exhausts the warmer air in another direction. In accordance with recent market trends, the Infinite-series desktops also feature MSI's Mystic Light functionality, which offers customizable RGB LED presentations, and some units may come with optional transparent windows.
As for storage specifications of the MSI Infinite X, they are pretty similar to the Infinite A as the systems use the same chassis that can accommodate up to two 3.5" hard drives as well as one 2.5" HDD or SSD. In total, the Infinite X can support up to five storage devices.
Brief Specifications of MSI Infinite X Desktops
Infinite X
CPU
Intel Core i7-8700K
PCH
Intel Z370
Graphics
Up to NVIDIA GeForce GTX 1080 Ti
Memory
Four DDR4 DIMM slots, up to 64 GB
Storage
Two M.2 slot for SSDs (PCIe or SATA)
1 × 2.5"
2 × 3.5"
Wi-Fi
Intel Wireless-AC 3168 802.11ac + BT 4.2
Ethernet
1 × Realtek 8111H
Display Outputs
1 × HDMI
1 × DisplayPort
Outputs on graphics cards
Audio
Front
3.5 mm jacks for headset with microphone
Back
5 × 3.5 mm jacks
1 × S/PDIF
USB
Front
2 × USB 3.0 Type-A
1 × USB 3.0 Type-C
Back
4 × USB 3.0 Type-A
2 × USB 2.0 Type-A
Other I/O
Front
-
Back
1 × PS/2 combo port
Dimensions
210 × 450 × 488 mm
Color
Black with Customizable RGB LEDs
PSU
550 W 80 Plus Bronze
MSI's press release does not disclose pricing of the Infinite X gaming desktops or their final configurations. Considering the fact that the Infinite X resemble the Infinite A machines, but with a considerably more powerful CPU and overclocking capabilities, so we would expect MSI to position the Infinite X above the Infinite A. That said, we can expect the Infinite X systems to cost higher than $1499 ~ $2000+ that the company charges for the Infinite A today, but exact MSRPs will depend on the actual specifications and locations.

Related Reading
Source: MSI (via TechReport).