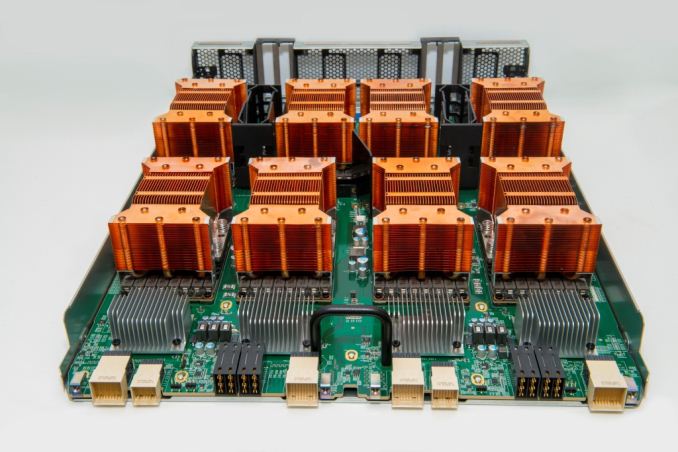 This Wednesday, NVIDIA has announced that they have shipped their first commercial Volta-based DGX-1 system to the MGH & BWH Center for Clinical Data Science (CCDS), a Massachusetts-based research group focusing on AI and machine learning applications in healthcare. In a sense, this serves as a generational upgrade as CCDS was one of the first research institutions to receive a Pascal-based first generation DGX-1 last December. In addition, NVIDIA is shipping a DGX Station to CCDS later this month.
At CCDS, these AI supercomputers will continue to be used in training deep neural networks for the purpose of evaluating medical images and scans, using Massachusetts General Hospital's collection of phenotypic, genetics, and imaging data. In turn, this can assist doctors and medical practitioners in making faster and more accurate diagnoses and treatment plans.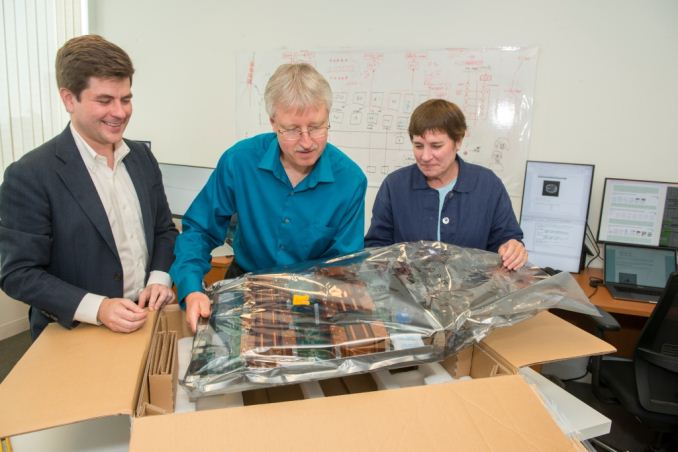 First announced at GTC 2017, the DGX-1V server is powered by 8 Tesla V100s and priced at $149,000. The original iteration of the DGX-1 was priced at $129,000 with a 2P 16-core Haswell-EP configuration, but has since been updated to the same 20-core Broadwell-EP CPUs found in the DGX-1V, allowing for easy P100 to V100 drop-in upgrades. As for the DGX Station, this was also unveiled at GTC 2017, and is essentially a full tower workstation 1P version of the DGX-1 with 4 Tesla V100s. This water cooled DGX Station is priced at $69,000.
Selected NVIDIA DGX Systems Specifications
DGX-1
(Volta)
DGX-1
(Pascal)
DGX-1
(Pascal, Original)
DGX Station
GPU Configuration
8x Tesla V100
8x Tesla P100
4x Tesla V100
GPU FP16 Compute
General Purpose
240 TFLOPS
170 TFLOPS
120 TFLOPS

Deep Learning
960 TFLOPS
480 TFLOPS
CPU Configuration
2x Intel Xeon E5-2698 v4
(20-core, Broadwell-EP)
2x Intel Xeon E5-2698 v3
(16 core, Haswell-EP)
1x Intel Xeon E5-2698 v4
(20-core, Broadwell-EP)
System Memory
512 GB DDR4-2133
(LRDIMM)
256 GB DDR4
(LRDIMM)
Total GPU Memory
128 GB HBM2
(8x 16GB)
64 GB HBM2
(4x 16GB)
Storage
4x 1.92 TB SSD RAID 0
OS: 1x 1.92 TB SSD

Data: 3x 1.92 TB SSD RAID 0
Networking
Dual 10GbE
4 InfiniBand EDR
Dual 10Gb LAN
Max Power
3200W
1500W
Dimensions
866mm x 444mm x 131mm
(3U Rackmount)
518mm x 256mm x 639mm
(Tower)
Other Features
Ubuntu Linux Host OS

DGX Software Stack (see Datasheet)
Ubuntu Desktop Linux OS

DGX Software Stack (see Datasheet)

3x DisplayPort
Price
$149,000
Varies
$129,000
$69,000
Taking a step back, this is a continuation of NVIDIA's rollout of Volta-based professional/server products, with DGX Volta meeting its Q3 launch date, and OEM Volta targeted at Q4. In the past months, the first Tesla V100 GPU accelerators were given out to researchers at the 2017 Conference on Computer Vision and Pattern Recognition (CVPR) in July, while a PCIe version of the Tesla V100 was formally announced during ISC 2017 in June.
Source: NVIDIA