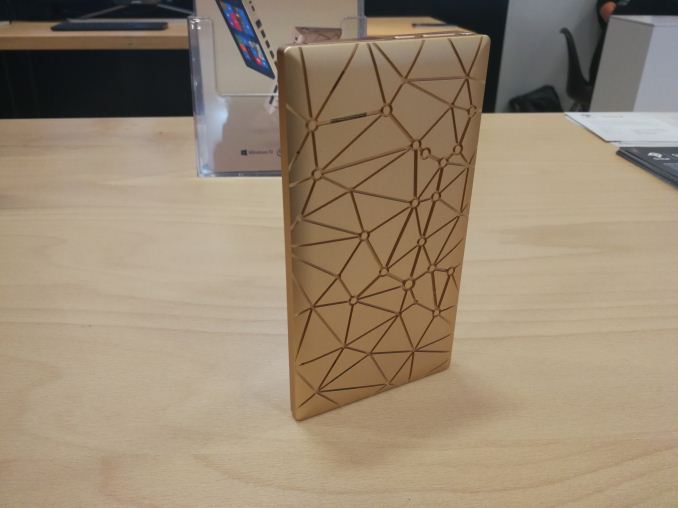 Last year, at IFA 2016, I stumbled across the Ockel Sirius project. In its infancy, the device was seemingly straight forward: put a full PC into a smartphone sized chassis. At the time the project was in its early stages, and in my hands was a non-functioning mockup before the idea went to crowd funding. Normally we do not cover crowdfunding projects as a general rule, so I did not write it up at the time. But I did meet the CEO and the Product Manager, and gave a lot of feedback. I somehow bumped into them again this year while randomly walking through the halls, and they showed a working version two months from a full launch. Some of those ideas were implemented, and it looks like an interesting mash of smartphone and PC.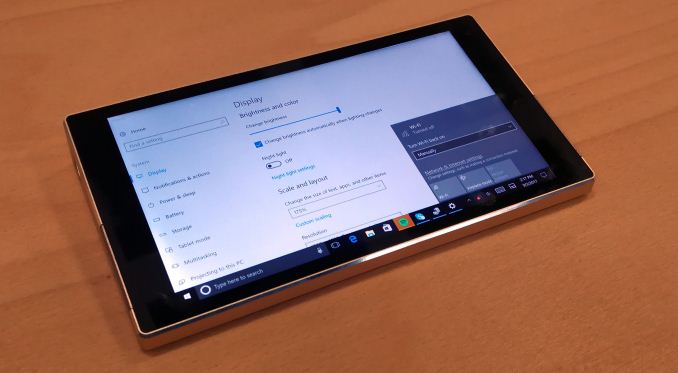 The Sirius A is easily as tall as, if not slightly taller than, my 6-inch smartphones, the Mate 9 and LG V30, and the requirements for PC ports means that it is also wider, particularly on one side which has two USB 3.0 ports, a HDMI 1.4 port, a DisplayPort, Gigabit Ethernet (alongside internal WiFi) and two different ways to charge, via USB Type-C or with the bundled wall adaptor. The new model was a bit heavier than the prototype from last year, namely because this one had a battery inside – an 11Wh / 3500 mAh battery, good for 3-4 hours of video consumption I was told. The weight of the prototype was around 0.73 lbs, or just over 330 grams. This is 2-2.5x a smartphone, but given that I carry two smartphones anyway, it wasn't so much of a big jump (from my perspective).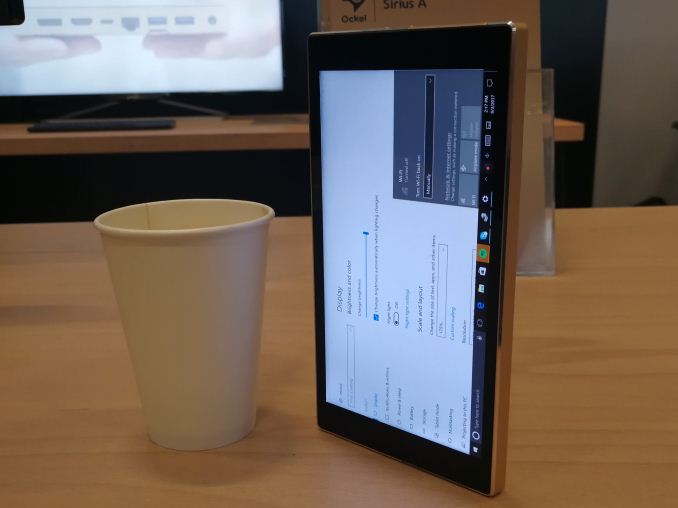 Perhaps the reason for such a battery life number comes from the chipset: Ockel is using Intel's Cherry Trail Atom platform here, in the Atom x7-Z8750. This is a quad-core 1.60-2.60 GHz processor, with a rated TDP of 2W. It uses Intel's Gen8 graphics, which has native H.264 decode but only hybrid HEVC and VP9, which is likely to draw extra power. The reason for Cherry Trail is one of time and available parts – Intel has not launched a 2W equivalent processor with its new Atom cores, and also Ockel has been designing the system for over a year, meaning that parts would have had to have been locked down. That aside, they see the device more as a tool for professionals that need a full windows device but do not want to carry a laptop. With Windows 10 in play, Ockel says, the separate PC and tablet modes take care of a number of pain points with Windows touch screen interactions.


Implemented since the last discussion with them was a fingerprint sensor, for an easy unlock. Ockel are using a Goodix sensor, similar to the Huawei Matebook X and Huawei smartphones. This feature I requested just for easy access to the OS after picking the device up, rather than continually inserting a password. The power button in this case merely turns off the display, rather than putting the device into a sleep/hibernate state.

The hardware also supports dual display output, from both the HDMI and DisplayPort simultaneously, with the idea that a user can plug the device into desktop hardware when at a desk.
Ockel is set to offer two versions of the Sirius: the Sirius A and the Sirius A Pro. Both systems will have the same SoC, the same 1920x1080 IPS panel, and the same ports, differing in OS version (Win 10 Home vs Win 10 Pro), memory (4GB vs 8GB LPDDR3-1600) and storage (64GB vs 128GB eMMC). There is an additional micro-SD slot, and Ockel will be offering both versions of the device with optional 128GB micro-SD cards.
Ockel Sirius
Sirius A
Sirius A Pro
CPU
Intel Atom X7-Z8700, 4C/4T,
1.6 GHz Base, 2.56 GHz Turbo
14nm, Airmont Cores
GPU
Intel HD Graphics 405, 12 EUs
200 MHz Base, 600 MHz Turbo
DRAM
4GB LPDDR3-1600
8GB LPDDR3-1600
Storage
64GB Samsung eMMC 5.0
+ microSD
128GB Samsung eMMC 5.0
+ microSD
Display
6.0-inch 1920x1080 IPS
Glossy Multi-Touch
OS
Windows 10 Home
Windows 10 Pro
USB
2 x USB 3.0
1 x USB Type-C
Networking
1 x Realtek RJ-45
1 x 802.11ac Intel AC3165
Bluetooth 4.2
Display Outputs
1 x HDMI 1.4a
1 x DisplayPort
Audio
Realtek Audio Codec
Two Rear Speakers
Embedded Microphone
3.5mm Jack
Sensors
Fingerprint (Goodix)
Accelerometer
Gyroscope
Magnetometer
Camera
Front Facing, 5MP
Battery
Li-Po 3000 mAh (11Wh)
Dimensions
85.5 x 160.0 x 8.6 to 21.4 mm
3.4 x 6.3 x 0.3 to 0.8 inches

334g / 0.736 lb
Price
Pre-Order: $549
Retail: $699
Pre-Order: $649
Retail: $799
Pricing will start at $699 for the base Sirius A model (W10 Home, 4GB, 64GB), $799 for the Sirius A Pro model (W10 Pro, 8GB, 128GB), and an additional $50 for the microSD card but $150 cheaper with a pre-order via Ockel's website. This will come across as a lot, for what is an Atom-based Windows 10 PC in such a small form factor, when similar full-sized laptops can be had for $300-$400, depending on specifications, such as the HP Stream or Chuwi Lapbook which are strong contenders. Ultimately Ockel is going after a crowd that wants a smartphone-like sized mobile PC with a mobile like experience. There will be barriers to this, such as the lack of a direct dialling app (could use Skype), no rear facing camera, and potential battery life.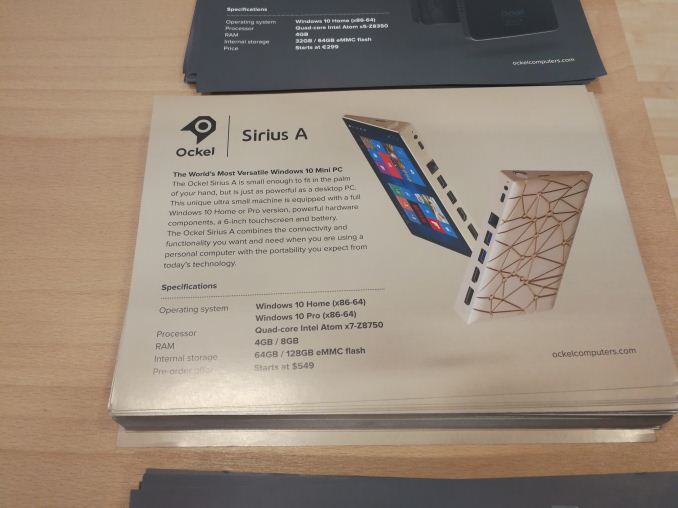 Pre-order sales are still available through Ockel's website, with mass production to start in October and shipments from November 20th. Buying it with a pre-order also provides a set of wireless earbuds. We've been offered a review sample – I'm unsure at this point if we should get Ganesh to review it as a mini-PC, Brett to review it as a laptop, or someone else to review it as a smartphone.
Related Reading