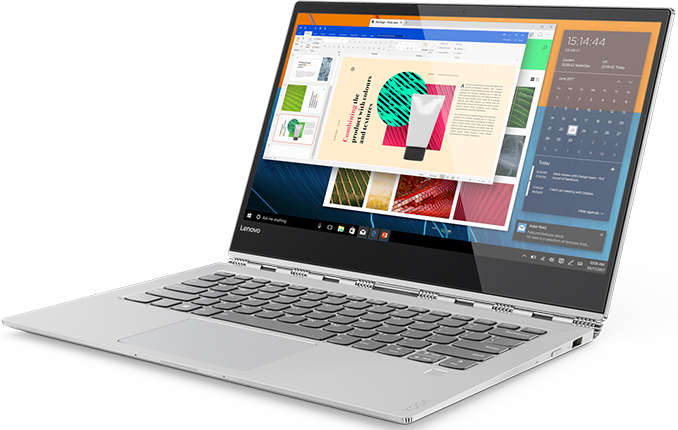 Lenovo this week announced its new Yoga 920 convertible laptop that became more powerful due to Intel's upcoming 8th generation Core i-series CPUs with up to four cores, better connected thanks to two Thunderbolt 3 ports, yet slimmer than its predecessor. The new model inherits most of the peculiarities of the previous-generation Lenovo Yoga 900-series notebooks and improves them in various ways.
The new Lenovo Yoga 920 is the direct successor of the Yoga 2/3 Pro, Yoga 900 and the Yoga 910 convertible laptops that Lenovo launched in 2013 – 2016. These machines are aimed at creative professionals, who need high performance, 360° watchband hinge, touchscreen, reduced weight and a long battery life. Over the years, Lenovo has changed specs and design of its hybrid Yoga-series laptops quite significantly from generation to generation in a bid to improve the machines. This time the changes are not drastic, but still rather significant both inside and outside.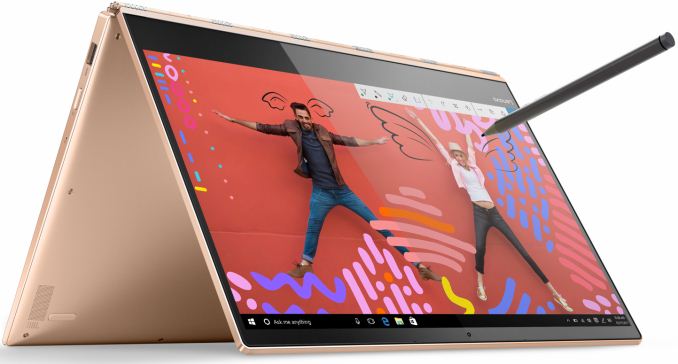 The new Lenovo Yoga 920 will come with a 13.9" IPS display panel featuring very thin bezels and either 4K (3840×2160) or FHD (1920×1080) resolution, which is exactly the same panel options that are available for the Yoga 910. In the meantime, Lenovo moved the webcam from the bottom of the display bezel to its top. Besides, it reshaped the chassis slightly and sharpened its edges, making the Yoga 920 resemble Microsoft's Surface Book. Changes in external and external design of the new Yoga vs. the predecessor enabled Lenovo to slightly reduce thickness of the PC from 14.3 to 13.95 mm (0.55") and cut its weight from 1.38 kilograms to 1.37 kilograms (3.02 lbs).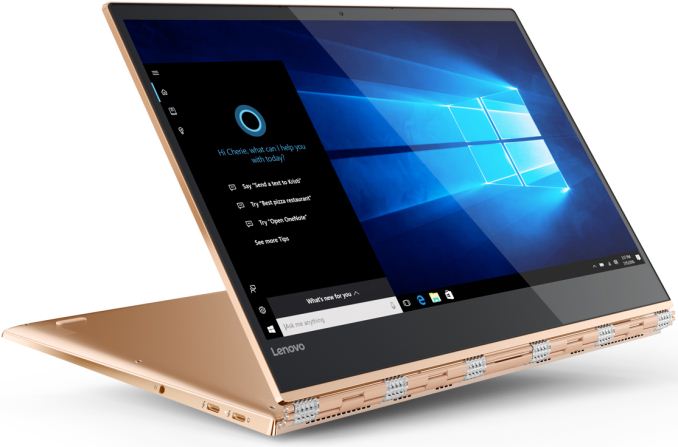 Internal differences between the Yoga 920 and the Yoga 910 seem to be no less significant than their external designs. In addition to the new Core i 8000-series CPU (presumably a U-series SoC with up to four cores and the HD Graphics 620 iGPU), the Yoga 920 also got a new motherboard that has a different layout and feature set. The new mainboard has two Thunderbolt 3 ports (instead of two USB 2.0/3.0 Type-C headers on the model 910) for charging, connecting displays/peripherals and other things. In addition, the new mobo moves the 3.5-mm TRRS Dolby Atmos-enabled audio connector to the left side of the laptop. Speaking of audio capabilities, it is necessary to note that the Yoga 920 is equipped with two speakers co-designed with JBL as well as with far field microphones that can activate Microsoft's Cortana from four meters away (13 feet). As for other specifications, expect the Yoga 920 to be similar to its predecessor: up to 16 GB of RAM (expect a speed bump), a PCIe SSD (with up to 1 TB capacity), a 802.11ac Wi-Fi + Bluetooth 4.1 module, a webcam, as well as a end-to-end encrypted Synaptics fingerprint reader with Quantum Matcher compatible with Windows Hello.

The slightly thinner and lighter chassis as well as different internal components made Lenovo to reduce capacity of Yoga 920's battery to 66 Wh from 79 Wh, according to TechRadar. When it comes to battery life, LaptopMag reports that it will remain on the same level with the previous model: 10.8 hours on one charge for the UHD model and up to 15.5 hours for the FHD SKU.
Lenovo Yoga Specifications
Yoga 900
Yoga 910
(up to)
Yoga 920
(up to)
Processor
Intel Core i7-6500U (15W)
Intel Core i7-7000 series
Intel Core i7-8650U
Memory
8-16GB DDR3L-1600
Up to 16 GB
Graphics
Intel HD 520
(24 EUs, Gen 9)
Intel HD Graphics 620
Display
13.3" Glossy IPS
​16:9 QHD+ (3200x1800) LED
13.9" 4K (3840 x 2160) IPS
13.9" FHD (1920x1080) IPS
Hard Drive(s)
256GB/512GB SSD (Samsung ?)
Up to 1 TB PCIe SSD
Up to 1 TB PCIe 3 x4 SSD
Samsung PM961
Networking
Intel Wireless AC-8260 (2x2:2 802.11ac)
2x2:2 802.11ac
Audio
JBL Stereo Speakers
Dolby DS 1.0
TRRS jack
JBL Stereo Speakers with
Dolby Audio
TRRS jack
JBL Stereo Speakers with
Dolby Atmos
TRRS jack
Battery
4 cell 66Wh
79 Wh
66 Wh
Buttons/Ports
Power Button
2 x USB 3.0-A
1 x USB 3.0-C
Headset Jack
SD Card Reader
DC In with USB 3.0-A Port
Power Button
1 x USB 3.0-A
1 x USB 3.0-C
1 x USB 2.0-C for charging
Headset Jack

Power Button
1 x USB 3.0-A
2 x Thunderbolt 3
Headset Jack
Back Side
Watchband Hinge with 360° Rotation
Air Vents Integral to Hinge
Dimensions
12.75" x 8.86" x 0.59"
324 x 225 x 14.9 mm
12.72" x 8.84" x 0.56"
322 x 224.5 x 14.6 mm
13.95 mm (0.55") thick
Weight
2.8 lbs (1.3 kg)
3.04 lbs (1.38 kg)
3.02 lbs (1.37 kg)
Extras
720p HD Webcam
Backlit Keyboard
Colors
Platinum Silver
Clementine Orange
Champagne Gold
Platinum Silver
Champagne Gold
Gunmetal
Silver
Bronze
Copper
Pricing
$1200 (8GB/256GB)
$1300 (8GB/512GB)
$1400 (16GB/512GB)
Starting from $1299
Starting from $1329
Lenovo will offer an optional Lenovo Active Pen 2 with 4,096 levels of pen sensitivity with its Yoga 920. The stylus will cost $53 and will enable people to draw or write on the touchscreen.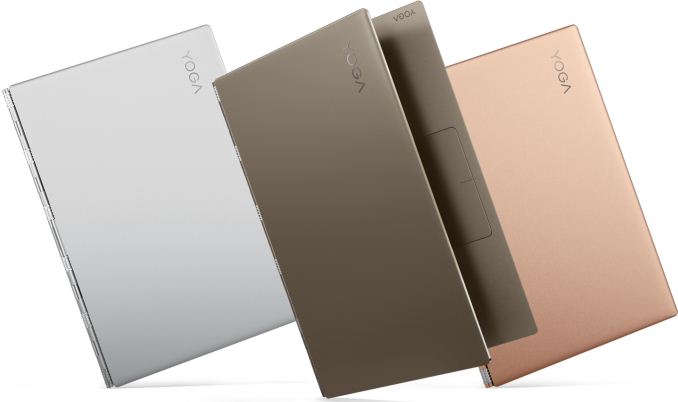 The Lenovo Yoga 920 convertible laptops will be available in silver, bronze and copper colors later this year starting from $1329 (a slight price bump over the predecessor). By contrast, the Yoga 910 came in silver, gold and dark grey (which the manufacturer called gunmetal).

Related Reading:
Source: Lenovo