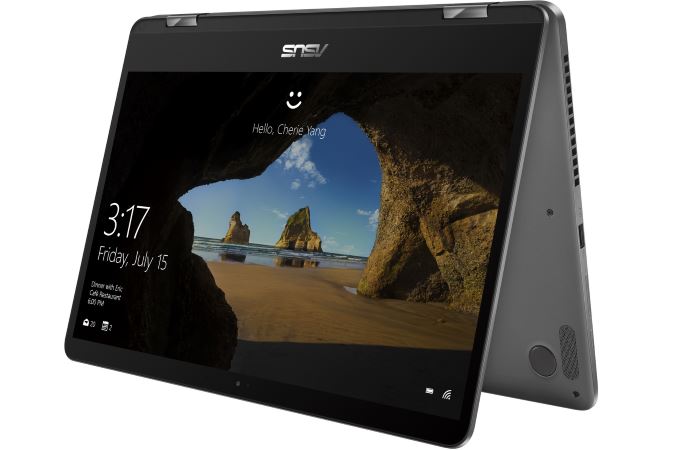 Continuing our coverage of IFA 2017, ASUS has announced the release of two new 2-in-1s. First, the Zenbook Flip 14; ASUS touts this to be the worlds thinnest 2-in-1 laptop. And the Zenbook Flip 15, said to be the most powerful Zenbook Flip ever using the latest 8th Generation Intel Core processors. Shawn Yen, ASUS' Senior Product Director said on stage at IFA, "the major objective of this product is bringing the benefits and versatility of a 2-in-1, with the mobility of an ultrathin. Marry those two benefits together and empower user's needs for graphics." And in comes the latest generation Zenbook Flips.
Asus Zenbook Flip 14
The Zenbook Flip 14 UX461 is very thin and light for a convertible laptop measuring just 13.9mm(.55") thick and weighing 1.4 kg (3.1 lbs). The 8th generation CPU is a Core i7-8550U 4C/8T chip with a base processor frequency of 1.8GHz and a maximum turbo frequency of 4GHz. The Flip 14 can be configured with up to 16GB 2400 MHz DDR4 RAM and 1TB PCIe SSD for fast storage. It also includes a fingerprint reader and speakers tuned by Harmon Kardon. Additionally, the Flip 14 includes a discrete GPU, the NVIDIA MX150, which helps with graphically intensive tasks an onboard graphics solution may find problematic. Even with more powerful hardware inside, battery life is said to be up to 13 hours.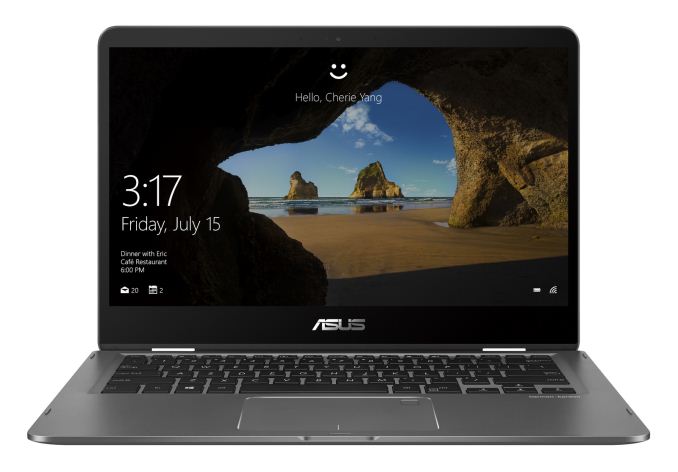 The chassis styling has changed a bit going away from the brushed aluminum look and going with more of a medium gloss flat finish instead. The Flip 14 has two color options in Icicle Gold and Slate Grey (pictured above). ASUS' NanoEdge technology makes its way to the 14-inch 1080p display making it very thin. The result is a 13-inch footprint from a 14-inch laptop. The Flip 14 will start at 799€ (~$900) and ASUS has not provided dates for availability.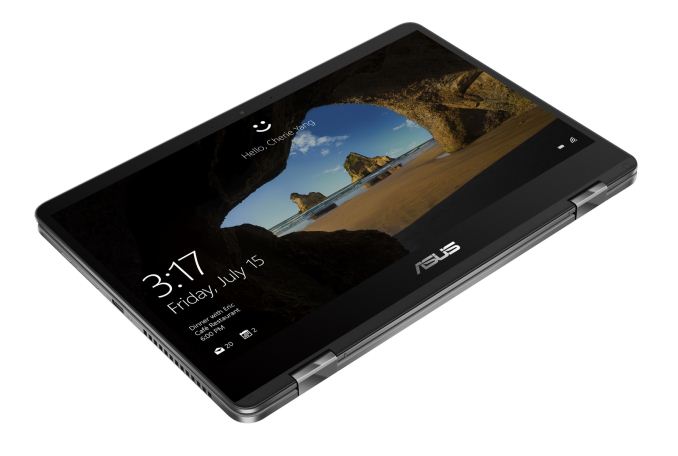 Asus Zenbook Flip 15
The ZenBook Flip 15 UX561 is a 15.6" 2-in-1 following similar themes to the 14, but instead is designed to be a larger, high performance laptop. The nod here goes to its use of the same i7-8550U 4C/8T 1.8GHz-4GHz processor and NVIDIA's GeForce GTX 1050 graphics. Asus mentions it can be up to two times faster (Cinebench R15) than the previous generation UX560 which used an i7-6500U (dual-core with hyperthreading) from a previous generation. The GTX 1050 is a decent upgrade on the performance side and saves power over the GTX 950 used before.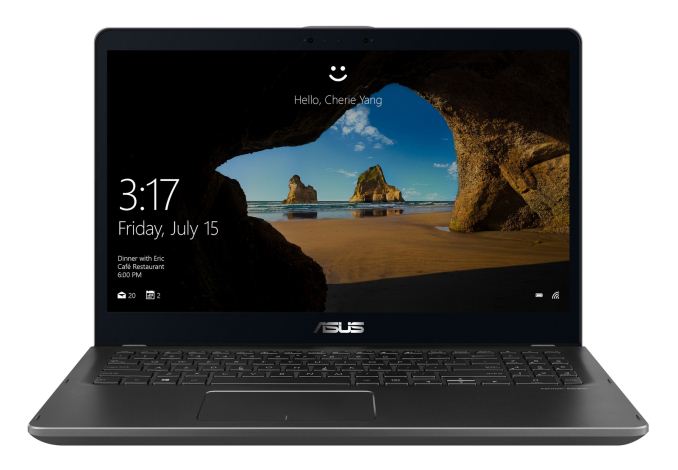 The Flip 15 can be configured with up to a 512GB SSD, a 2TB hard drive, and 16GB 2400 MHz DDR4 RAM. It also has precision stylus support, as well as Thunderbolt 3 ports for advanced peripheral attachment. The new 2-in-1 uses NanoEdge bezels and offers an optional 4K UHD resolution screen. There are also two color options here, Smoke Grey(pictured) and Pure Silver. The ZenBook Flip15 starts at 899€(~$1000), and like the Flip 14, we're still waiting on hear on when precisely it will hit the market.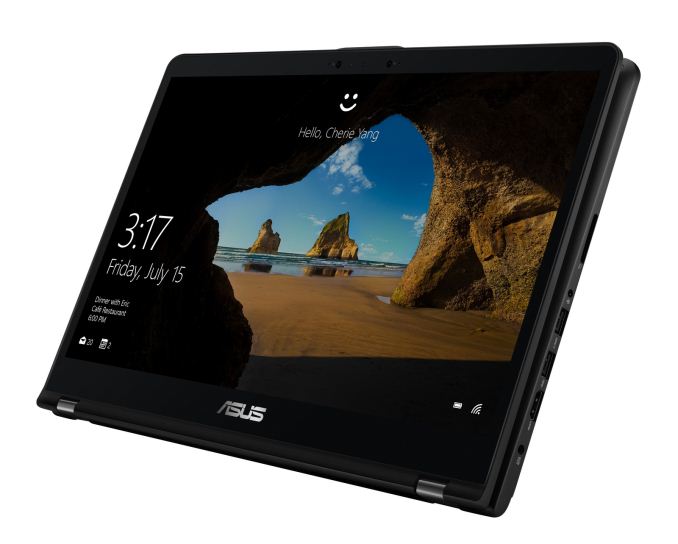 Related Items:
Source: ASUS