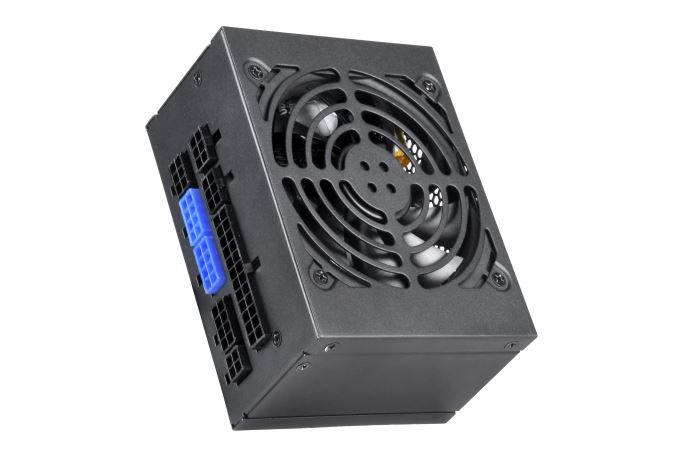 Small Form Factor (SFF) sized PCs have been around for many years and its popularity seems to be growing. Consumers have more choices today than just a few years ago. Be it cases, motherboards, graphics cards, or power supplies, there are more options out there than ever. Some of these systems require smaller than a standard ATX sized power supply. One of the more popular form factors for these systems is named SFX. The SFX dimensions are notably smaller than ATX allowing PSUs to fit in small cases while still delivering adequate power and having appropriate connectivity.
Silverstone started in the high-performance SFX market in 2012 when it released the 450W ST45SF-G power supply. Fast forward a couple of years and a few other PSU releases in that time brings us to now. Today, Silverstone revealed two new SFX power supplies, the 80 Plus Gold rated SX500-G and SX650-G, offering larger fans for quiet operation, more wattage in the same space, and refined internals while still conforming to the dimensions of the SFX form factor. Both new PSU's OEMs are said to be High Power, while the older ST45SF-G and SX600-G are Enhance units.
Silverstone offers SFX PSUs from 300W in the ST30SF V2.0 up to 650W in the true SFX form factor (up to 100mm/3.9" deep) as well as 700/800W models using SFX-L form factor which extends the length to 130mm. Not resting on past accolades, Silverstone says they have improved those designs by putting more power in the same amount of space and using a larger 92mm fan to keep noise levels down. The fan curve has also flattened out quite a bit staying below 1000 RPM through 50% load. The fan starts to ramp up aggressively around the 75% mark topping out over 3500 RPM. Silverstone says the 92mm fan has a 18dbA minimum rating so it should be quiet using the less aggressive fan curve staying below that ramp up point. While users will not find a 'fan off' mode, Silverstone does say they are quieter than their less powerful predecessors. In our review, the SX600-G did struggle to deliver its maximum power inside a hot environment and had difficulties reaching its efficiency certification levels. Due to the smaller fan working hard, the noise levels were not good. Hopefully, a platform change combined with the larger fan mitigates these issues.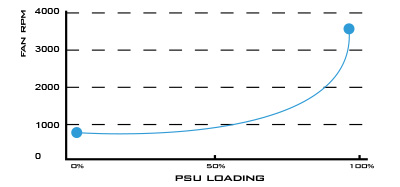 Ratings and details about the units are below, but both use a single 12V rail. The SX500-G is rated for 41.7A while the SX650-G is 54.2A on the 12V line. 2.5A on the +5Vsb (both PSUs). Silverstone mentions they use all Japanese capacitors and fit within a "strict" +/- 3% voltage regulation along with low ripple and noise. 3% regulation isn't shooting for the stars, but these are not meant to me Tier1A power supplies either. In the PSU arena, power per liter, or power density, has seemingly become a buzz-word as of late telling us how much power can fit inside a 1L volume. Silverstone touts the 500W model is at 630W /L while the 650W model is 819W /L. Impressive as it may be, that much power in a small space, it doesn't tell us much.
For connectivity, the SX500-G and SX650-G are said to come with more connectors to be used in a wider variety of system configurations. I am not sure how much hardware people are fitting in SFF cases where these PSUs are typically used, but it is a welcome thing to have more than one needs than to not have enough. Both units are fully modular and use their flexible flat cables which Silverstone says allows for tighter folding and better cable management. The 500W unit has two 6+2-Pin PCIe connectors (400mm/500mm in long), while the 650W has four. Both units come with a single 20/24-Pin motherboard connector (300mm), and a single 4/8-pin EPS/ATX 12V connector (400mm). There is connectivity for six SATA ports, three Molex, and one floppy connector. If using this form factor in a larger case, Silverstone does offer a longer, standard length cable set, the PP05-L, which is purchased separately. More details are found in the specifications table below.
Silverstone SX500-G and SX650-G Specifications
SX500-G
SX650-G
Rated
Combined
Rated
Combined
+3.3V
22A
110W
22A
110W
+5V
22A
22A
+12V

41.7A

500W
54.2A
650W
-12V
0.3A
3.6W
0.3A
3.6W
+5Vsb
2.5A
12.5W
2.5A
12.5W
Total Power
500W
650W
Connector Type

SX500-G

SX650-G

ATX 24 Pin
1
EPS 4+4 Pin
1
PCIe 6+2 Pin
2
4
SATA
6
4P Molex
3
Floppy
1
Pricing for the SX500-G is 92.50€($99.99) and the SX600-G is 116.90€($129.50) both excl. VAT. Availability starts August 29th in the EU and sometime next week in the states.
Related Items:
Source: Silverstone