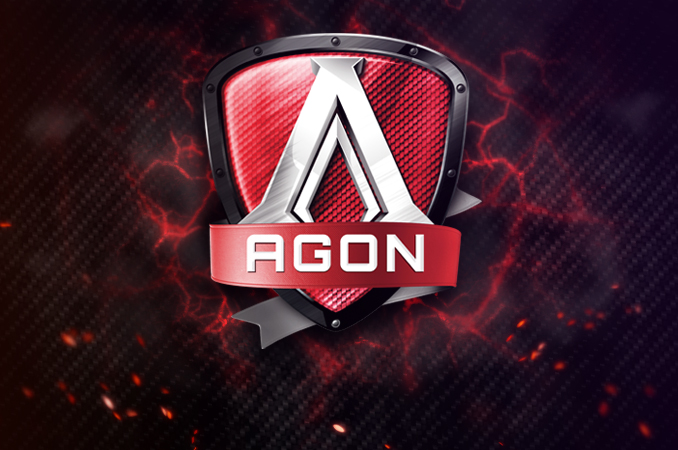 In a surprising move, AOC has announced plans to launch a new series of AGON gaming displays with a 0.5 ms response time in Q2 of next year. The displays will be curved, will feature a QHD resolution and will rely on a new TN panel from AU Optronics. The monitors will support adaptive refresh rate technologies from AMD and NVIDIA and will certainly not be cheap.
The big question with this announcement is of course how exactly did AUO and AOC manage to decrease the GtG response time of a TN panel to 0.5 ms? So far, AUO has not publicly announced this panel. Moreover, given the striking similarity of the panel used for the AG273QCX/AG273QCG and Acer's Predator Z271UV (same size, curvature, brightness, 'wide gamut', up to 165 Hz refresh rate, etc.), it is possible that the panels are close relatives, but the one used by AOC features a technique that cuts GtG response time from 1 ms to 0.5 ms. Either way, details are unfortunately slim at this time, but given AOC's bold claim, this bears further watching.
Otherwise, AOC's AGON AG273QCX and AGON AG273QCG have a lot in common: both are based on the same 27" curved display panel from AUO featuring a 2560×1440 resolution, a wide color gamut (more on that below), very high refresh rates of 144 and 165 Hz, 400 nits brightness, as well as the aforementioned 0.5 ms response time. The key differences between the AG273QCX and the AG273QCG are different adaptive refresh rate technologies: the former supports AMD's FreeSync 2 with HDR, the latter features a bit higher refresh rate and NVIDIA's G-Sync (sans HDR). The lack of HDR on the G-Sync model presumably being due to the fact that NVIDIA mandates at least 1000 nits for its G-Sync HDR platform.
AOC's AGON³ Displays with 0.5 ms Response Time
AG273QCX
AG273QCG
Size
27"
Panel Type
Curved TN
Resolution
2560×1440
Pixel Response Time
0.5 ms
Color Gamut
'Wide Color Gamut'
Maximum Refresh Rate
144 Hz
165 Hz
Adaptive Refresh Rate Tech
AMD FreeSync 2
NVIDIA G-Sync
Launch Time in EU
April 2018
May 2018
MSRP
€599 ($706)
€699 ($824)
Unfortunately, AOC does not specify what exactly the "Wide Color Gamut" support mentioned in its slides means. But given that we have seen a degree of DCI-P3 support on the TN-based Acer Predator Z271UV, this is a distinct possibility for the new AOC displays as well. Along those lines, one of AOC's representatives said in a conversation with PCGamesN website that the new TN panel from AUO is not only fast and relatively bright, but also has a considerably improved color quality, which the rep compared to IPS-based displays. The official for AOC confirmed that the panel still has TN's traditional 170°/170° viewing angles, but argued that gamers would not feel it due to their usage model.
AOC promises that the AGON AG273QCX featuring the FreeSync 2 with HDR will hit the market in April 2018 and will cost €599 ($706). The G-Sync-supporting AGON AG273QCG is expected to be available in May 2018 for the price of €699 ($824). Keep in mind that since displays are based on brand new panels, their MSRPs and ETAs at the moment are preliminary and they may change.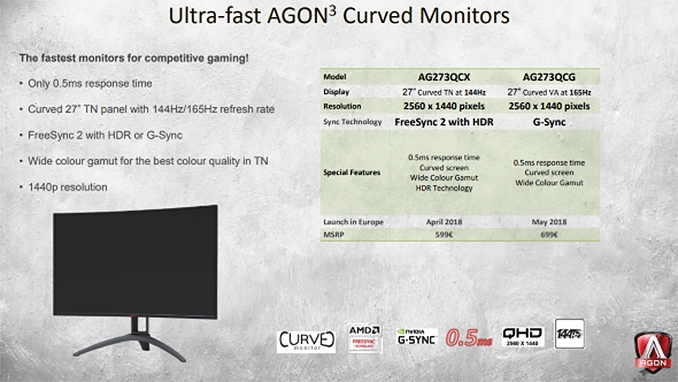 The actual slide demonstrated by AOC at Gamescon has a typo: both displays are based on a TN panel.

Related Reading:
Sources: PCGamesN (via TechPowerUp).