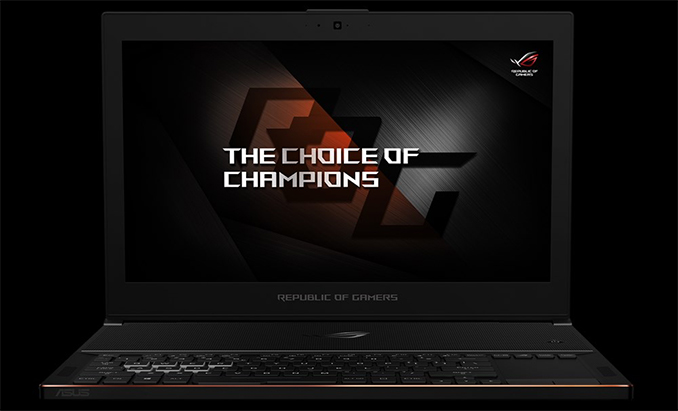 ASUS has started to sell a more affordable version of its flagship ROG Zephyrus gaming laptop it launched earlier this year. The new model retains all the features of the top-of-the-range SKU when it comes to dimensions, weight, power consumption and other peculiarities, but it costs 15% less and comes with a slower GPU as well as a lower-capacity SSD.
When ASUS launched its ROG Zephyrus gaming notebook in late May, the company announced two models priced at $2699 (GX501VI) and $2299 (GX501VS), but only disclosed the specifications of the flagship model that hit the stores this July. So while we knew that both models would share the same 1.8-cm thick chassis featuring a 15.6" FHD display with a 120 Hz refresh rate, and other chassis-level features, we didn't know how the component selections would differ between the two laptops. Until now.
Recently, ASUS has finally started to sell the "affordable" GX501VS mode, and it appears that it is specifications are not that different when compared to the fully-fledged ROG Zephyrus GX501VI. The cheaper model features the same Intel Core i7-7700HQ CPU and 16 GB of RAM. What's changes is that ASUS has swapped out the GPU and SSD for a GeForce GTX 1070 Max-Q and a 256 GB of solid-state storage respectively. This means the GX501VS packs a bit slower GPU and half the SSD capacity, but nets a $400 (15%) savings in the process.
ASUS ROG Zephyrus GX501
GX501VI-XS74
GX501VS-XS71
GX501 'cut down'
Display
Diagonal
15.6"
Resolution

1920×1080

Refresh

120 Hz, NVIDIA G-Sync

60 Hz, NVIDIA G-Sync

CPU
Core i7-7700HQ (4C/8T, 6 MB, 2.8/3.8GHz)
Core i5-7300HQ
(4C/4T, 6MB, 2.5/3.5GHz)
Graphics

NVIDIA GeForce GTX 1080 Max-Q

NVIDIA GeForce GTX 1070 Max-Q

RAM
16 GB DDR4-2400 (upgradeable to 24 GB)
unknown
Storage
Capacity
512 GB SSD
256 GB SSD
Interface

PCIe 3.0 x4

Wi-Fi
802.11ac Wi-Fi
Bluetooth
Bluetooth 4.1
Ethernet
1 GbE controller
USB
4

× USB 3.0 Type-A


1

× USB 3.1 Type-C (via TB3 connector)

Thunderbolt
1

× USB Type-C Thunderbolt 3 connector

Display Outputs
1

× DisplayPort 1.2 (via TB3 port)


1

× HDMI 2.0

Keyboard
Chicklet RGB-backlit keyboard
Other I/O
Microphone, stereo speakers, audio jacks, webcam
Battery
50 Wh
Dimensions
Width: 379 mm
Depth: 262 mm
Thickness: 17 - 18 mm
Weight
2.2 kilograms
Price
$2699
$2299
unknown
Since the key features of both machines are the same: a sleek form-factor, desktop-like performance, a display with a 120 Hz refresh rate featuring G-Sync, Thunderbolt 3 support and upgradeability, the cheaper version may get rather popular in its niche simply because not everyone needs maximum performance on a laptop (and some may actually prefer a less power hungry GTX 1070).

Meanwihle it is interesting to note that ASUS also mentions the third ROG Zephyrus model with a display featuring a 60 Hz refresh rate and Intel's Core i5-7300HQ on its website. So the company looks poised to eventully introduce an even more affordable version of the product, at least for certain markets
The ASUS ROG Zephyrus GX501VS is now available for $2299 from Amazon and directly from ASUS.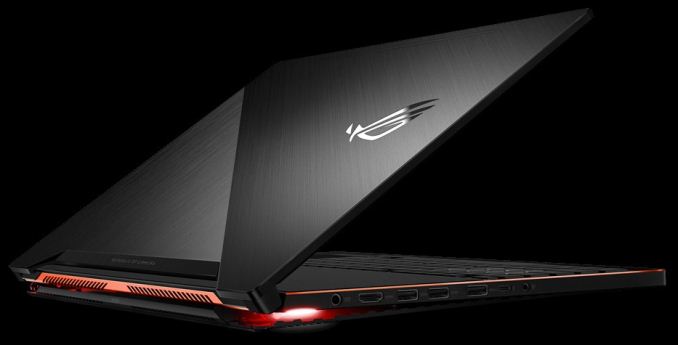 Related Reading: