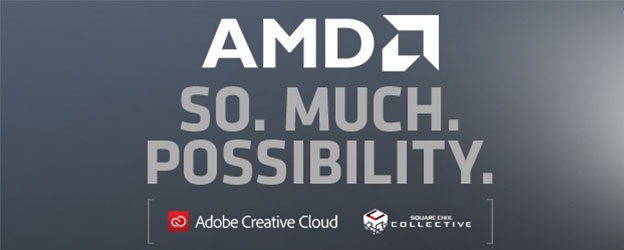 In collaboration with Square Enix and Adobe, AMD has announced their new AMD4U promotion, bundling indie games and creative software trials with eligible AMD-powered systems. AMD says that this campaign highlights their recently released Ryzen processors and Radeon RX 500 series graphics cards, putting the focus on content creators and gamers.
This bundle only applies to systems purchased through qualifying OEMs and system builders, and depending on the CPU/APU or discrete graphics powering the system, may include up to three free Square Enix Collective games and/or a 2-month Adobe Creative Cloud subscription or a 3-month Adobe Creative Cloud Photography plan subscription.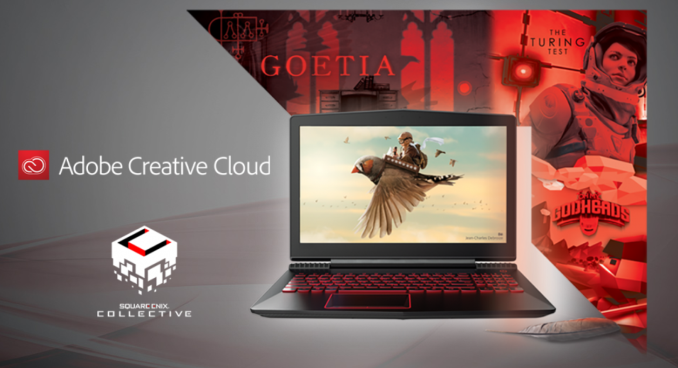 Square Enix Collective is essentially an indie game development/incubation/spotlight platform curated by Square Enix, where creators can post ideas that are voted in turn by gamers. Successful pitches may receive additional support in the form of Square Enix assisted Kickstarter crowdfunding. 10 Square Enix Collective game titles are included in this AMD4U promotion: The Turing Test, Goetia, Oh My Godheads, Children of Zodiarcs, Black the Fall, Tokyo Dark, Forgotten Anne, Deadbeat Heroes, Battalion 1944, and Fear Effect Sedna. At the moment, only The Turing Test, Goetia, and Oh My Godheads are released, so for participants who choose other titles, a key code will be made available as soon as the game is released.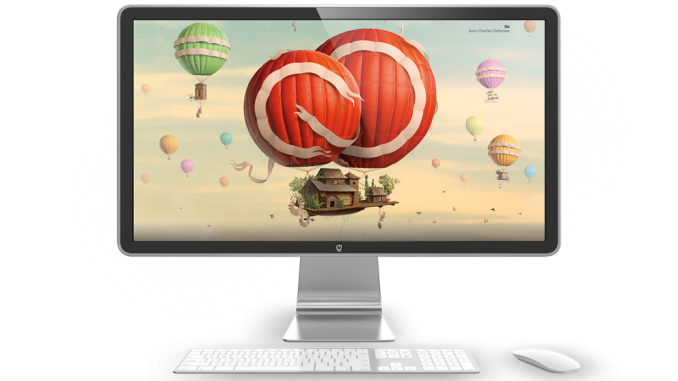 The Adobe Creative Cloud software usually operates by monthly subscription model, so the complimentary subscriptions are not as atypical as they appear, but at only 2-3 months are closer to extended trials than free software. Adobe Creative Cloud is the full CC suite with more than 20 applications, while the Creative Cloud Photography plan includes Lightroom CC and Photoshop CC desktop applications, as well as a slew of mobile apps.
The promotion will run for the rest of the 2017 year, and applies for systems purchased as early as June 12th, 2017. Key codes will expire after 2017 as well. Note that Adobe Software may not be available in countries outside the United States.
System eligibility/reward details and redemption instructions can be found at the AMD4U Promo site. For reference, AMD offers the following chart to determine eligibility: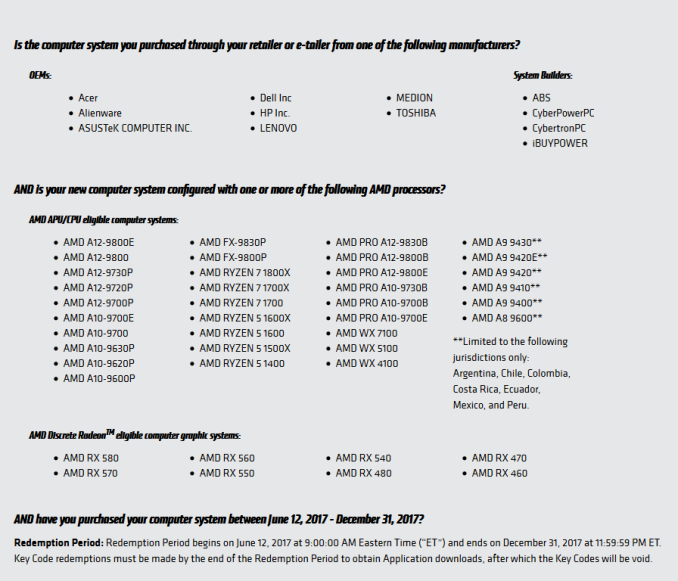 Source: AMD