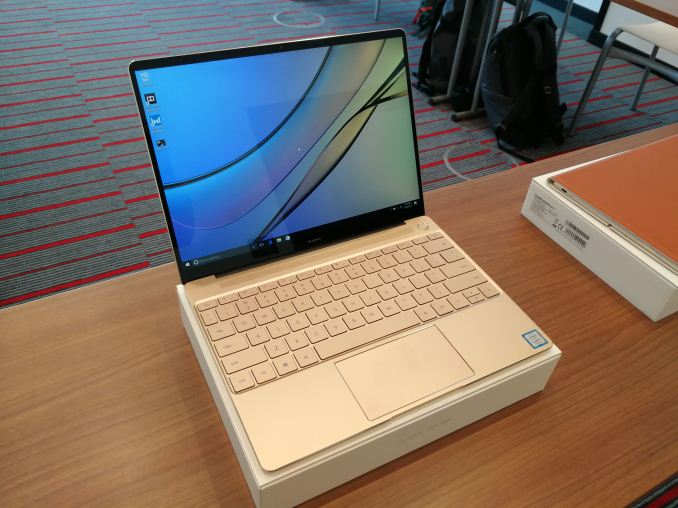 On the back of the launch of the MateBook last year, Huawei is launching a new generation using the latest hardware and diversifying the brand. As an upgrade from a single model last year, Huawei is expanding the MateBook like into three products. The MateBook X is a 13-inch ultraportable clamshell with a focus on style, thin bezels, and packing enough hardware underneath to go deep into the market. The MateBook E is the second generation 2-in-1, following on from the MateBook launched in 2016, with improvements all round, such as an adjustable hinge, a spill-proof keyboard, and bundled accessories. The third element is the MateBook D, a 15.6-inch clamshell aimed squarely at the student and business markets, featuring dual storage options and a discrete NVIDIA GPU but also going with the narrow bezel design similar to the MateBook X.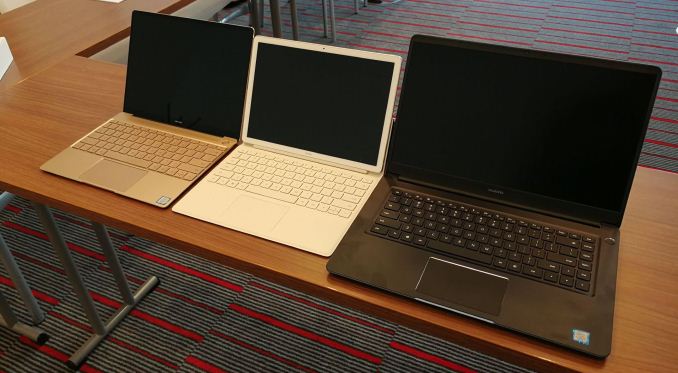 Primarily seen as a smartphone company for most of us, last year we saw the launch of the MateBook: a 12-inch 2-in-1 device with Huawei's design ID in a thin and light form factor, but crucially a mark into the PC space. At the time, it was exciting to see a new entrant, especially one with the potential clout of Huawei: if you sell 106m+ smartphones a year, then putting some resources into a mobile PC should be something really interesting to watch. The 2016 MateBook was a good start – the visual aspect of the unit fit in neatly with the market, although there were a few hiccups for a first-generation product, such as the limited stand options, the tendency for the magnetic cover to put the device to sleep when in tablet mode, and the fact that the peak configurations were over $2000. Feedback was sought, about how Huawei should improve the products and how it should tackle this market better, and here are the results. This news covers the two laptops: the MateBook X and the MateBook D.
MateBook X: The Premium Clamshell
A common feature for technology journalists in this space, especially when discussing products with Chinese companies, is how the discussion usually comes to Apple's success in the laptop market. They are in awe of the design, the utility, and the avid fanboyism that follows their products. As a result, some of the Chinese companies aim to compete in the same space – having a small slice of a large pie is still a large amount, even if it is a carrot cake. So when a user spots the MateBook X, thoughts instantly turn to if it is a Macbook Air/Macbook clone. Not quite, but it arguably looks like a premium competitor for users who want the Macbook form factor but in a Windows/PC environment.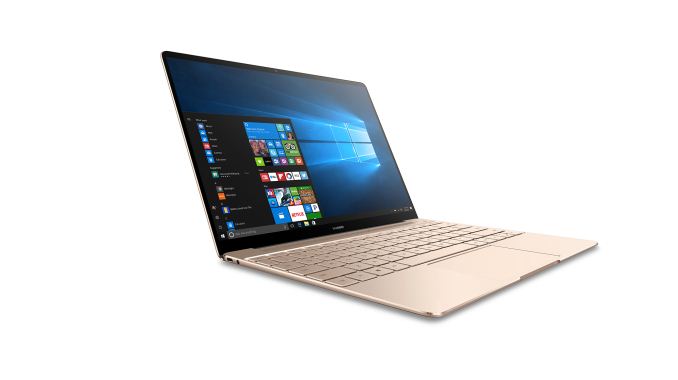 The start of it is the aluminium clamshell, tapering to an almost point, with both the screen and the keyboard designed to try and take as much space as possible. One of the things Huawei wanted to emulate here is the thin bezel strategy, similar to the Dell XPS range, and coming in at 88% screen-to-body ratio is rather nice. There's still a camera at the top, negating one of the issues with the XPS where the camera is pointing at your chin. The display is a 2160x1440 IPS panel (manufacturer not specified), with a 3:2 aspect ratio, wide viewing angles, and rated up to 1000:1 and 350 nits. Huawei also adds in 100% sRGB for good measure.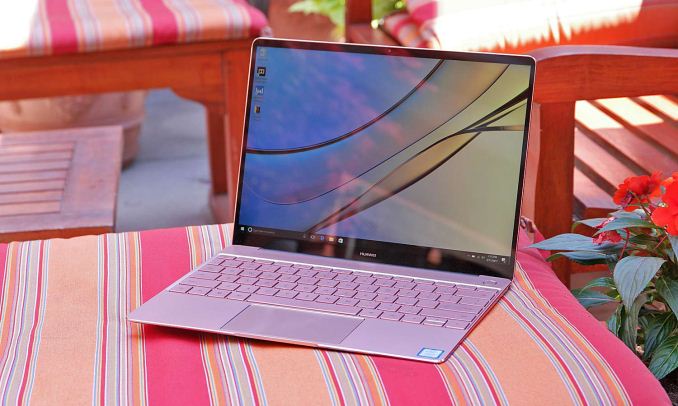 Huawei Matebook X
Size
13-inch
Display
2160 x 1440 IPS
178-degree viewing angles
100% sRGB
1000:1 Contrast Ratio
350 nits
CPUs
Intel Core i5-7200U
Intel Core i7-7500U
(likely in cTDP Down mode)
GPU
Intel HD Graphics 620
DRAM
4 GB LPDDR3
8 GB LPDDR3
Storage
256 GB PCIe
512 GB PCIe
Dimensions
286 x 211 x 12.5 mm
1.05 kg (2.31 lbs)
Connectivity
802.11ac with 2x2 MIMO (Intel AC 8165?)
with BT4.1
Battery
41.4 Wh (5449 mAh at 7.6 V)
Additional Features
Two USB 3.0 Type-C Ports
3.5mm audio jack
Dolby Atmos Sound System
MateDock 2 Included
1MP Front Camera
Colors
Space Gray
Prestige Gold
Rose Gold
Pricing
Core i5 + 8 GB LPDDR3 + 256GB SSD: 1399 Euro
Core i5 + 8 GB LPDDR3 + 512GB SSD: 1599 Euro
Core i7 + 8 GB LPDDR3 + 512GB SSD: 1699 Euro
The heart of the MateBook X is Intel's latest Kaby-Lake based 7th Generation CPUs, and Huawei likes to point out that while their competitors fit in the Kaby Lake-Y based processors (running at 4.5W), here Huawei is using the U based processors: the i7-7500U and i5-7200U. Technically these CPUs come out of the factory as 15W parts, but OEMs can configure the base clock in cTDP down mode for 7.5W/9.5W, which is what we suspect Huawei is doing here (awaiting confirmation). Using a U processors means getting HD 620 graphics, rather than HD 615, which should make the unit better for light graphical work. Nonetheless, users might be able to feel a base performance uplift compared to the 4.5W parts.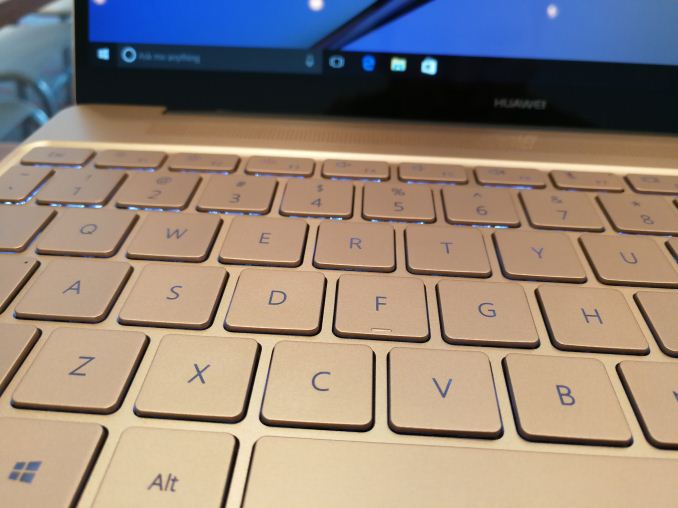 Storage comes via an integrated PCIe SSD, and depending on the configuration will either be 256GB or 512GB. We were unable to prize the details on who the supplier is for these drives, but we might get some hands-on time later to go through the system specifications on a demo unit. Memory is, unfortunately, a downside on the X: Huawei has decided to use LPDDR3 rather than DDR4, which means that the top spec unit hits 8GB (4GB also offered, we assume 2x2GB for dual channel) rather than 16GB which would make this device high up on a prosumer list. The debate about LPDDR3 and DDR4 at this level of device gets interesting – if one is in better supply than the other, power consumption (arguably DDR4 is much better, even though LPDDR3 has 'low power' in the name), power profiling, etc. It's a discussion that I need to have with Huawei's design teams, really – at 16GB it becomes an easy replacement for my Zenbook.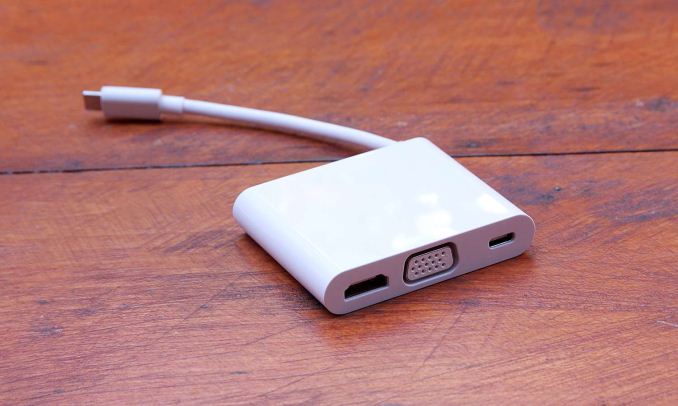 Going around the device, Huawei has supplied two USB Type-C ports, one of which can be used as a charging port for the supplied 40W power adaptor but both can be used for data. We're told that the ports are USB 3.0 (5 Gbps), and both will work with the new MateDock 2, which is this time being supplied with the device rather than being sold separately. The MateDock 2 is like the MateDock, except it exchanges the ethernet port for a HDMI and VGA ports (with two USB Type-A as well). Also on the clamshell is a fingerprint reader for login, and a 3.5mm headphone jack.
For connectivity, the MateBook X has an 802.11ac solution capable of 2x2 MIMO (we assume it's the Intel 8265) and BT4.1, although no modem for 4G. For the audio, Huawei is promoting Dolby Atmos certification, along with Huawei's Sound System technology. As part of our briefing, Huawei stated that they've been in the audio business over 10 years, but only really as a software solution. The MateBook X brings together the hardware (a Realtek codec, probably the ALC892 which would be high end for a clamshell device, though disappointing if it's the ALC662) and software for Atmos certification. This includes dual speakers with custom drivers, as well as a dual microphone setup.
The battery is listed as 41.4 Wh, which is exactly the same as the Macbook, and Huawei rates this as good for 10 hours of local 1080p video playback at 50% screen brightness (imagine me asking 'what about 100 nits?' to a confused Huawei rep).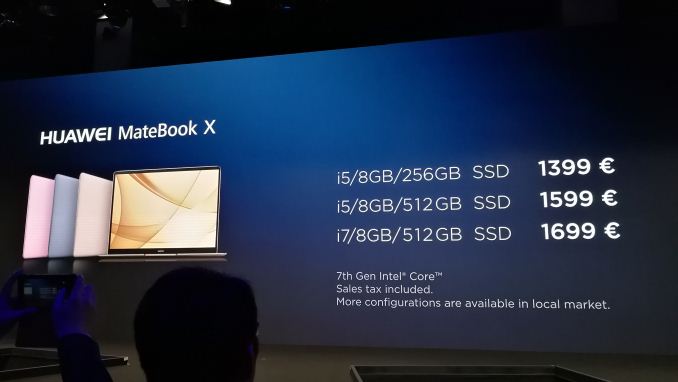 Pricing and availability was announced at the press event, starting at $1399 for the i5/8GB/256GB model and $1699 for the 8GB/512GB model. Colors will be region dependent, but expect to see one or all of Space Gray, Prestige Gold and Rose Gold.
MateBook D: The Edumacation Device
Two of the more stable elements to the laptop space is the education sector and the office markets. These are usually reasonably decent products sold at low margins but in good volumes along with potential support packages. OEMs like ASUS, Lenovo and HP play in this space, so it is rather competitive. Huawei's MateBook D is the first crack at taking on the established players, in a 15.6-inch narrow bezel design.
A quick look at the MateBook D and you might be forgiven for thinking it isn't a Huawei device. If you sit around Huawei devices all day, you always get a feeling of premium, and the MateBook D doesn't necessarily give that because it's built to a price point. That being said, a few minutes with the unit and it does actually feel quite polished from a design perspective, with the positive idiosyncrasies that as an editor I seem to notice on Huawei devices, such as the feel and the unified image. It's bulkier than any previous Huawei device for sure, and Huawei uses that extra space for ports, fo the screen, for the touchpad, for the sound, and for battery.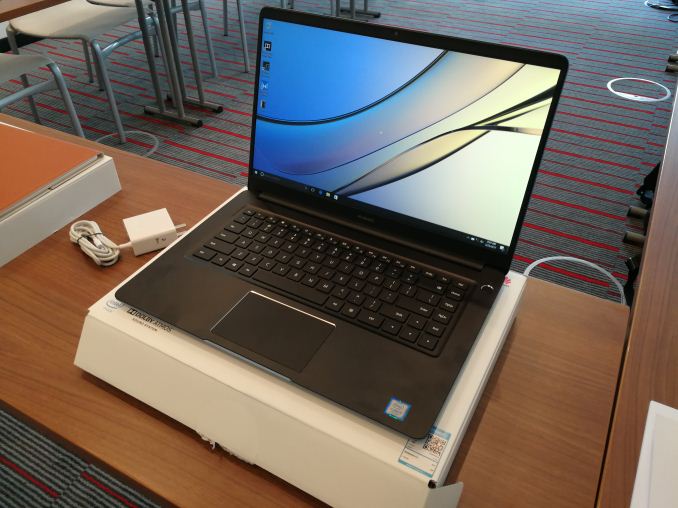 At 15.6-inches, the display comes in as a Full-HD 1920x1080 and uses an IPS panel for better viewing angles. Huawei lists the panel as supporting 250 nits, 800:1 contrast, and a rather low 45% NTSC support – that would be a strangely low color support for even a basic panel (perhaps someone on the spec sheet pressed the wrong number?). Like the MateBook X, the panel aims to take up as much room as possible, with an 83% screen-to-body ratio.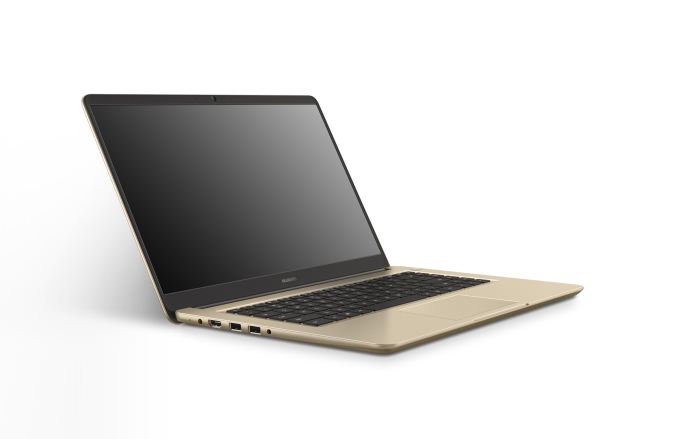 Huawei Matebook D
Size
15.6-inch
Display
1920 x 1080 IPS
178-degree viewing angles
45% NTSC
800:1 Contrast Ratio
350 nits
CPU
Intel Core i5
Intel Core i7
(likely to be U-series)
GPU
Intel HD Graphics 620 or
NVIDIA GeForce 940MX w/2GB GDDR5 (optional)
DRAM
4 GB DDR4
8 GB DDR4
16GB DDR4
Storage
(SSD/HDD)
500GB HDD or
128GB+500GB

(no dGPU)
1TB HDD or
256GB SSD or
128GB+500GB or
128GB + 1TB
128GB+1TB
Dimensions
358 x 239 x 16.9mm
1.90 kg (4.19 lbs)
Connectivity
802.11ac with 2x2 MIMO (Intel AC 8165?)
with BT4.1
Battery
43.3 Wh (3800 mAh at 11.4 V)
Additional Features
Two USB 3.0 Type-A Ports
One USB 2.0 Type-A Port
HDMI Port (full size)
3.5mm audio jack
DC-In
Dolby Atmos Sound System
1MP Front Camera
Colors
Space Gray
Champagne Gold
Aurora Blue
Pricing
Core i5 + 8GB + 1TB HDD + 940MX: 799 Euro
Core i5 + 8GB + 128GB SSD + 1TB HDD + 940MX: 899 Euro
Core i7 + 8GB + 128GB SSD + 1TB HDD + 940MX: 999 Euro
Huawei isn't stating exactly what processors are going to be in place here, except that they will be Kaby-Lake based 7th Gen processors. We suspect they will be the 15W Kaby Lake-U parts, especially given that they list the graphics as HD 620. The MateBook D will come in a variety of CPU/GPU combinations, with either integrated graphics on the CPU or with a discrete GPU: the NVIDIA GeForce 940MX. It's worth noting that this GPU came out in 2014 and runs around 20-30W, depending on the memory configuration. We asked about DDR3 or GDDR5 for the GPU (as the latter has 2.5x more bandwidth), although they didn't know off hand (we might get to probe later today on that). We asked why Huawei chose this over something with a better power profile, such as the NVIDIA 1030 or 1050, although the rep we were asking wasn't entirely sure (likely a supply issue, and bad market timing). Nonetheless, the discrete GPU is optional on all models except for the very basic storage configuration.
For storage and memory, Huawei is offering a variety of combinations. The chassis supports both a PCIe M.2 based SSD and a 2.5-inch HDD, and so there will be:
4GB of LPDDR3 with either 500GB HDD, or a 128GB SSD+500G HDD
8GB of LPDDR3 with either 1TB HDD, 256GB SSD, 128GB+500GB or 128GB+1TB
16GB of DDR4 with 128GB SSD + 1TB SSD
I was told that the units are user upgradeable as well. Having the 940MX discrete GPU is an option on all configurations except the 4GB models.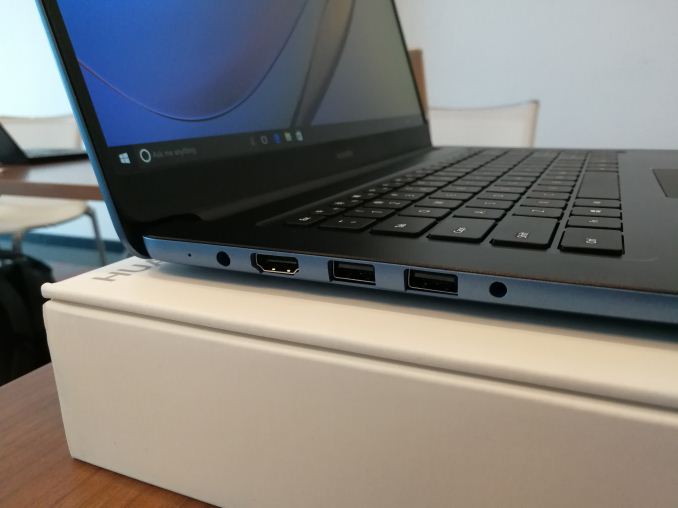 Connectivity comes via the same 802.11ac with 2x2 MIMO with BT4.1 as the MateBook X, along with the same specifications for audio: dual speakers, dual microphones, and Dolby Atmos Sound System support. For the ports on the side, there's a DC-in jack (sorry, no USB-C for power here), two USB 3.0 Type-A ports, one USB 2.0 Type-A port, a full-sized HDMI port, and a 3.5mm jack.
The battery is rated at 43.3Wh, which given the size of the device and the weight (4.2lbs, 1.9kg), seems quite low. Devices this size typically come with 50Wh+, so I'm wondering if that's another typo on the specification sheet.
For pricing and availability, they didn't list any non-940MX editions but the i5 with 8GB DRAM, 1TB HDD and the 940MX will be 799 Euro, up to 999 Euro fot the top SKU. Colors will be region dependent, but expect to see one or more of Space Gray, Champagne Gold and Aurora Blue. It looks nice in blue.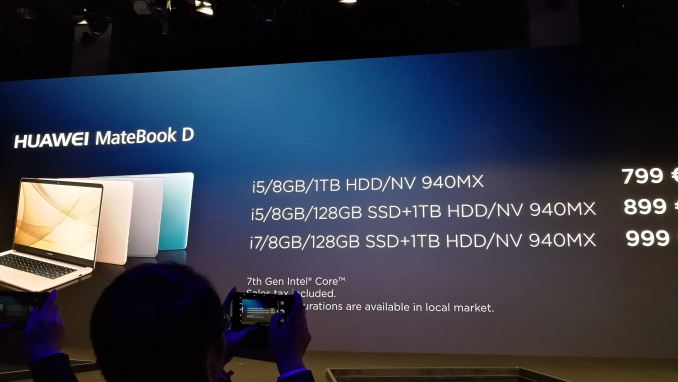 Some pictures were provided in collaboration with other Purch outlets.