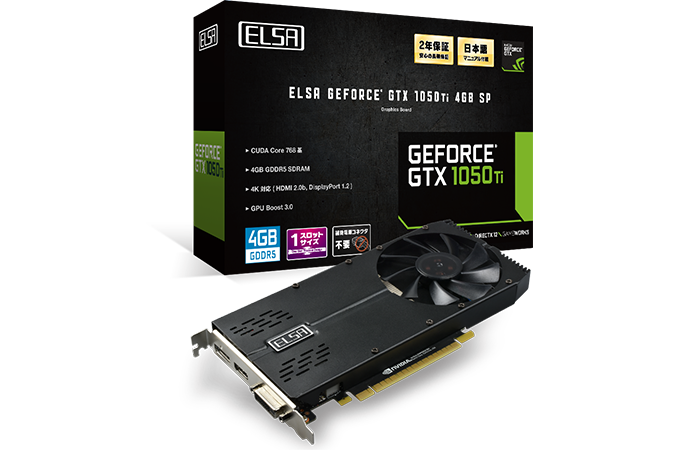 ELSA has announced a new graphics card with a single-slot cooling system. The GeForce GTX 1050 Ti 4 GB SP can fit into tightly packed PCs and does not require any auxiliary power connectors. The product will be available only in Japan so far and it is unknown whether it will ever make it to other markets.
Over the past few months, we have seen multiple modern graphics cards designed for Mini-ITX and even low profile PCs. However, single-slot consumer add-in-boards (AIBs) these days tend to be rare, possibly because the vast majority of contemporary motherboards and chassis are designed to have enough space for installation of mainstream adapters that are two slots wide. Both AMD and NVIDIA offer professional graphics adapters (e.g., Quadro M4000, Radeon Pro WX7100 and so on) with single-slot coolers assuming that workstations could be packed very densely. Back in December, GALAX demonstrated a GeForce GTX 1070-based AIB with a single-slot cooling system, but that card was intended only for China. This week ELSA announced a slim GeForce GTX 1050 Ti-based product for Japan.
The ELSA GeForce GTX 1050 Ti 4 GB SP graphics card is powered by NVIDIA's fully-fledged GP107 GPU (768 stream processors, 48 texture units, 32 ROPs) and uses a PCB with the NVIDIA name on it. The latter may indicate that the AIB is based on a reference design of the GPU developer and ELSA sources the PCB from an NVIDIA-approved manufacturer (or buys both GPU and PCB from the Santa Clara-based company). The card runs at frequencies recommended by NVIDIA (1290/1392 MHz base/boost) and is equipped with 4 GB of GDDR5 memory operating at 7000 MT/s. Just like numerous other GeForce GTX 1050 Ti cards, the model from ELSA consumes no more than 75 W and does not need auxiliary PCIe power connector.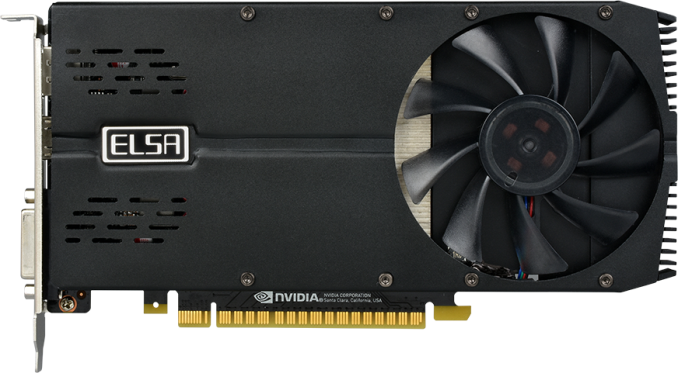 Apart from being thin, the cooling system of the device is nothing out of the ordinary. It uses an aluminum heatsink (possibly with a base made of copper), one large fan and is encased in a metallic enclosure. The rotating speed of the fan is unknown, so no word on loudness. As for connectivity, despite its single-slot form factor, the ELSA GeForce GTX 1050 Ti 4 GB SP offers all three essential outputs: an HDMI 2.0b, a DisplayPort 1.4 as well as a dual-link DVI-D.
ELSA plans to start sales of the GeForce GTX 1050 Ti 4 GB SP graphics adapter on February 24, 2017. The company did not announce price, but it is likely that it will be close to NVIDIA's recommendations for Japan. As for availability of the product in other countries, it might be possible that other manufacturers which use NVIDIA-designed PCBs for their GeForce GTX 1050 Ti products might adopt single-slot coolers as well. If not, Amazon.co.jp can ship the ELSA card worldwide (make note of import taxes).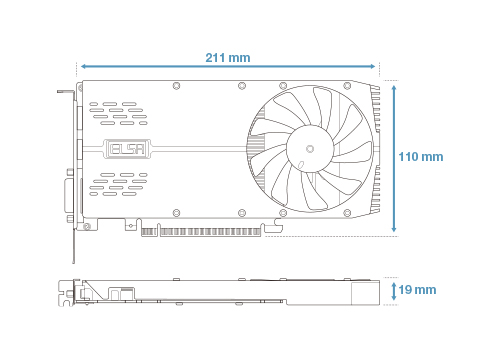 Related Reading:
Source: ELSA