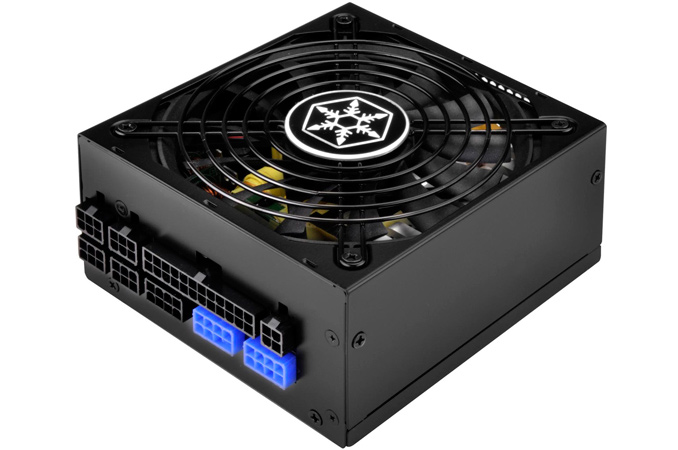 SilverStone has quietly published specifications of its new SFX-L power supply with 800 W output on its website. The SX800-LTI is designed for small form-factor gaming PCs that use SFX compliant PSUs and can accommodate an SFX power supply that is 3 cm deeper than specified by the standard. The novelty will be one of a few SFX-class PSUs on the market supporting multi-GPU systems and custom-built graphics cards as well as the second PSU to carry the 80 Plus Titanium label.
Growing demand for high-performance SFF gaming PCs in the recent years has catalyzed a number of PSU suppliers to add SFX power supplies into their product lineups. In the meantime, the market of SFF gaming PCs inevitably got segmented, departing from canonical SFF computers but still not transforming into orthodox high-performance desktops. For example, there are Mini-ITX/Micro-ATX systems that can accommodate many hardware components, and there are ATX systems that can take advantage of smaller PSUs, slim/mobile ODDs and so on. Specifically for such PCs (and at requests by select customers), SilverStone last year introduced its first SFX-L PSU, which is 3 cm deeper than specified by the standard (more details at FormFactors.org), but which could provide up to 700 W of power and featured proper cooling using a 120-mm fan. The SFX-L PSUs cannot fit into traditional chassis that follow the SFX spec (for miniature desktops or DVRs/HTPCs) down to the last letter in a bid to minimize dimensions, but most gaming cases have an extra 3 cm and thus are compatible with such power supplies. This year, SilverStone is further increasing the output of its SFX-L to 800 W.
SilverStone SFX-L Series DC Output Specifications (Rated @ 40 °C)
SX700-LPT
SX800-LTI
Rated
Combined
Rated
Combined
+3.3V
22 A
120
16 A
80 W
+5V
22 A
15 A
+12V
58.4 A
700 W
66 A
792 W
-12V
0.3 A
3.6 W
0.3 A
3.6 W
+5Vsb
3 A
15 W
2.5 A
12.5 W
Total Power
700 W
800 W
The SilverStone SX800-LTI PSU is compliant with the SFX12V V3.3 as well as ATX12V V2.4 specifications and carries the 80 Plus Titanium certification badge (which means that it is at least 90% – 94% efficient under a 20%, 50% and 100% load for 110V), just like its predecessor. The power supply's chassis is 125 mm wide, 63.5 mm tall, but is 130 mm deep, up from 100 mm specified by the standard. Surprisingly, SilverStone does not bundle an SFX to ATX adapter bracket with the SX800-LTI PSU (similar to its predecessor) but users can buy it separately for $17, which is odd as the adapter is bundled with less powerful SFX PSUs.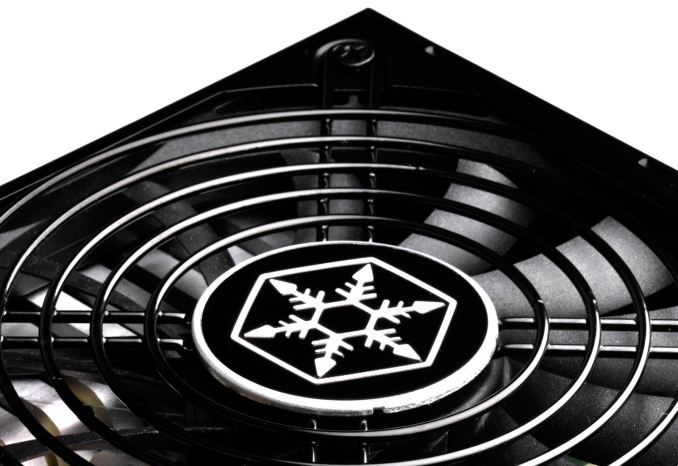 The SX800-LTI is equipped with a 120-mm fan featuring intelligent RPM control (and speeds from 955 RPM to 1695 RPM) that does not spin at loads below 30%. The PSU has a modular design with flexible flat-type cables to ensure easy cable management. Just like other high-end PSUs, the SilverStone unit has over power, over-current, over-voltage and over-temperature protection as well as short circuit protection, and uses Japanese electrolytic capacitors rated to handle increased temperatures.
Silverstone SFX-L PSU Series
Connector type
700 W
SX700-LPT
800 W
SX800-LTI
ATX 24 Pin
1
EPS 4+4 Pin
1
PCIe 6+2 Pin
4
SATA
9
12
4P Molex
3
Floppy
1
As for connectivity, the SilverStone SX800-LTI PSU has EPS12V power connectors (one 24-pin and a 4+4-pin connector), four PCIe 6+2-pin power connectors, 12 SATA power connectors, three 4-pin Molex plugs and even an FDD header. The presence of four 8-pin (6+2) auxiliary PCIe power connectors makes the power supply compatible with all high-end graphics cards released in the recent years, including NVIDIA's GeForce GTX cards that have up to two 8-pin power inputs, AMD's Radeon R9 Fury X that needs two 8-pin power plugs as well as highly-custom video cards like EVGA's GeForce GTX 980 Ti K|NGP|N that needs two 8-pin and one 6-pin connector.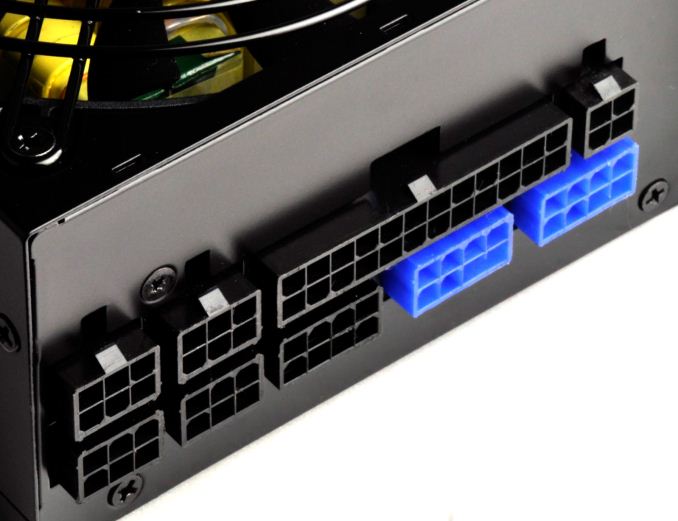 In fact, SilverStone's SFX-L PSUs are the only SFX-class power supplies that can boast with such compatibility with advanced graphics adapters. By contrast, most gaming-grade SFX PSUs have one 8-pin connector that is enough for the vast majority of SFF gaming PCs (in the end, you cannot install more than one GTX 1080-class video cards into a Mini-ITX build), but not for those systems pack custom or multi-GPU graphics adapters.
SilverStone's SX800-LTI PSU is expected to hit the market in the coming weeks, but there is nothing more precise that we can share at this point. MSRP of the unit s also unknown but the previous-generation SFX-L power supply from the company, the SX700-LPT, can be obtained for $160.
Related Reading:
Source: SilverStone