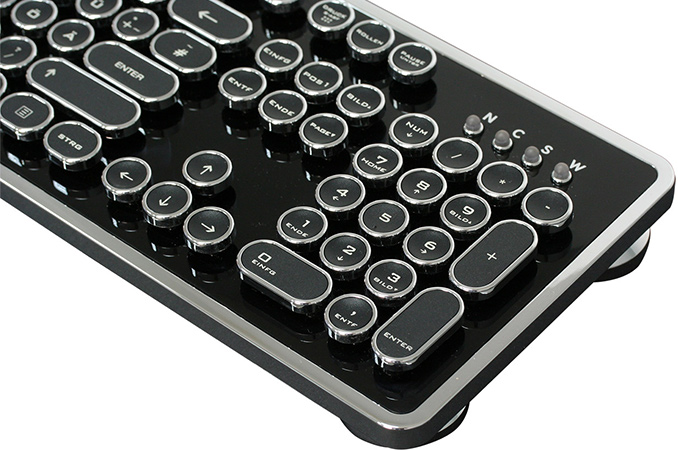 Despite the mark on mechanical keyboards, not a lot of PC users have actually tried a classic mechanical typewriter, with round keys as well as the distinctive look, feel and sound. For those feeling nostalgic, Nanoxia this week introduced a keyboard with a retro look and round keys, which resembles the steampunk keyboards used by the Warehouse 13 characters in their office. One of the important things to mention is that this mechanical keyboard is also water resistant.
Despite its classic yet fancy look, the Nanoxia Ncore Retro is a modern keyboard based on the Kailh White switches (similar to Cherry Blue, with an operational force of 50 cN/peak actuation at 60 cN) and aimed at gamers. The keyboard is made of plastic but features chromium plating on each of the keys to give it a distinctive look. The Ncore Retro supports 15 multimedia keys accessed with the help of the FN key as well as typical features of keyboards designed for gamers, such as 6-key and N-key rollover, 1000 Hz polling rate, anti-ghosting and so on. The keyboard uses USB interconnection and is listed to be only compatible with Microsoft Windows. Each of the keys is rated to 70 million presses.
Nanoxia Ncore Retro General Specifcations
U.S.-Layout
NNR-US
U.K.-Layout
NNR-UK
German-Layout
NNR-GER
Number of Keys
104
105
Switch
Kailh White
Multimedia Keys
15 (accessed with the FN key)
N-key Rollover Support
Yes
Interface
USB 1.1 with 1.8 m cable
Removable Keys
Yes
Compatibility
Microsoft Windows XP/Vista/7/8/10
Water Resistant Design
Yes
Color
Black
Color of Keys
Black/Silver
Dimensions
465 × 150 × 69 mm
Weight
1300 grams
MSRP
€109.99 (incl. 19% VAT)
One of the important features of the Nanoxia Ncore Retro, besides its extravagant look, is its water resistant design. The company did not mention whether the keyboard is IP-rated and thus is capable of withstanding water immersion, but Nanoxia did state that it can withstand a spill of a glass of water over it. In any case, water resistance also means easy and safe clearing.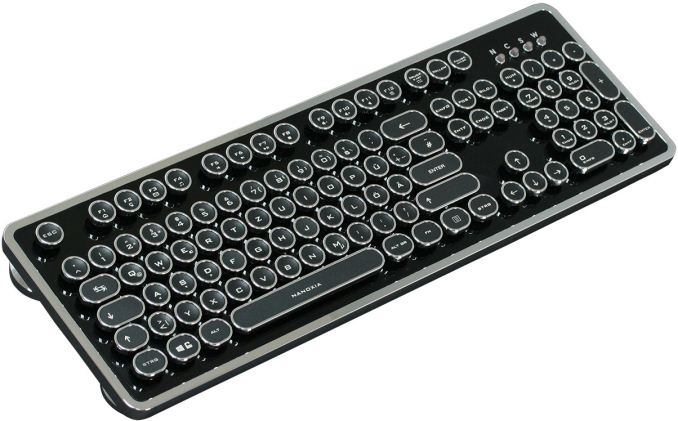 The Nanoxia Ncore Retro is one of the first keyboards to use Kailh's white switches to give users a different haptic feeling compared to other keyboards (and a little closer to that of actual typewriters). The Kailh White switches have an advertised tactile force of approximately 61 grams as well as a distinctive click. In addition, the manufacturer claims that its new switches have a life expectancy of 70 million hits per key because of the improved key shaft.
Comparison of Mechanical Keyboard Switches
Kailh White
AZ Linear
AZ Tactile
Razer Green
Cherry MX
Actuation Point
1.9 mm
1.7 mm
1.7 mm
1.9 mm ± 0.4 mm
2 mm/2.2 mm ± 0.6 mm
Actuation vs Reset Point
no data
no data
no data
0.4 mm
no data
Total Travel
4 mm
4 mm
4 mm
4 mm
4 mm
Actuation Force
51 g
45 g
45 g
50 g
45-55 g
Actuation Feel
tactile
linear
soft tactile
soft tactile
linear/tactile
Switch Lifecycle
70 million
60 million
60 million
60 million
50 million
Switch Color
white
olive
mustard
green
red/brown/
black/blue
Nanoxia will offer three versions of its Ncore Retro with a German (which means QWERTZ as well as some additional letters), a UK and a US layout. The keyboards will initially be available in retail stores in Europe for €109.99 (that's including 19% tax) this month. The company did not mention US availability, however we would expect it to do so in due course.
Related Reading:
Source: Nanoxia