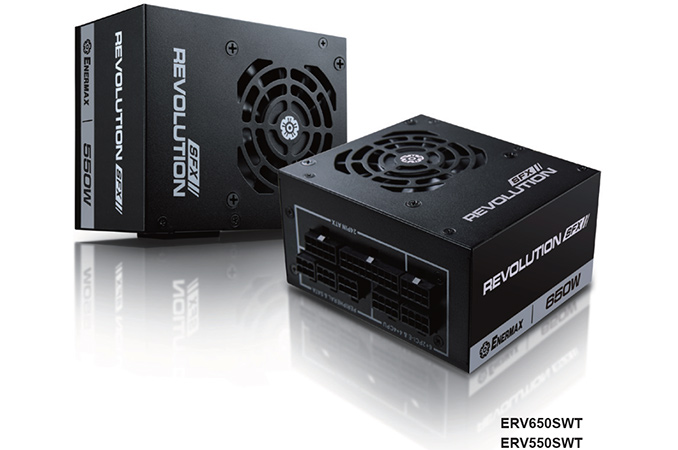 As small form-factor gaming PCs gain traction, more companies enter the scene with small form factor power supplies. Enermax this week introduced its first power supplies in SFX form-factor designed for high-performance systems. The company is now the fifth major supplier of PSUs to offer gaming-grade SFX power supplies, such that enthusiasts now have five brands to choose from, up from two early this year.
The Enermax Revolution SFX family currently includes two models rated for 550 W (ERV550SWT) and 650 W (ERV650SWT) power output. The new PSUs are compliant with the SFX12V V3.3 and ATX12V V2.4 specifications as well as carry the 80 Plus Gold certification badge. The power supplies come in standard 100-mm depth chassis and feature 80-mm fans that do not operate at loads below 30% as well as a modular design with flexible flat-type cables to ensure easy cable management. Enermax also says that the new PSUs use Japanese electrolytic capacitors rated to handle 105°C temperature and have special protection circuitry to ensure durability and safety.
Enermax Revolution SFX Series
Connector type
550 W
ERV550SWT
650 W
ERV650SWT
ATX 24 Pin
1
EPS 4+4 Pin
1
PCI-E 6+2 Pin
2
SATA
6
4P Molex
4
The Revolution SFX power supplies from Enermax have EPS12V power connectors (one 24-pin and a 4+4-pin connector), two PCIe 8-pin power connectors, six SATA power connectors and four 4P Molex plugs. The presence of two 8-pin (6+2) auxiliary power connectors makes the Revolution SFX compatible with virtually all high-end graphics cards released in the last couple of years, including NVIDIA's GeForce GTX 1070/1080 that need only one 8-pin plug as well as AMD's Radeon R9 Fury X that require two 8-pin power connectors. Not all gaming-grade SFX PSUs have two 8-pin power connectors and thus Enermax deserves a credit for this feature.
Enermax Revolution SFX Series DC Output Specifications
ERV550SWT
ERV650SWT
Rated
Combined
Rated
Combined
+3.3V
18 A
90 W
18 A
90 W
+5V
15 A
15 A
+12V
45.8 A
549.6 W
54 A
648 W
-12V
0.3 A
3.6 W
0.3 A
3.6 W
+5Vsb
3 A
15 W
3 A
15 W
Total Power
550 W
650 W
Both Revolution SFX PSUs come with an SFX to ATX adapter brackets and can be installed into SFX and ATX/Mini-ATX builds. The Revolution SFX 650 W is the most powerful SFX PSU in a 100-mm depth enclosure (SilverStone has 700 W SFX PSUs, but they are 30 mm deeper), hence, it is logical that it can be installed not only into tiny SFX cases, but into general gaming PCs as well. Truthfully, the amount of power connectors supported by both power supplies seems like an overkill for an SFX system, whereas the presence of four 4P Molex plugs indicates that the developers did not forget about those who use either special-purpose hardware.
The Enermax Revolution PSUs are expected to hit the market shortly as typically announcements are made about a month ahead of actual availability (though, we do not know whether they are set to become available this year, in time for new PCs ahead of holidays). The 550 W version is set to cost $109.99, whereas the 650 W PSU is to be priced at $124.99.
Related Reading:
Source: Enermax