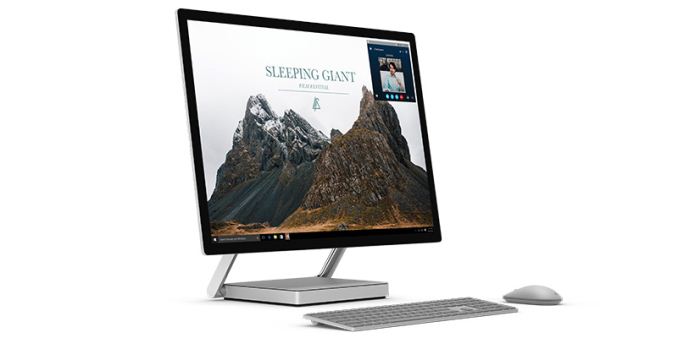 As part of the now annual Microsoft Surface event, Panos Panay announced the next member of the Surface family, the Surface Studio. The Studio is ultimately a prosumer all-in-one device promising more functionality and versatility than any other desktop all-in-one PC by allowing the device to also turn a desk into a studio.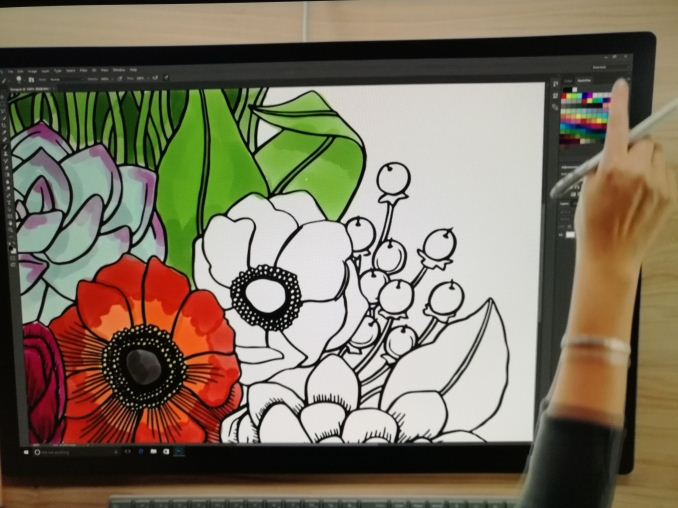 Front and center in what makes the Studio impressive is the size of the display: a 28-inch thin-bezel LCD display with a 3:2 aspect ratio, coming in at a 4500x3000 resolution and 192 pixels per inch. By contrast to 4K, this is 13.5 million pixels compared to 8.3 million in UHD, and Microsoft is promoting True Scale with the studio such that two A4 pieces of paper can be rendered side by side at full resolution and at a higher DPI than most standard office printers. The display is 12.5mm thin, with Microsoft redesigning the LCD stack to ensure a slim profile.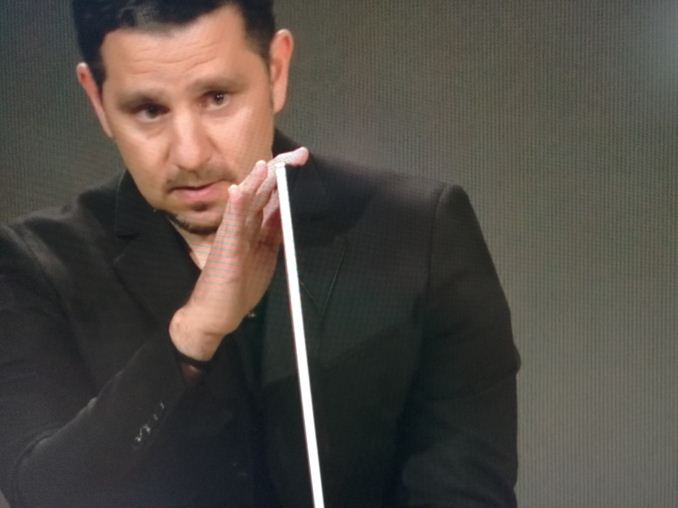 The display connects to the base via a specialist hinge, featuring 80 machined parts on each side for what Microsoft calls a 'Zero Gravity Hinge'. This allows the display to be moved seamlessly and for any plausible angle, as well as taking on extra weight in studio mode. The display has two buttons on the right-hand side for power and volume. On the top of the display is the Windows Hello-enabled camera, with a 5.0 MP element capable of 1080p video (we assume 30 FPS). The Studio supports the Surface Pen, which can attach to the side of the display.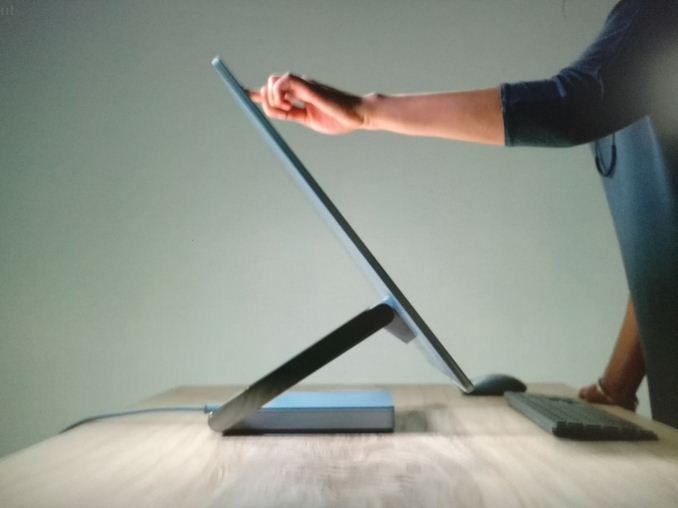 For color reproduction, Microsoft is advertising the display as supporting both DCI-P3 and sRGB with a simple toggle on the Windows sidebar to switch between the two. While Microsoft says that the displays are calibrated for both, this has fundamental issues with color reproduction.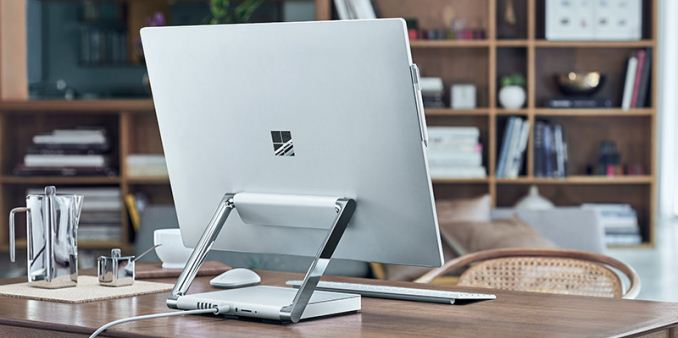 In the base is a set of arguably last-generation specifications: 6th generation (Skylake) Intel Core i5 and Core i7 processor options (probably 65W desktop parts?) paired with up to 32GB of DDR4 memory (probably DDR4-2133). This comes with a NVIDIA GTX 965M 2GB for two of the three options, and a GTX 980M 4GB on the high-end model. Connectivity comes via USB 3.0, rather than USB 3.1/Thunderbolt. Storage is labeled as '1TB or 2TB Rapid Hybrid Drive' options, which in the presentation looked like an M.2 drive but as yet it has been unstated if this is SATA or PCIe (or if a Rapid Hybrid Drive actually means an SSHD).
Microsoft Surface Studio
CPU
Intel Core i5
Skylake
Intel Core i7
Skylake
Intel Core i7
Skylake
GPU
NVIDIA
GTX 965M 2GB
NVIDIA
GTX 980M 4GB
DRAM
8GB DDR4
16 GB DDR4
32GB DDR4
Storage
1TB
1TB
2TB
'Rapid Storage Drive' (SATA? PCIe? SSHD?)
Display
28-inch 4500x3000 LCD Display
12.5mm thin
10-point MultiTouch
Magnetic Pen Support
Connectivity
802.11ac WiFi (Intel AC 8260?)
Gigabit Ethernet
Xbox Wireless
IO
4 x USB 3.0
Full-Size SD card reader (SDXC)
Mini DisplayPort
3.5mm Headset
Camera
5MP Front Facing
Windows Hello
1080p Recording
OS
Windows 10 Pro
30-day Office Trial
Dimensions
Display: 637.35 x 438.90 x 12.50 mm
Base: 250.00 x 200.00 x 32.2 mm
Weight: 9.56 kg / 21 lbs
Price
$2999
$3499
$4199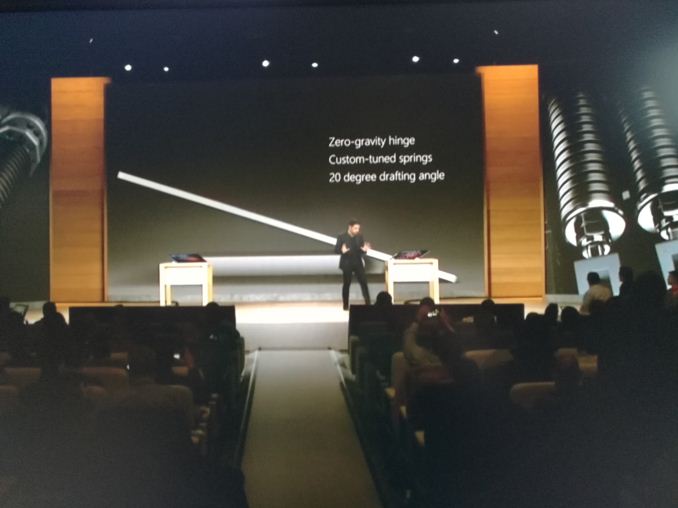 Connectivity comes via four USB 3.0 ports, a full-size SD card reader, a mini DisplayPort output and a 3.5mm headset jack. WiFi is provided by an 802.11ac unit, although Microsoft does not say which one (I'd hazard a guess and say Intel's AC8260 2x2 solution). The unit also supports Xbox Wireless, allowing for Xbox controllers to also be connected for gaming.
The whole unit weighs in at 21 lbs (9.5 kg), and Microsoft has stated that it will be available only in limited quantities during Q4, with the official release date as 15th December. Current configurations available will be:
$2999 : Intel Core i5 (Skylake), 8 GB DDR4, 1TB, GTX 965M 2GB
$3499 : Intel Core i7 (Skylake), 16 GB DDR4, 1TB, GTX 965M 2GB
$4199 : Intel Core i7 (Skylake), 32 GB DDR4, 2TB, GTX 980M 4GB
Windows 10 Pro is included with a 30-day Office trial.
Edit: Originally this piece was posted with the incorrect Intel Generation code name in the title. It should read 'Skylake', not 'Haswell'. The piece has been edited to clarify.
Source: Microsoft