Cooler Master is a very familiar brand name amongst enthusiasts, with a virtually endless lineup of products. The company started off as a manufacturer of PC cooling solutions and quickly diversified towards other segments of the market, such as cases and power supply units, to which they owe much of their current reputation. If you are a PC techie, chances are that you owned at least one of their products in the past.
Aside from power and cooling solutions, Cooler Master also diversified towards the peripherals market. Their entrance was cautious at first, but the great success of their first gaming peripherals quickly turned that caution into aggression, with the company filling the market with new products during the past few years. Among numerous other input and audio peripherals, Cooler Master today markets more than a dozen mechanical keyboards.
In today's review we are taking a look at one of Cooler Master's latest and most popular keyboards, the Master Keys Pro L White. The Master Keys series currently consists of four keyboards that are the company's main mechanical keyboards, with the "L" and "S" designations denoting a full-size keyboard and a tenkeyless keyboard respectively. They exist in either RGB or white LED variants. The Master Keys Pro L White that we are reviewing today therefore is the full-sized version with the white LEDs.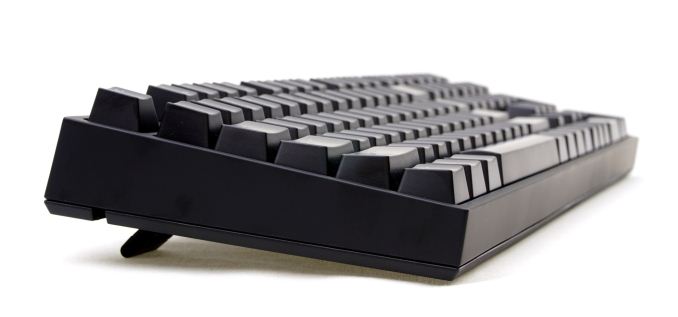 Packaging & Bundle
We received the Master Keys Pro L White keyboard in a sturdy cardboard box, providing ample protection during shipping. The aesthetic theme on the box is consistent with the austere, "professional" name of the keyboard, being minimalistic and virtually entirely focused on a picture of the keyboard itself.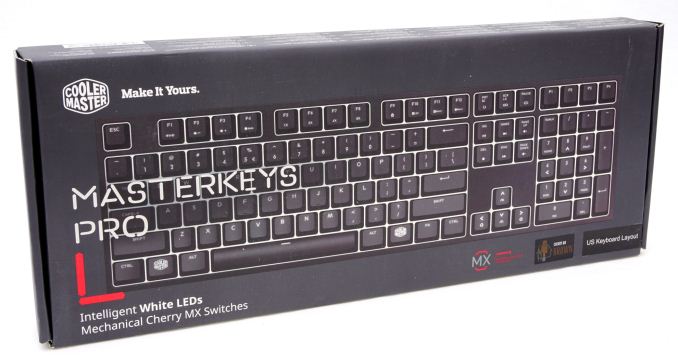 Inside the box we found the keyboard's detachable USB cable, a wire keycaps puller, and a very simple but useful quick start guide. The cable is braided and has gold-plated connectors. This is the first time that we found a wire keycaps puller supplied with a keyboard. Wire keycap pullers are much more effective at grabbing and removing a keycap than plastic ring pullers, especially larger keycaps.