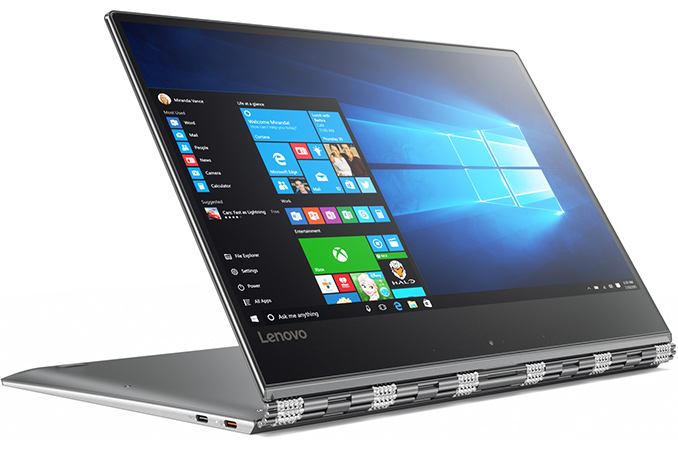 Lenovo this week took the wraps of its new Yoga 910 convertible, an aluminium 2-in-1 equipped with a 4K UHD display and is based on Intel's upcoming 7th generation Core processors codenamed Kaby Lake. The Yoga 910 inherits distinctive form-factor from the previous-gen Yoga 900 laptops, makes it slightly thinner and adds a fingerprint reader to the familiar design.
The Lenovo Yoga 910 is the direct successor of the Yoga 900 introduced last year, which at present is Lenovo's top-of-the-range offering in the Yoga lineup. The new Yoga 910 will not only offer higher performance (something that is logical to expect from a PC based on a newer CPU), but also a slightly larger 13.9" IPS display panel with either 4K (3840×2160) or FHD (1920×1080) resolution. Thanks to thinner bezel, the larger screen does not affect dimensions of the convertible, and in fact the new model is even a little smaller and thinner (14.3 mm vs 14.9 mm) than its predecessor. Still, it is noteworthy that the Yoga 910 weighs 1.38 kg (3.04 lbs), which is around 80 grams more than the weight of the Yoga 900. When it comes to battery life the UHD model can offer 10.5 hours on one charge (in line with current models that have 3K displays), whereas the FHD promises to work for up to 15.5 hours (which is a massive improvement over current SKUs).
Lenovo Yoga Specifications
Yoga 3 Pro
Yoga 900
Yoga 910
Processor
Intel Core M-5Y71 (4.5W)
Intel Core i7-6500U (15W)
Intel Core i7-7000 series
Memory
8GB DDR3L-1600
8-16GB DDR3L-1600
Up to 16 GB
Graphics
Intel HD 5300
(24 EUs, Gen 8)
Intel HD 520
(24 EUs, Gen 9)
Intel HD Graphics
Display
13.3" Glossy IPS
16:9 QHD+ (3200x1800) LCD
13.3" Glossy IPS
​16:9 QHD+ (3200x1800) LED
13.9" 4K (3840 x 2160) IPS
13.9" FHD (1920x1080) IPS
Hard Drive(s)
256GB/512GB SSD
(Samsung PM851)
256GB/512GB SSD (Samsung ?)
Up to 1 TB PCIe SSD
Networking
Broadcom 802.11ac
(2x2:2 802.11ac)
Intel Wireless AC-8260 (2x2:2 802.11ac)
2x2:2 802.11ac
Audio
JBL Stereo Speakers
1.5w x 2
Headset jack
JBL Stereo Speakers
Dolby DS 1.0
Headset jack
JBL Stereo Speakers with
Dolby Audio Premium
Headset jack
Battery
4 cell 44Wh
40W Max AC Adapter
4 cell 66Wh
Unknown
Buttons/Ports
Power Button
Novo Button
2 x USB 3.0
Headset Jack
Volume Control
Auto Rotate Control
DC In with USB 2.0 Port
1 x Micro-HDMI
SD Card Reader
Power Button
2 x USB 3.0-A
1 x USB 3.0-C
Headset Jack
SD Card Reader
DC In with USB 3.0-A Port


Power Button
1 x USB 3.0-A
1 x USB 3.0-C
1 x USB 2.0-C for charging
Headset Jack

Back Side
Watchband Hinge with 360° Rotation
Air Vents Integral to Hinge
Dimensions
13" x 9" x 0.5"
330.2 x 228.6 x 12.8 mm
12.75" x 8.86" x 0.59"
324 x 225 x 14.9 mm
12.72" x 8.84" x 0.56"
322 x 224.5 x 14.6 mm
Weight
2.6 lbs (1.18kg)
2.8 lbs (1.3 kg)
3.04 lbs (1.38 kg)
Extras
720p HD Webcam
Backlit Keyboard
Colors
Light Silver
Clementine Orange
Golden
Platinum Silver
Clementine Orange
Champagne Gold
Platinum Silver
Champagne Gold
Gunmetal
Pricing
$1148 (256GB)
$1379 (512GB)
$1200 (8GB/256GB)
$1300 (8GB/512GB)
$1400 (16GB/512GB)
Starting from $1299
Lenovo has not revealed the complete specifications of the Yoga 910 just yet, but they note that it will use Intel's Core i7 "Kaby Lake" 7000-series CPUs, up to 16 GB of RAM, a PCIe SSD (with up to 1 TB capacity) and will be equipped with a 802.11ac Wi-Fi + Bluetooth 4.1 module, a 720p webcam, a dual-array microphone, two speakers made by JBL, as well as a fingerprint reader compatible with Windows Hello. For wired connectivity, the Yoga 910 has one USB 3.0 Type-C with video out functionality, one USB 2.0 Type-C for charging as well as one USB 3.0 Type-A port with always-on charging capability.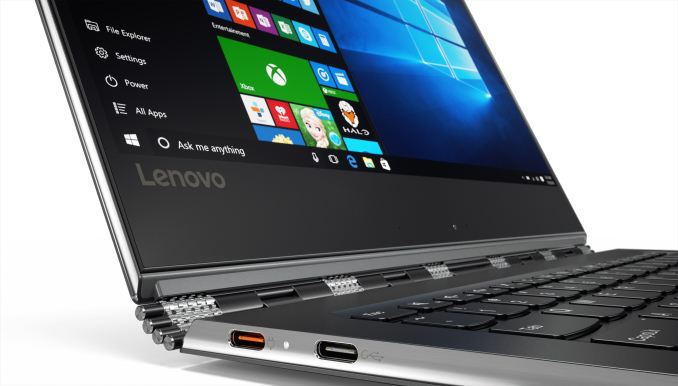 When Lenovo's Yoga 910 laptops hit the market in October, they will be available in Champagne Gold, Platinum Silver and Gunmetal colors. Apparently, Lenovo is dropping its signature Clementine Orange color it uses for consumer notebooks in case of the Yoga 910. As for prices, the new convertibles will start at $1299, which is a $100 increase over current-gen models.
Source: Lenovo