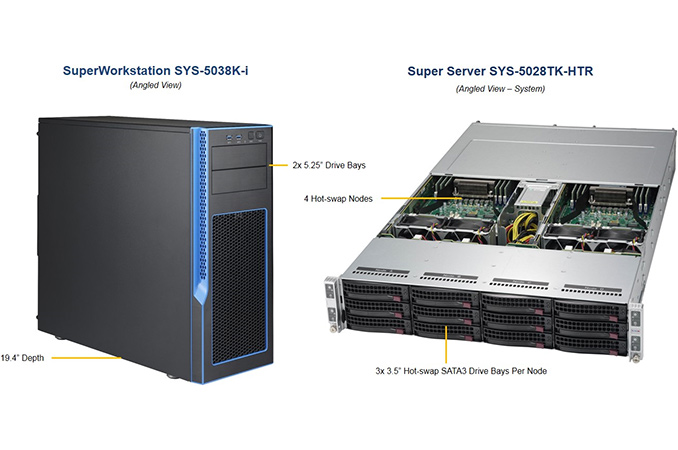 Supermicro has released two systems featuring Intel's many-core Xeon Phi x200 processors: a workstation and an ultra-dense server. The platforms support up to 384 GB of DDR4 memory and are based on the good-old Intel C612 PCH. Due to high TDP of Intel's Knights Landing CPUs, Supermicro had to use a custom closed-loop liquid cooling for its SuperWorkstation SYS-5038K-i.
Intel officially launched its Xeon Phi x200 many-core Knights Landing platform in June, but the company disclosed most of the details regarding its new processors last year at Supercomputing15. As discussed, every Xeon Phi x200 in LGA packaging has up to 72 cores (based on highly-modified Atom Silvermont microarchitecture) running at up to 1.5 GHz, with up to 36 MB of L2 cache, 16 GB of on-package high-performance memory (MCDRAM), six-channel DDR4 DRAM controller as well as 36 PCIe 3.0 lanes. The Xeon Phi x200 chips in LGA3647 form-factor can run as a host, directly with an operating system on board (including Windows Server 2016) which is an upgrade over the older Xeon Phi parts which only ran as co-processors on the PCIe bus. Moreover, the internal PCIe 3.0 root complex gives the Xeon Phi some PCIe lanes to allow other coprocessors to be plugged in - either additional Xeon Phi accelerators in the card form-factor, or AMD/NVIDIA cards, to maximize the compute horsepower.
SuperServer 5028TK-HTR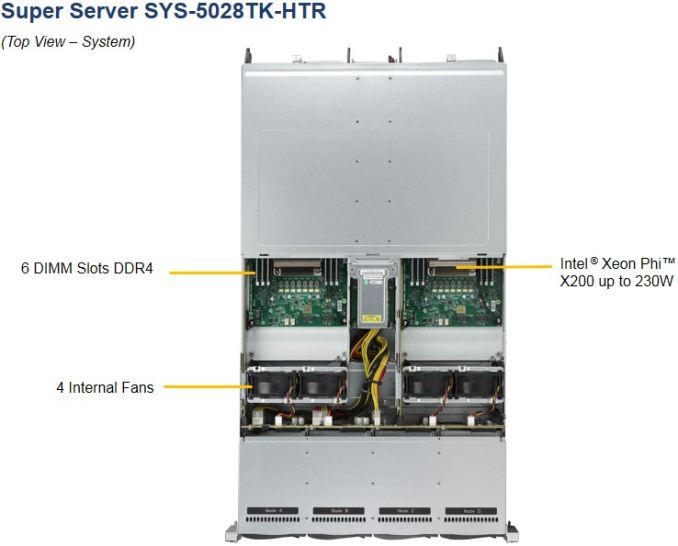 Since Intel Xeon Phi x200 processors are designed mainly for high performance computing, so as a result the OEM developers that build servers for customers tend to focus their efforts primarily on ultra-dense platforms.
One of the first Xeon Phi x200 solutions from Supermicro will be the SuperServer 5028TK-HTR, which packs four hot-swappable half-width nodes based on the company's K1SPi motherboards into a 2U form-factor. Each 5028TK-HTR sports 12 3.5" hot-swappable SATA/SAS storage devices (three per node) as well as a 2000 W redundant PSU. Meanwhile, the K1SPi carries one P1 socket, six DDR4 DIMM slots (for up to 384 GB of DDR4), two PCIe 3.0 x16 low-profile slots, a PCIe 3.0 x4 slot, an Intel i350 dual port GbE controller, the Aspeed AST2400 BMC platform management.
Supermicro's SuperServer 5028TK-HTR (as well as the K1SPi motherboard) support Intel Xeon Phi x200 processors with up to 250-260 W TDP. Machines supporting Knights Landing models featuring Omni-Path fabric will be announced at a later date.
SuperWorkstation 5038K-i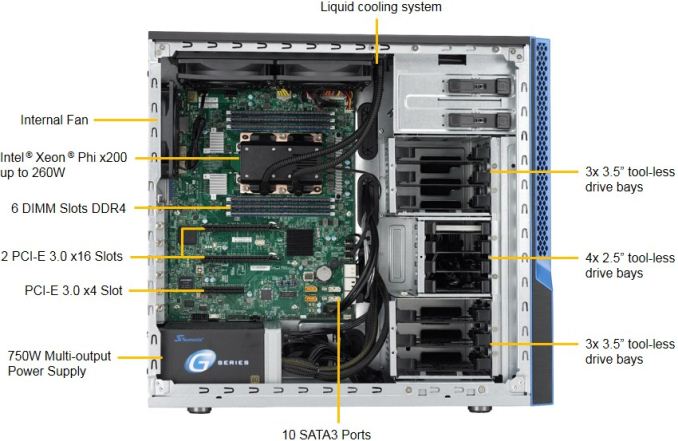 While HPC is a very important market for products like Xeon Phi, there is a segment of Xeon Phi clients who use them in desktop environments for financial analysis, oil and gas exploration, simulations as well as other applications. Also, HPC developers typically want a system-under-the-desk to actually develop their software with immediate results. Specifically for them, at the request of Intel, Supermicro introduced its SuperWorkstation 5038K-i desktop machine featuring the company's K1SPE motherboard. The workstation is a self-contained unit sold complete, with CPU, DRAM, storage, PSU and cooling.
The chassis can fit in two 5.25" ODDs (or other peripherals), six 3.5" and four 2.5" storage devices. The tower is equipped with multiple fans and come with one 750W power supply made by Seasonic as well as a custom-made closed-loop liquid cooling system with two 120 mm fans.
The K1SPE mainboard features one P1 socket (with eight-phase power delivery), six DDR4 DIMM slots (for up to 384 GB of DDR4), two PCIe 3.0 x16 slots, a PCIe 3.0 x4 slot, 10 SATA connectors, two GbE ports (via Intel i350), an IPMI LAN port, Aspeed AST2400 for graphics and management, USB 3.0 ports and so on. Despite the fact that the K1SPE uses regular ATX form-factor (with ATX12V and EPS12V power connectors), it will not be sold separately.
Both SuperServer 5028TK-HTR and SuperWorkstation 5038K-i machines should be available from Supermicro shortly, but only as complete systems. Therefore, their exact pricing could not be determined because it depends completely on exact configurations and quantity. We have been told that the workstation, the 5038K-i, is actually on back order with a number of customers already, however Supermicro is ramping up production as a result.
Additional from Ian: We've put in a request for a 5038K-i sample, which will run Windows Server 2016. As it's a full x86 core (with additional VPUs), I want to see how well our regular x86 enterprise workloads translate into the Xeon Phi sphere. With a low single thread frequency but up to 72 cores, this test should be an interesting one.
Source: Supermicro