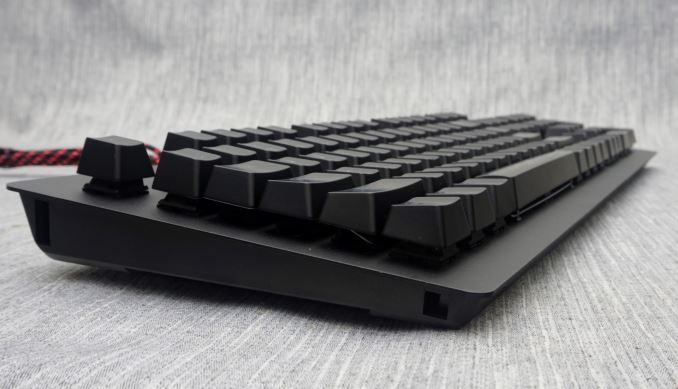 Mechanical keyboards are growing in popularity in the gaming market. As a result, we now have a number of products to choose from coming from dozens of manufacturers, making it difficult for newcomers to introduce a truly innovative product. Today we are having a look at the EpicGear Defiant, GeIL's latest gaming keyboard, which is the first modular and expandable mechanical keyboard and comes with EpicGear's own proprietary switches.
Introduction
Golden Emperor InternationaL, commonly known as GeIL, is one of the oldest and most well-known manufacturers of high performance computer memory products. The company was founded in 1993 and was almost completely focused on memory related products until 2009, where they had their first diversification attempt towards the power supply market. In 2011, GeIL established their own gaming peripherals brand, "EpicGear", through which they offer a variety of gaming mice, keyboards, headsets and other peripherals.
With the recent high popularity of mechanical keyboards, nearly all gaming peripheral manufacturers are offering at least one such product. Every manufacturer is trying to innovate and differentiate, but this is becoming increasingly difficult as there have been a large number of new products released during the last couple of years. In order to offer something unique compared to the competition, EpicGear came up with a "fully modular keyboard" design, the Defiant. The Defiant can be expanded by attaching external accessories to it (palm/wrist rests, extra macro keys, etc.), but its mechanical switches can also be removed and replaced.
Packaging and bundle
EpicGear supplied us with a sample of the Defiant, as well as a pack of 24 MMS switches. The keyboard comes into a sizable cardboard box that offers adequate shipping protection. The artwork on the box is relatively simple, focused on a picture of the keyboard itself.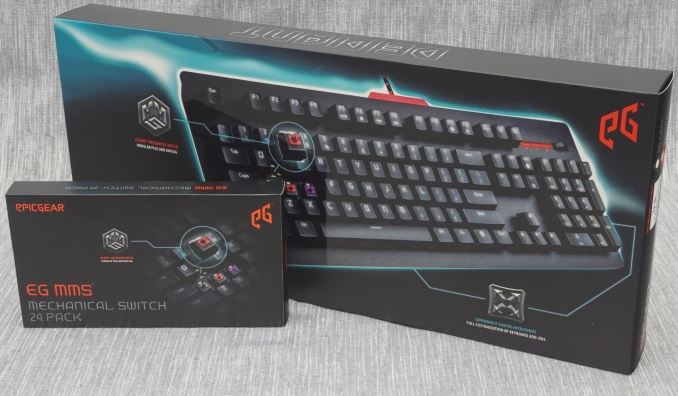 Alongside with the Defiant, EpicGear supplies a quick start guide, a keycap/switch removal tool and three large orange stickers with the company's logo.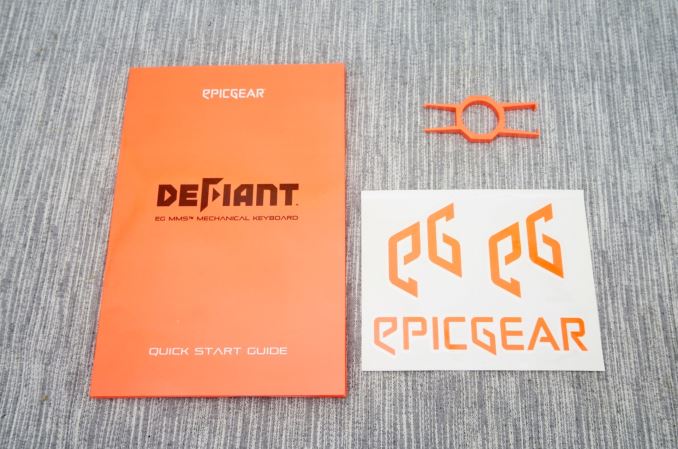 The extra switches pack includes eight switches of each of the three switch types that EpicGear is currently retailing, as well as one keycap/switch removal tool. EpicGear retails this pack and it is ideal as a sampling kit prior to purchasing the entire keyboard. If for some strange reason the user wants to mix the switch types on a single keyboard, it can also be used to replace some of the keyboard's switches.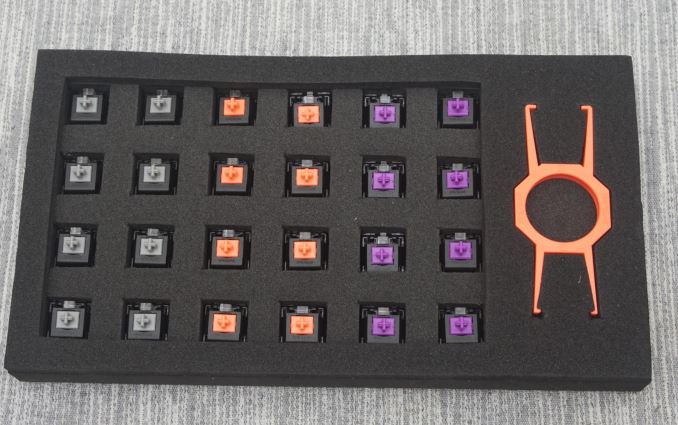 EpicGear is currently marketing Grey, Orange and Purple switches. We do not have the detailed specifications of EpicGear's switches, but these essentially seem to be copies of the Cherry MX Red, Brown and Blue switches respectively, with the actuation distance reduced to 1.5 mm (the stock Cherry MX switches have an actuation distance of 2 mm) and their life span allegedly increased from 50 million keystrokes to 70 million keystrokes. We test all three sets of keys in this review and produce our own comparason force diagrams.